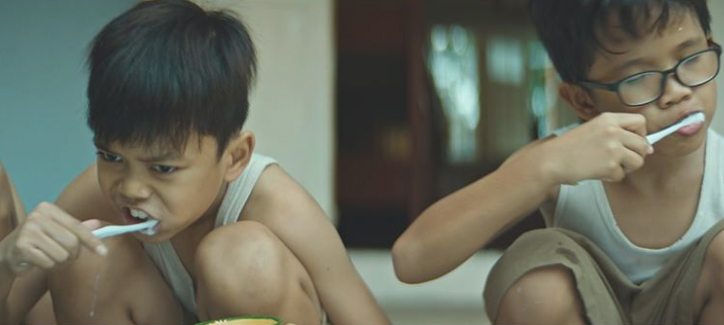 PUB has released an audio story to continue the story of the two orphaned brothers Din and Zul in its first short film Kinship, with a poignant ending that was crafted in collaboration with the public.
Following the huge success of "Kinship", released just before Hari Raya, there were impassioned calls from the public to #findZul. PUB decided to put out a call on social media for fans to send in their story ideas about the ending that they would like to see.
In just a week, PUB received more than 200 submissions through Facebook comments and emails. From the entries, Ms Nur Atiqah Bte Ashari, 24, Mr Chiu Shengkai Seneca, 41, and Ms Noor Arfa Bte Mohamad Yusoff, 22, were picked to participate in an exclusive creative workshop to co-create the film's ending with PUB staff, creative agency Tribal Worldwide and director Roslee Yusof of Freeflow Productions.
"We are very humbled and encouraged by the overwhelming response for Kinship, so we felt that it is only fitting to include our fans' voices as part of this much anticipated ending and co-create the appropriate ending for Din and Zul. This is a new way for PUB to collaborate and engage with the public and we hope that the ending will bring the audience closer to the characters, and fulfil their wish for a closure," said Cindy Keng, Director of 3P Network, PUB.
Over three hours on 9 July 2019, the storytellers were hosted at PUB's headquarters in Scotts Road, where they worked together with the panel to develop the final ending of "Kinship", based on the storyline that Ms Noor Arfa submitted.
Arfa's proposal dives into Zul's side of the story, where he writes a series of letters to his brother, Din, after their separation on the morning of Hari Raya. In the end, the brothers do reunite and try to make up for lost time, though they face a trying situation.
To capture the sounds of Zul reading his letters and the emotions of the brothers' reconnection, the panel decided to produce the final ending as an audio story. Titled "Dear Din, From Zul", the story was recorded with 3D audio effects, to give listeners a more intense feel of being part of the brothers' story.
Benson Toh, Creative Director at Tribal Worldwide Singapore, said, "We felt that the audio story format was a fresh and different way to tell the story, instead of putting out another film, which may have been expected. 'Dear Din, From Zul' takes on a very personal perspective, which helps listeners get close to the heart of the story and builds on the connection that people have already made with the original Kinship story."
Arfa, whose story was collectively chosen by the panel, said she enjoyed being part of the creative process. "I liked that everyone was very welcoming of different ideas. I now realise that it's really hard to come up with a short film, because you have to develop many storylines before you pick the final story. I also really wanted to meet the scriptwriters and the child actors because they were so good. Kinship did change my perspective about PUB. We all know it as a big brand, but I connected with PUB through Kinship, even though it was just a short film."
Photos from the creative workshop:
Top Left: Our 3 storytellers selected from more than 200 entries – (from left) Atiqah Ashari, Sam Chiu and Noor Arfa with PUB's 3P Network Director, Mrs Cindy Keng.
Right: A group photo after the brainstorming workshop to develop the perfect ending for Kinship.
Bottom Left: Brainstorming in session with Noor Arfa (second from right) together with PUB and creative team. Right: Director Roslee Yusof (left) and PUB's 3P Network Director, Cindy Keng hearing from our 3 storytellers.