If we were Hollywood producers, or, say, Netflix cheque writers, we'd be keeping a very close eye on Hennessy's 'What's Your Wild Rabbit' campaign. Cinematic and gloriously crafted, each and every wave of the campaign manages to unearth the story of a pioneer who's achievements have thus far been overlooked by the mainstream and whose tale has gone untold for far too long. Each spot feels like a trailer for a feature-length movie that we would happily head to a Covid-safe cinema to take in.
This year's raises the game. It follows the journey of Maurice Ashley, the Jamaican-American chessplayer who became the first ever Black Chess Grandmaster. It's full of '80s and '90s flavour and visual creativity. And for an extra ring of authenticity, the Little Black Book team were able to interview Maurice himself – he shared the kind of specific details about his life that make a film feel real, but, more than that, he took the creatives and producers on a revelatory exploration of the psychology of chess and high-level competition. Maurice also came to the shoot in Mexico City, where he worked with the cast and crew to ensure they captured the physicality of the game.
The spot was created by a world-class team, bringing together Somesuch director Daniel Wolfe with a 1stAD who was straight off the set of the The Irishman and DP Diego Garcia. Ruben Mercadal, Associate Director of Film Production at Droga5 NY, talks us through the crafty details, the challenges and the astonishing highlights – while sharing some incredible on-set photos.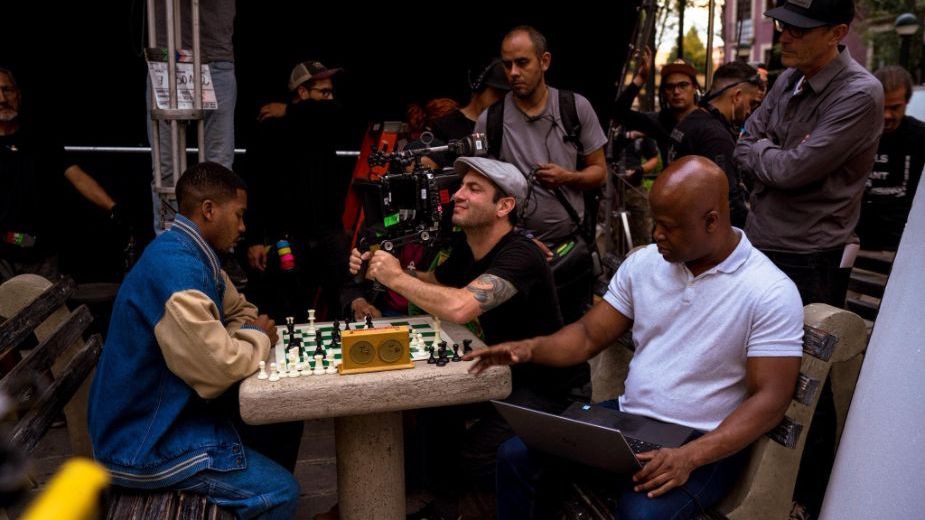 LBB: How did this year's Hennessy VS project evolve?
Ruben: Through the stories of extraordinary individuals, the Hennessy 'Never Stop. Never Settle' ethos brings to life the theme of pushing the limits of potential and the spirit of pioneering innovation. In previous years, the campaign has featured celebrities like Nas, while also shining a light on lesser-known historical heroes, like father and son explorer duo Auguste and Jacques Piccard, and our most recent campaign with cycling champion Marshall "Major" Taylor.
Every year it becomes more of a challenge to unearth a lesser known candidate that crystallizes all the qualities we are looking for, but it is a challenge we love to undertake. We spent many weeks researching potential people, both historical and present day ones in all sorts of genres / professions. The creatives did a deep dive and we also worked with a film and historical researcher.
Our aim is to craft a beautiful, compelling campaign around the heroes we feature. We want to elevate their stories and hold them up as models of excellence, and, in doing so, inspire the target demographic and consumer.
When we started to learn more about Maurice Ashley, the Black Bear School and his rise as a first Black chess Grandmaster, we knew instinctively that he had all the right qualities that we were looking for. It all fell into place quickly, with the Hennessy team really supporting this as well as our scripts which were developed by our ECD Alexander Nowak and the creatives, Thom Glover (CD), Jason Gold, Ted Meyer, Kamal Collins and Emily Berger. David Droga was very much excited about the story as well. Maurice himself was excited about the partnership. We wanted to tell a 'Never Stop. Never Settle' story of mental and intellectual greatness.
LBB: Tell us about the research that was done?
Ruben: We had in depth conversations with Maurice early on to unearth his story and we did a lot of research. He was very helpful with giving us a lot of details about the Black Bear School and putting us in touch with people from that era. It really helped us to discover a lot of information about the psychology of playing chess and the intense training that goes into it. Chess players burn thousands of calories in a single day playing in chess tournaments, very much like a sprinter etc or any other high intensity sport. Their training routine is as rigorous as any prizefighter.
We wanted the campaign to be absolutely authentic to Maurice and the time period we were bringing to life. A lot of time was spent building up a visual identity of that time we were looking to create and contextualizing it with the historical facts we had from talking to Maurice and his old colleagues and our historical and online research.
LBB: Why did you work with Daniel Wolfe to direct this campaign?
Ruben: We had some incredible directors pitch on this project and all the treatments were absolutely wonderful. We loved Daniel's treatment as he had this 80's/90's mixtape collage approach that was really fresh and it really captured the magic of the era in an absolutely authentic way.
The creatives and I loved how he had submerged himself into Maurice's story and the visual flair and energy that he wanted to inject into a story of chess and bring it to life, so that chess didn't come across as a passive game. We wanted the viewers to be drawn in from the beginning, to see the utter rigour and methodical training Maurice put himself under, in order to be the best in class.
LBB: Where did you shoot and why?
Ruben: Before talking to production companies, I did my own research about where to shoot. The campaign was being shot in winter, so we needed a production centre that would give us good weather/light and long shooting days, given the whole campaign was being shot outdoors. We needed somewhere where we could authentically recreate Brooklyn in the 90's on hot summer days.
We looked at various countries like South Africa and Brazil but quickly settled on Mexico City, as it's a great cost-effective production centre with top tier crews and excellent production infrastructure. I had shot there various times over the years, and it's a great place to shoot. We worked with the Lift as our local Service Company, who were fantastic.
LBB: What type of production team did you have?
Ruben: Daniel had an incredible team working with him. Shooting in CDMX allowed us to bring some world class key crew from the US like our 1st AD David Webb who had just wrapped on Scorcese's "The Irishman". Diego Garcia was our DP, who was also superb.
Daniel paid a huge amount of attention to all of the period detail. That's one aspect of Daniel's work the creatives and I loved. When you look at his Chase and Status 'Blind Faith' video as one example from his body of work, it is like you're watching a documentary, it is so realistically re-created. His passion for the Maurice Ashley time period we were creating really came through in pre-production. He engaged a graffiti artist from that era to create all the art in the film, so that it was absolutely authentic. Wardrobe selects were sourced from the time period. We didn't want it to just feel like a period film, but a fresh take on the past that would be in keeping with the Hennessy brand.
The brief from the clients was to create different content across all platforms, so that the shorter deliverables were all bespoke and there wouldn't be media wearout. Daniel really embraced that, which is reflected in the wide range of content we have. He brought in Elliot Power who works closely with Daniel to direct the five minute content film about Maurice.
The Mill also worked with us and Daniel closely in pre-production to ensure all the VFX and seamless post would work effectively. Continue reading on LBBOnline…
Image credit: Paul McGeiver at Second Child