In collaboration with Tribal Worldwide Singapore, PUB has launched a new festive film to celebrate Hari Raya, as the end of the fasting month of Ramadan draws near. Titled 'Kinship', the film follows two young brothers who were bitterly separated but found resolution through forgiveness.
The 6-minute short film points to the similarities between kinship and water — one a precious bond and the other a precious resource. Over two days, the cast and crew filmed at three locations steeped in nostalgia such as Tampines Quarry and the Boys' Brigade building in Ganges Avenue. Woven into the narrative is the popular Malay song 'Gerimis Mengundang', which was given a new spin by former Singapore Idol and Asian Idol Hady Mirza.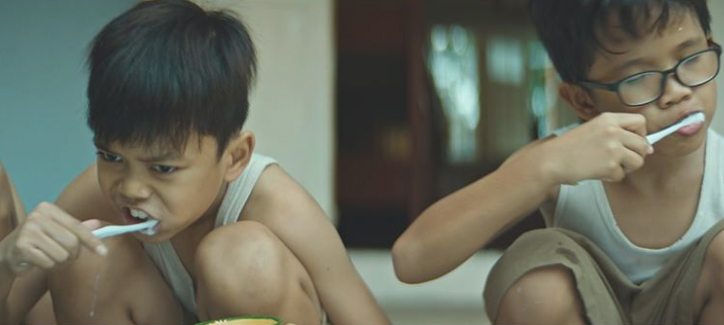 Benson Toh, Creative Director at Tribal Worldwide Singapore, explained the genesis of the film, "We were inspired by the Malay proverb 'air dicincang tidak akan putus'. The proverb loosely translates as "water doesn't break apart when you chop it", and emphasises that no matter what tribulations family members may go through, the bonds between them can never be broken."
The film is part of PUB's year-long water conservation campaign, "Make Every Drop Count", which hope to drive home the message that everyone has a part of play to use water wisely. Kindship is a departure from PUB's direct message that everyone has a part to play to use water wisely. Kindship is a departure from PUB's direct messaging which focused on the 'how' and 'why' of water conservation. Through the heartfelt narrative of the film, PUB seeks to engage the hearts of Singaporeans and ultimately inspire good water conservation habits.
We have refreshed this year's water conservation campaign with a focus on the amount of effort and processes behind the making of water, to show how every drop of water does not come easy. With Kinship, it is a different and softer approach, appealing to people's emotions to convey our water messages. In a subtle way, by drawing a parallel between water and kinship, we hope to evoke thoughts and reflections about how we should treasure and appreciate precious things in life such as relationships and water," said Cindy Keng, Director of 3P Network, PUB.
Credits –
Production House: FreeFlow Productions
Client: PUB, Singapore's National Water Agency