How will Asia Pacific perform at Cannes this year? In the lead up to the Festival, Campaign Brief will be showcasing the work we hope will impress the judges…
Hormel Foods International/SPAM Brand
SPAM Recipeoke
Filipinos love karaoke. They practically invented it. A Filipino patented the first karaoke system in 1975. So to stand out among the thousands of indistinguishable recipe videos online, SPAM created Recipeokes— six catchy, sing-along recipe videos patterned after cheesy karaoke hits such as arena rock and boyband pop. Each song is a functional recipe, helping consumers remember ingredients and step-by-step cooking instructions. Completing the karaoke experience, the brand partnered with Rockstar KTV bars to place SPAM Recipeokes in their song list.
SPAM also collaborated with artists to create the new videos in response to consumers' Recipeoke requests online. And as an encore, the brand tapped one of the Philippines most popular singers, Kyla, to star in five new, diva-inspired Recipeoke videos.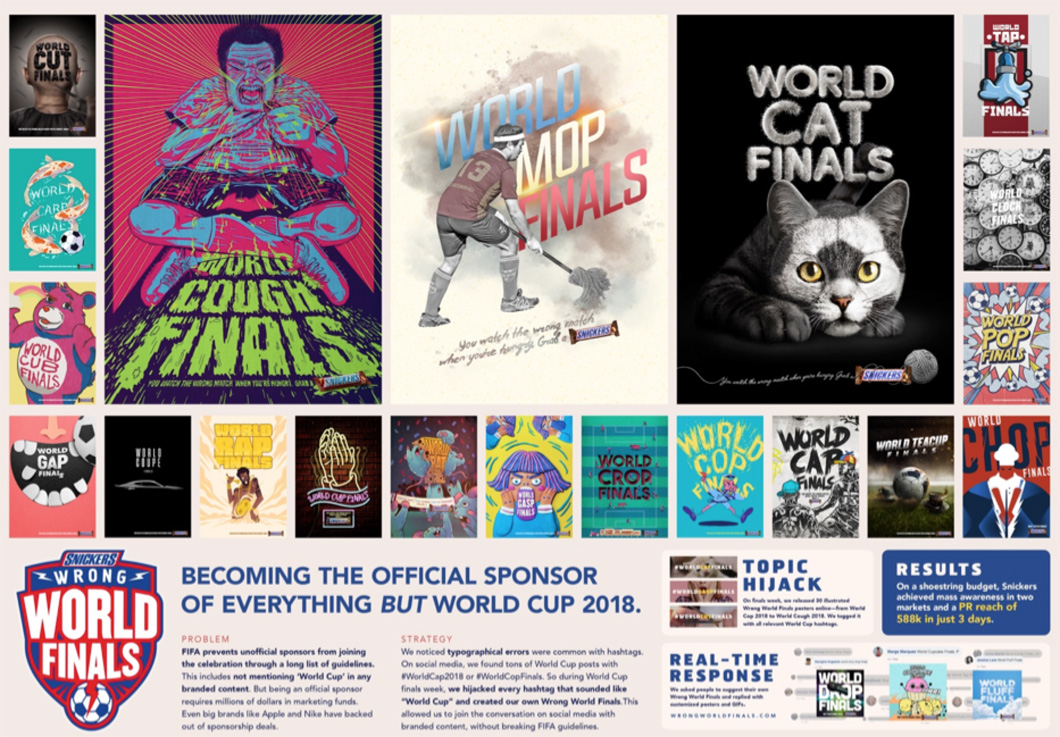 MARS Wrigley Confectionary/Snickers
Wrong World Finals
World Cup was the biggest sport event of 2018. And Snickers wanted to be part of the finals celebration. However, FIFA guidelines stated that if a brand wasn't an official sponsor, they were not allowed to mention "World Cup" in any branded content. So instead, Snickers became the official sponsor of all the other World Finals that you might watch instead on the day of the World Cup Finals.
The brand launched The Wrong World Finals: a social media campaign that hijacked misspelled World Cup Finals hashtags. The brand sponsored #WorldCopFinals #WorldCapFinals #WorldCatFinals and even #WorldCoughFinals just to name a few. We turned them into online and offline posters, produced sporting merchandise, and even created World Finals fan-art live on Facebook. So whether you were #TeamFrance or #TeamCroatia, Snickers made sure you weren't #TeamHungry.
So how do you join a sporting event you're not allowed to mention?
Philippine Department of Tourism/It's More Fun in the Philippines
Be Part of the Font
With the successful launch of the award-winning "It's More Fun in the Philippines" campaign's next phase, the Philippine Department of Tourism and BBDO Guerrero unveiled a refreshed sense of 'fun' that empowers sustainable tourism. Not an easy feat considering the production of a typical commercial yields tons of carbon emissions.
With a view of minimizing their carbon footprint, a crowdsourced campaign was launched. This kicked off with an invitation to "Be Part of the Fun" – or more accurately – "Be Part of the Font," with a custom-made typeface that turned everyone's content into a tourism ad. The font encouraged travelers to share photos around the Philippines while completing the missing letters in words.
Brands and individuals immediately jumped on the bandwagon, taking #ItsMoreFuninthePhilippines to 4.7 million posts on Instagram. The font became a focal point of the campaign and saw a 147% increase in usage of the hashtag just within the first three months. Searches for the Philippines achieved an 11% spike making it the most active for tourism in the SEA region — for literally a fraction of the carbon footprint.
We are inviting agencies to showcase your agency's best chances at Cannes this year. Open to all Asian based agencies entering Cannes this year. Just email kim@campaignbrief.com with a paragraph or two on each of your best chances at this year's festival. Include a link to the case study/TVC or supply jpegs if it is print.