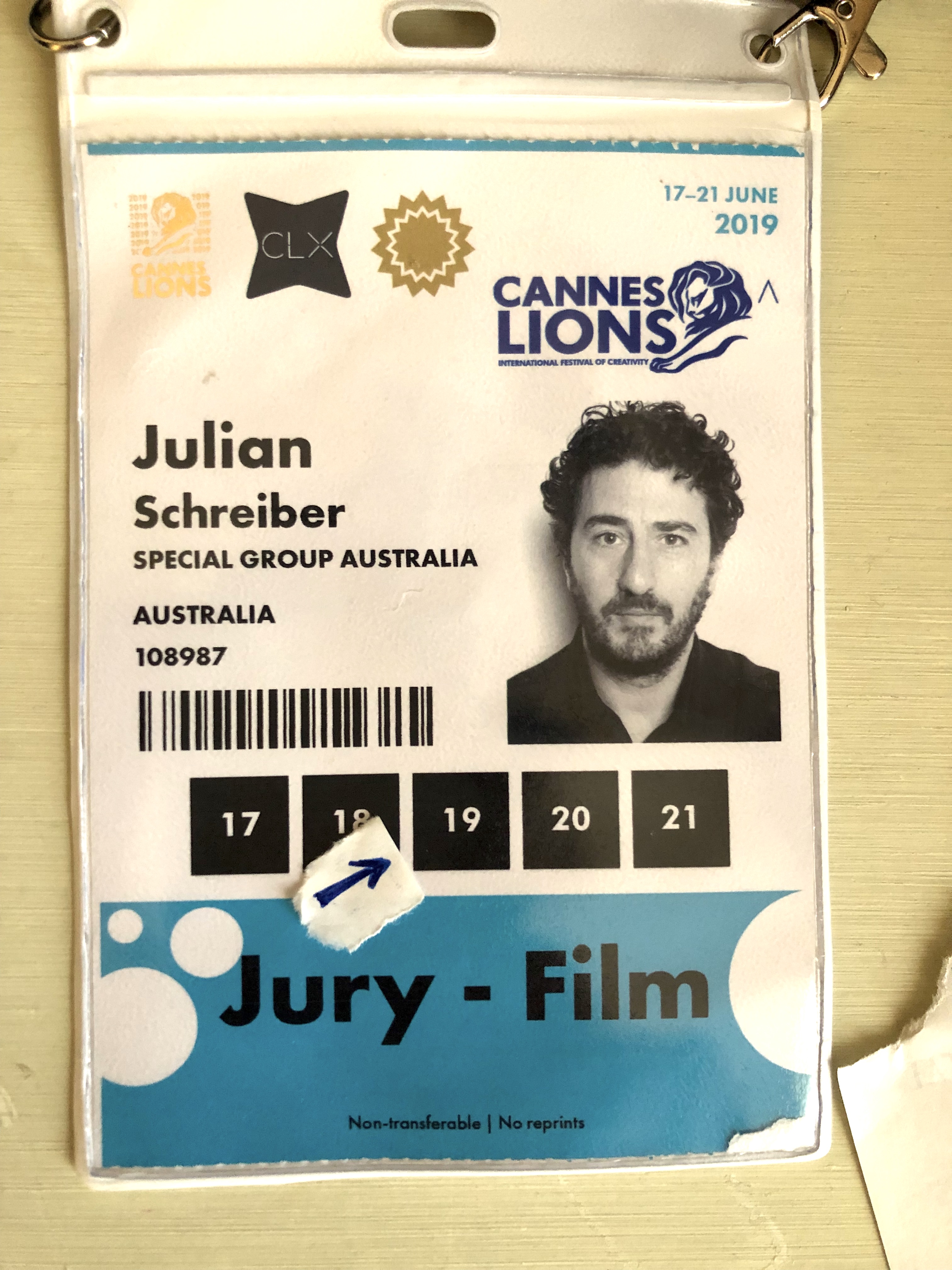 Julian Schreiber, executive creative director at Special Group is on the Cannes Film Lions jury. Schreiber, along with many other jurors in writing exclusively for Campaign Brief.
DAY 1
One thing I didn't know about film judging is that it can make you feel incredibly sea sick. But at least that's what I know happens now when you strap a very jetlagged Aussie, fuelled on a mix of different flavoured Nespresso coffee shots and a chocolate croissant into a VR headset, early on a Sunday morning. I just remember looking down, not seeing my feet, then walking into a nearby table. Which in front of your fellow jury members that you've just met, isn't a great first impression.
But unsurprisingly, there's many many things that I didn't know about the film judging. Philip Thomas, the Festival CEO began our day with an incredibly inspiring history lesson about the whole festival, reminding us that we were the first category ever and 66th Cannes Film Lion jury. He showed us the festival's first Grand Prix (it was a B/W animation) and explained what an important part we play in the legacy and future of the lions. I didn't know that the locals who have lived here forever still refer to it as the 'Advertising Film Festival'. It even still says that in French on all the deliveries to the event. And I certainly didn't know that it took until the 1990s for them to even introduce a second category beyond film – Print. I think the point he was making is we're the 'OG' jury so bloody make sure you do your job well. Message heard. Then Margaret Johnson (CCO, Goodby Silverstein & Partners) our Jury President asked us to judge well with our hearts and our minds, to go beyond the familiar and recognise that we're not just setting the standard of work for our peers, but for all our clients as well. Daunting but inspiring words indeed. But, what I do know is we'll give it our best. I do know I'm surrounded by incredibly impressive jury members from the UK, USA, Brazil, Spain, Japan, France and Germany. And I know we all want the same thing – for the best to rise to the top and be celebrated.
So after bumping into furniture blindly in the VR section, we very quickly got into the meat and potatoes of beginning to finalise the shortlist. We all did a mountain of pre-judging before we got here with an extended jury that wasn't even in the room now – so a huge amount of work had already been culled before we even arrived. Which I see as both a blessing (less time in a small dark room) and a curse (did work I really like, miss the boat before we've even begun?). But weighing it up, I think it maybe a necessary evil of so many entries (over 2500) and all the new types of film that have now been entered. To even meet the show's very live time line, they've had to add an extra day of film judging for the first time – so that tells you something right there. The spread of work is amazing, and we're not nearly close to the discussion phase of judging. We're just pressing numbers into keypads – but we're all chewing at the bit to get there.
DAY 2
A key thing I learnt today about Cannes judging that no one ever talks about, is snack strategies. There is a lot of very serious discussion across the juries about snacks. The when, the what. Is it savoury? Is it sweet? How many breaks do we get to have them? Does anyone have any more of the bird seed thingy packets? It's the dark underbelly of the judging process. One Creative Data jury member from the States was so worried about the snack situation that she actually flew her snacks in – I kid you not. She brought a ready supply of pepperoni jerky and shelled pistachio nuts over from the States, defying any food and health quarantine laws. She assured me that the US and Europe have been sharing the same pests since forever, so it was fine. I asked her to check if she had accidentally brought a raccoon with her.
But in all seriousness, I can see why snacks are a topic. Energy and caffeine levels equals concentration. And when you're staring at a screen in darkness for 10 hours, you need to concentrate. Not because it's not incredibly interesting, but because you quickly become category cops, assessing not just if work is great but if it belongs in the category you're judging. We spent the day shortlisting everything from 6 second online ads to feature length films and everything in between. And as you watch, you quickly get humbling insight into the cultural trends of our world right now. The political, the musical, the cause work, even the comedy all offer up a fascinating point of view on the state of play of our world today. We've now finished ordering everything that made it in the room from the pre-judging phase or as they call it the longlist or the long-shortlist. The next step is work out a cut-off point based of the lowest hanging fruit from that order to create the final shortlist. And that's when the discussions really begin.
DAY 3
Today was probably the first time as a jury we got to talk about the work openly. It was for the finalising of the shortlist. So here's how it works (I'm telling you because to be honest, I sure as hell didn't know and I've been entering for years).
We voted for two days on a little mini iPad by ourselves to create a long version of the shortlist, then Margaret J (CCO GSP), our incredible Jury President has the very daunting task of looking at the list, staring at the lowest scoring entries in each category and drawing a line in the sand, saying 'I'd like you to vote again on these to determine whether they should stay in or out'. Suddenly all the keypad has on it is a big green 'Yes' or a big red 'No' and we go through these entries one by one, watching them, discussing them then voting. And it's at this moment that I realise how important something that Phil Thomas, Cannes Lions CEO told us at the beginning of the judging.
He smiled politely and said 'Please don't call out to the entire group if you think something's been done before or if you believe it never ran. Instead please come speak to your president and the officials privately, because as even if it's not true, once it's said out loud – no work can ever recover from than that." So true. Any remark can easily sway the votes, so you have to very sure about what you bring. But, my peers in the jury are incredibly eloquent in our debates, so we very quickly get the heart of any issue around a potential short-lister.
The cultural differences of each jury member offer really interesting perspectives on work. South American sensibilities are vastly different from British sensibilities as is the Japanese.
You can also really start to see the trends emerging _ The impact of Artificial Intelligence, redefining manhood, Brexit, Trump, the power of your vote. As you look at entries being considered, you begin to ask yourself the big questions – like should Serena Williams have her own category for 'best use of Serena Williams'. Why is Queen now the soundtrack of so many ads? Did they have a song catalogue sale? And in truth, this isn't a go over once process, it's a go-over-it-as-many-times-as-it-takes-for-all-of-you-to-feel-right about the list process. Which is fine, except Cannes is a rolling daily live show and that means they need your shortlist by a certain time to be able to share it – you know, with the entire advertising world. We are on the clock. So there's no 'let's sort this out tomorrow'. It's literally 'ain't nobody going to the bathroom until there's a list'. By the way, did I mention I'm drinking a lot of coffee?
Write soon, J