Seattle is known for its rich musical culture and heritage. Major musical influences such as Nirvana, Pearl Jam, Jimi Hendrix and Macklemore to name just a few. And now with Singapore Airlines' first non-stop flight from Singapore to Seattle, the city sounds even better.
Together with TBWA\Singapore, Singapore Airlines created and conceived a campaign to celebrate the Airline's first non-stop Singapore to Seattle route with the release of a new music track featuring ambient sounds from the Airbus A350. The track is part of a creative collaboration with the Seattle-based upcoming superstar DJ, music producer, and multi-instrumentalist Chong the Nomad (aka Alda Agustiano) to launch the campaign titled 'Seattle Sounds Even Better Now'.
To create the campaign, Chong transformed the Airbus A350 into a musical instrument. Chong – who is famed for her tech-infused musical creations, often with recordings of unusual sounds – sampled the entire aircraft to compose the authentic, distinctive track titled Non-Stop.
The campaign includes a 'making-of' film trailer, capturing Chong in her element as she explores, records and produces the authentic Non-Stop soundtrack in both Singapore and Seattle.
When conceiving the campaign idea, TBWA\ Singapore's creative team started with music as a premise. They sought out Chong and her knack for collecting authentic sounds to make music, then found a singular proposition – declaring that Seattle Sounds Even Better Now thanks to a non-stop flight and a skilfully crafted music track. Singapore Airlines allowed Chong special access inside and outside the Airbus A350 on the
tarmac at Singapore Changi Airport.
23-year-old Chong first started experimenting with sounds she recorded from a ramen kitchen she worked at in downtown Seattle. Since then, everyday objects have become her orchestra – each weird and wonderful sound lending to another beat and note in her compositions. Producing music since the age of 14, Chong has received critical acclaim as a rising electronic music producer, songwriter and DJ.
Chong explored the Airbus A350 from the cockpit to the tail and from the wheels to the engines, creating a library of sounds to compose her track. In total she recorded over 45 different sounds. Many are recognisable to passengers – including the roar of the engine, clink clinks from silverware, the click of a seatbelt, the ding of the flight attendant button and even the familiar welcoming voice of the Singapore Girl. Other, less accessible sounds – including taps on the tyres of the Airbus A350's nose-wheel, or the whirrs and ratchets of cockpit controls – are embedded in the mix as beats and bass.
Back in a studio in Seattle, the Airbus A350 sounds were mixed with Chong's signature pop electronic style chock full of beeps, bops and quirky glitches to produce a bright and uplifting earworm of a track. The title is not only reflective of the catchy nature of the tune; it represents the new non-stop flights between Seattle and Singapore.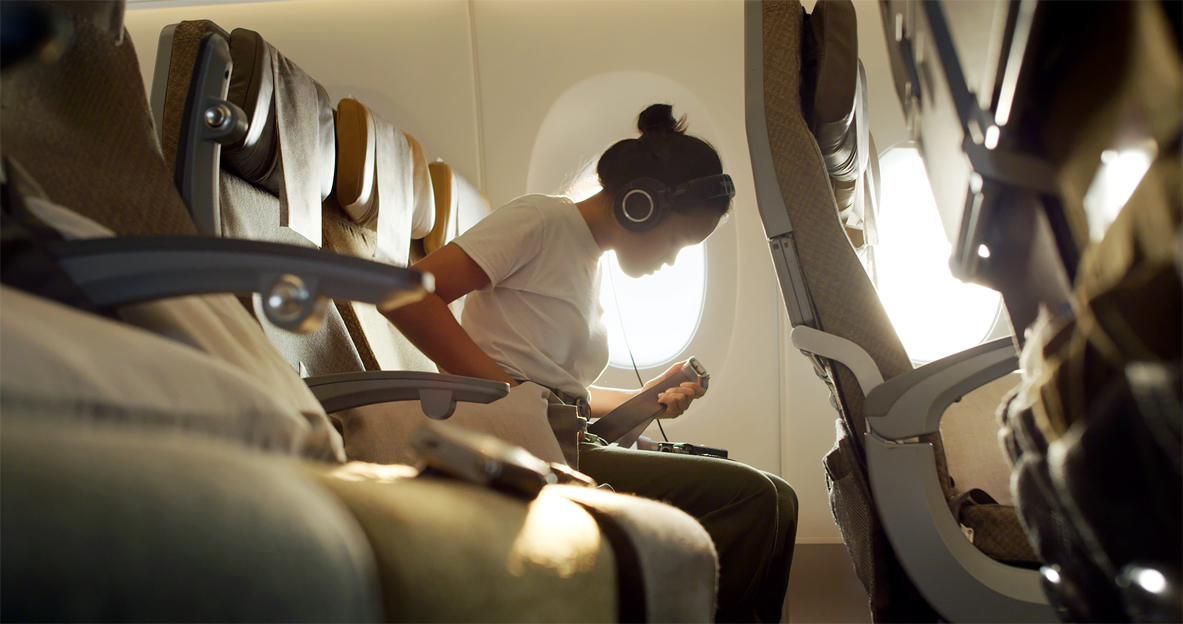 Robert Nelk and Mark Peeters, Senior Art Director and Senior Copywriter, TBWA\ Singapore said, "It is fantastic to work with an upcoming artiste like Chong and watch her work unfold. And doubly so to have access to an entire aircraft. Kudos to Singapore Airlines for embracing the opportunity to creatively innovate – and thank you Chong for the awesome 'fly' track that exceeded our already high expectations."
Chong The Nomad said, "I would have never thought that one day I'd use a huge airplane as my instrument! Creating this project with Singapore Airlines was truly a remarkable experience. I was challenged as a producer but also thrilled to be able to do something so original and exciting. I'm glad that music got to play a part in connecting two beautiful cities."
Campbell Wilson, Senior Vice President Sales and Marketing, Singapore Airlines said, "This is an exciting and important milestone for Singapore Airlines as we launch a brand new non-stop flight to Seattle. We wanted to have a little fun and pay a contemporary tribute to Seattle's incredible music heritage by creating a music track that's completely one-of-akind."
The Seattle Sounds Even Better Now campaign launches globally across Facebook, YouTube and Instagram over the next four weeks. Non-Stop can be heard for free on Spotify, Apple Music, Bandcamp, SoundCloud, YouTube and more.
TBWA\Singapore was awarded the Singapore Airlines business earlier this year as part of an integrated pitch with PHD. TBWA\ Singapore has been the incumbent agency for Singapore Airlines since 2007.
Credits –
Group Brand Director: Char-Maine Tan
Brand Director: Nastasha Gotangco
Brand Manager: Justine Chng
Project Manager: Nash Tan
Creative Director: Greg Wood
Senior Art Director: Robert Nelk
Senior Copywriter: Mark Peeters
Artist / Music Producer: Chong the Nomad
Artist Manager: Austin Santiago
Production House: Brian Photoh
Director: Brian Oh
Executive Producers: Haydn Evans (SixToes) / Sariyanti Sannie (SixToes)
Producers: Una Yoon (SixToes) / Brian Oh (Brian Photoh)
Post Production: Brian Photoh
Media Agency: PHD