Sydney agency The One Centre has been working with Thailand's Singha International Headquarter Company to reposition SINGHA Beer and LEO Beer in 15 key growth markets across South East Asia.
SINGHA is now rolling out a campaign designed to increase the brand's awareness across South East Asia. It positions SINGHA as Asia's Global Premium Beer – the aspirational beer for life's first movers and shakers – with the tagline, 'Fortune favours the first. Start it with SINGHA.'
The One Centre has animated SINGHA's lion using liquid gold to symbolise SINGHA's pioneering spirit as an Asian beer that's taking on the world.
Says York Spencer, regional marketing director for SINGHA and LEO Beer's International Headquarter Company: "We asked The One Centre to help us develop a challenger positioning that could flow across multiple markets and channels in South East Asia to drive growth. 'Start it with SINGHA' is a call to action to make the first move on your passions and dreams. It taps into our heritage as a pioneering brand that has been blazing a trail as Asia's global premium beer since 1933."
Says John Ford, CEO and founder of The One Centre: "We wanted to position SINGHA as a brand that belongs to Asia but is playing on a global stage thanks to its global mindset and entrepreneurial spirit. Our campaign idea is a call to action to make the first move on life and good times. Because "Fortune Favours the Firsts' – it's an irrefutable truth."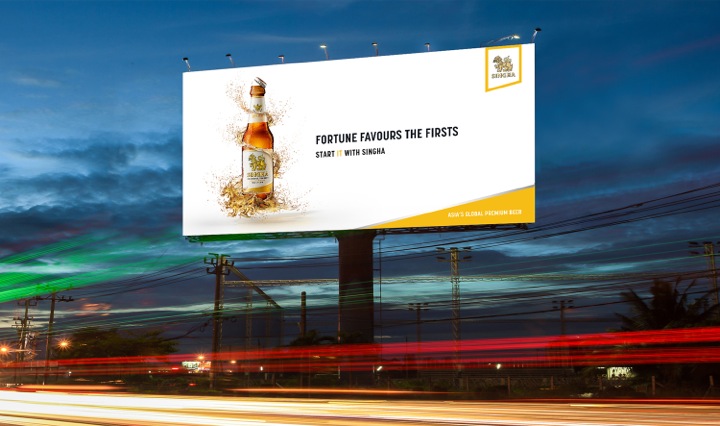 'Start it with SINGHA' can be adapted to represent the many ways it's possible to make the first move: Start the night with SINGHA; Start a conversation with SINGHA; Start up with SINGHA, and so on. The campaign will roll out in several phases beginning with outdoor, print and digital executions, while the new visual experience will feature prominently in venues serving SINGHA everywhere from bar signage to installations, glassware, fashion and merchandise.
For LEO Beer, The One Centre has developed a challenger stance that brings LEO's leopard spots to life and positions the brand as 'South East Asia's official beer of nighttime fun'.
Says Katie Molloy, general manager, The One Centre: "LEO is Thailand's most popular beer and it's rising to become the beer of choice on the streets of South East Asia. By declaring LEO as the region's 'official' beer of nocturnal leisure and fun, we are targeting anyone who works hard and plays hard, who aspires to more from life, and who is looking for opportunities to express their wild side."
Singha International's parent, Boon Rawd Brewery, Thailand's first brewery, was founded in 1933. Brewed 'By Royal Permission', SINGHA is the only beer in the world to be stamped with the Royal Garuda – the highest royal honour in Thailand awarded to businesses and organisations. Boon Rawd Brewery began exporting SINGHA in 1989; it is now available in 65 countries and counting.
LEO Beer launched in 2002 and today it's available in 25 countries. LEO is growing in popularity on the streets of South East Asia thanks to a slow brewing process that enhances its purity and creates a uniquely smooth taste.