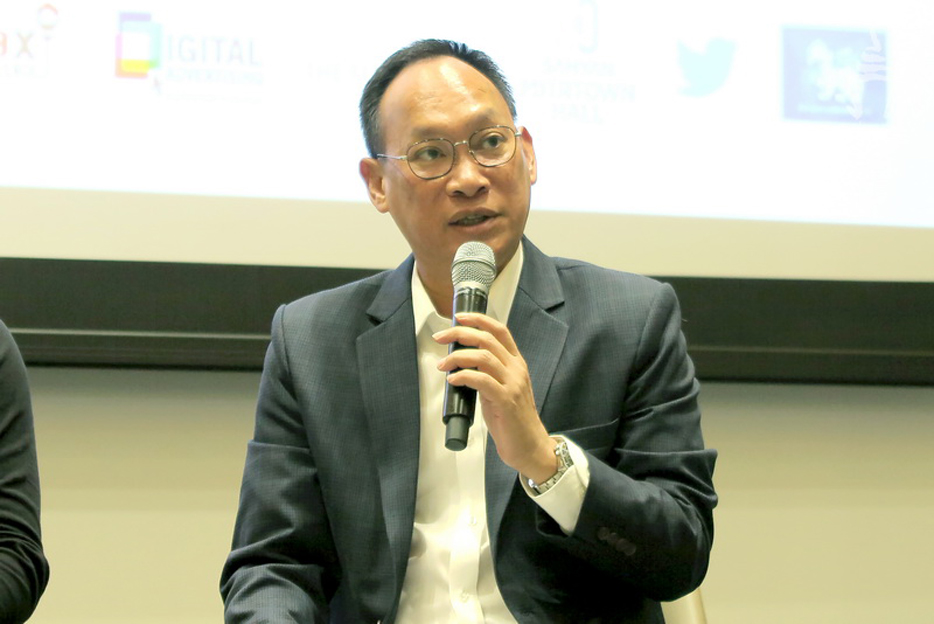 The Advertising Association of Thailand ha launched the 16th Adman Awards & Symposium 2019—a challenging stage of competitions, showcase, and knowledge exchange for advertising and marketing communication insiders, with an aim to constantly advance the quality standards of Thailand's largest marketing communication business.
This year's theme is "UPVER-TISING." There was a short forum session during the launch led by Theeraphol Suneta, Film Director from Suneta House Bangkok, under the topic of "The Latest Creativity is Available to be Updated." Theeranai Sitthichamlong, Head of Content of Wongnai and Anuwat Nitiphanont, Chief Creative Officer of BBDO Bangkok and Head of Adman Awards 2019 Judging Committee were guest speakers. There was also a special video clip from Satun and hosted by Anurak Sanreutai, or "Hasun," the owner of a dried seafood Facebook Page, an up-versioned influencer who has created a huge and industry-shaking phenomenon.
Rati Panthawi, President of the Advertising Association of Thailand (pictured above) said, "Throughout the past, the Advertising Association of Thailand, as a representative of the country's advertisement and marketing communication people, has been focusing on carrying out missions by promoting, supporting, fostering, and developing creativity for all personnel as well as the new generations of the advertising industry. These missions aim to equip these resources with capabilities to create works that represent efficiency and serve customers' needs, the society, and the fast-changing world. The advertising industry has also played a crucial role in stimulating national economic growth. It can be said that creativity of advertising people is unestimable and able to sustainably enhance competitiveness of our country. The Adman event can be considered another tool adopted by the Advertising Association to expand knowledge and uplift the standards of the country's creative works to compete with other nations."
Nitipanont (pictured above) said, "Today's society is going at its fastest pace ever, where nothing in this world is truly 'new' or 'the best'. We are introduced to 'the world's best phone ever' that comes out every year. All technologies and innovation are being developed and updated every day. And even all of us, in every single second, are also updating our beliefs, thoughts and knowledge based on everything we read, hear and learn.
Meanwhile, in the world of creativity like our ad industry, it's no different. If we see 'the best work' of today that wins everyone's heart. There is no guarantee that it will stay 'the best' in years after.. that's because we also always keep updating our standard of 'the best work'. As a tiny part of an ad industry myself, I think it would be unfortunate if we wouldn't see the new possibilities, new works that redefine the standard of creativity or new solutions that no one has ever done. Just because anyone would refuse to update the new definition of 'the best work' and keep going with the same things that we think that it is already the best. Just like how someone hit 'not now' button every time their computer suggests them to 'update'.
This is why we chose this year's ADMAN theme as 'Upver-Tising', which in Thai it could be translated as 'an advertising that's always updated to the latest version.'
We would like to set up this year's mission for Thai creative industry to be open and keep updating themselves, come up with something we never think of, do something we've never done before, and together, prove to the world that our creative possibilities are endless if only we choose to press our 'Update now' button."
Parames Rachjaibun, Chairman of The Steering Committee, Adman Awards & Symposium 2019 Organizing Committee (pictured above) said, "The Adman can be compared to a valuable institute for the Thai advertising industry. We are responsible to take care of, promote, and develop creativity of the nation. For the ideas of this year's event, we aim at transforming the Adman into a celebrating event for everyone's creativity throughout Thailand, not only those working in the advertising and marketing communication industry. Adman Awards & Symposium 2019 will be an event for everyone who believes in and values their power of creativity in generating changes to gather for exchanging, learning, and sharing inspirations. Participants will be from several industries, including advertisement, entertainment, design, or even the general public who visit the event with a goal to make their businesses or organizations outstanding and competitive. The Association hopes this event will be a place where all Thai people can find inspiration, while, at the same time, reactivating their creativity. We offer access to a broader group of people by also selling tickets to the general public to join interesting forum and symposium sessions. Furthermore, we also prepare special prizes for public participants who present outstanding and effective creativity. In this regard, this year's Creativity Day will be organized on November 6, 2019 from 9.00 am – 10.30 pm at SAMYAN MITRTOWN. On that day, apart from award giving, there will also be other activities, such as forums and symposiums under several interesting topics for people of all fields, Brief Market, and Ad Gallery. Last but not least, there will also be workshop, such as School of Creativity, and Creativity for Sharing Awards."
"Our purpose is to transform the Adman event into a venue for everybody with true creativity in order for them to enhance their experience, inspirations, and lessons they have learned to create works that are beneficial to themselves, business sector, organizations, and most importantly, to contribute to the society and the nation in the future," Panthawi concluded.