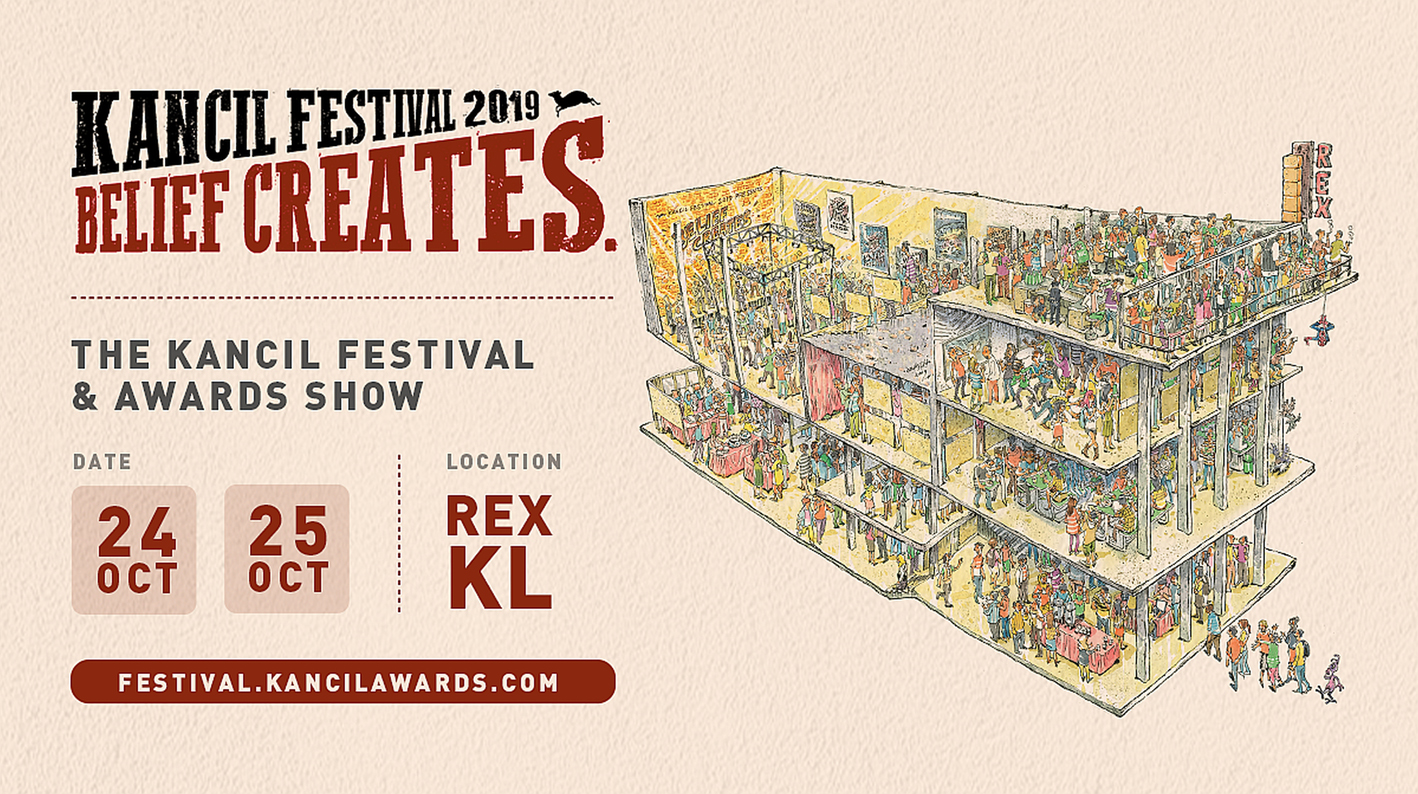 From 24th October to 25th October, get ready to challenge mind-sets, reignite lost passions and be inspired at the Kancil Festival, a two-day creative festival to be held at REXKL, organised by the Association of Accredited Advertising Agents of Malaysia (4As).
Fahmi Reza, political graphic designer and visual activist, previously arrested, charged, and trialled for his political caricatures; Sasa Arsovski, Programme Director AI & Robotics at Raffles University Iskandar, speaking on "Are we doomed? The Rise of AI and Machine Learning"; and Ronald Rael, applied architectural researcher, author, and design entrepreneur, renowned for installing a pink seesaw on the US-Mexico border wall, are just some of the personalities who will be appearing at the Kancil Creative Festival from 24th to 25th October.
Get ready to challenge mind-sets, reignite lost passions and be inspired at the 2nd Kancil Creative Festival, a two-day festival to be held at RexKL, organised by the Association of Accredited Advertising Agents Malaysia (4As).
Themed "Belief Creates", the festival will showcase passionate personalities from a variety of disciplines, as they share their philosophies on how creativity can be a powerful tool with faith as a driving force. Those attending the event can expect chaotic creative fun, with exhibitions, mini workshops, dialogue sessions, and immersive experiences centred on the premise that conviction can conceive the most amazing things from the human mind.
Alvin Teoh, Kancil Creative Festival's Creative Council Chairman(pictured above) said, "The theme 'Belief Creates' is very apt in today's world, where so many things that leave an impact on us are driven by beliefs. The festival focuses on the fundamentals of the "why" in our actions, which help us unlock the potential of what we can achieve as an agency, a business, a community, or as individuals."
The festival line-up of 13 diverse speakers also includes Eleanor Goroh, beader, cultural activist, artist; Ismail Kamarul, filmmaker, Executive Producer, Reservoir Productions; Ruban Sundaram, Vice-President of Marketing, Etika; Sonal Dabral, Chief Creative Officer South and South-East Asia and Vice-Chairman India at Ogilvy; Stefen Chow, photographer, filmmaker, data-storyteller; James Whitelow Delano, reportage photographer, documentary storyteller, founder of Everyday Climate Change; Ian Yee, Elroi Yee, and Samantha Chow, investigative journalists at R.AGE; and Jia Ping, Programme Director at Think City.
Teoh added, "With this group of speakers at the festival, we are excited to see how their beliefs will inspire others to develop brands, fuel causes, push boundaries in technology, create meaning, spark curiosity, build bridges, and design things that last."
Karthi Palanisamy, Organising Chairman of the festival said, "Following the success of the inaugural Kancil Creative Festival last year, we hope to surpass the feat by creating more exhilarating experiences for festival-goers with the diverse roster of expert speakers. With an inspiring setting like the revived RexKL, we know attendees will take home not only fresh perspectives, but also a renewed sense of purpose."
The festival will conclude with the Kancil Awards Night, Malaysia's foremost awards for advertising agencies. With 21 new subcategories added to 10 award categories to recognise the best from Audio to Design, and from Film and Branded Entertainment to Outdoor, the Awards Night promises to be the most exciting ever in the 25 year history of the Kancil Awards.
Festival tickets are limited to 500 seats and are priced at RM2,200 for the public, and RM1,900 for 4A's Members. Tickets purchased are HRDF claimable.
Those looking to explore creativity in its true form at the Kancil Creative Festival can head here to purchase the festival passes.
Further information on the Kancil Creative Festival can be found here.