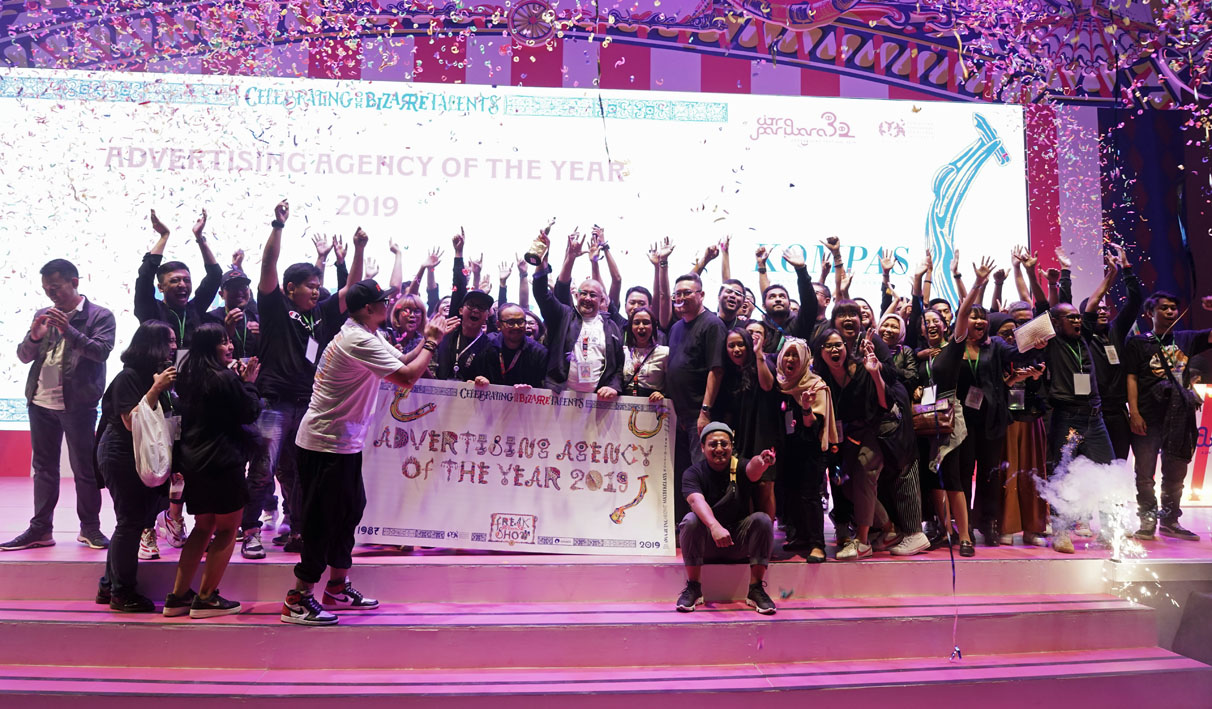 The 32nd Citra Pariwara Awards were held in Jakarta on Friday night. Indonesia's premier creative award show attracted 1548 entries and was held at the conclusion of this year's festival – titled "The Freak Show: Celebrating Our Bizarre Talent".
The best performing agency was Hakuhodo Indonesia who was was crowned as the Advertising Agency of the Year. Think Thank Indonesia was named Production House of The Year; Gojek Creative Lab was named as the Media Agency of the Year; Ambilhati was awarded as the Digital Agency of the Year; and CV Consina Segara Alam was awarded as the Advertiser of the Year.
"An achievement in the midst of industry challenges, this year Citra Pariwara has shown its passion. 1548 entries submitted, 147 Daun Muda entries, fully booked Masterclass, and the Seminar was sold out!", Reza Fitriano Chairman CP 2019 said.
Devi Attamimi, Co-Chairwoman of CP 2019, added that Citra Pariwara not only presented awards for the best work, but also provided a talent development program in the creative industry through 3 masterclasses and 1 day seminar. "This year we invited speakers who have won many international awards, as well as collaborating with the pop culture platform to keep advertising relevant. Results of the excellent curated content have shown from the audience's high enthusiasm until the end of the event with the highest number of participants in CP seminar history," she said.
International judges like Thomas Hongtack Kim from 2KG Korea, Jody Xiong from The Nine Shanghai, Pann Lim from Kinetic Singapore, Alice Chou from Dentsu Taiwan, Woon Hooh from Hakuhodo Asia Pacific, Thasorn Boonyanate from Wunderman Thompson Bangkok and Adam Chan from Bonsey Jaden Singapore also appreciate and praise the quality and implementation of CP 2019.
President Jury of Panel 1, Thomas Hongktack Kim, delivered in his speech, stated that he was honored to judge such a great work. "I'm amazed that the entry is 40% more than the last year and pleasantly surprised by the quality. I can tell you that this accomplishment will raise the bar. I hope there will be more great creative works next year."
While President Jury of Panel 2, Woon Hooh expressed his appreciation and assessed Citra Pariwara, especially CP 2019, as a festival to celebrate creativity. A showcase of the best this country has to offer. The festival keeps growing younger each year. "My hopes for the future of digital in Indonesia include more innovation-driven work with sustainability, work that will set the trend instead of work that follows trends, and content that really aims to touch the hearts of many. Last but not least, congratulations to all the work that made it to the finalist. Every piece of it is a winner."
Elwin Mok, Chairman of P3I (Indonesia Advertising Agencies Association) Jakarta said "Despite the fact that Indonesian Advertising Industry is facing massive disruption as the consequences of huge changes in how people consume media, the creative and unique way of communicating brand message to the consumer is always on demand. I hope the huge enthusiasm and participations in this year Citra Pariwara is a good sign for the leap of advertising industry in Indonesia."