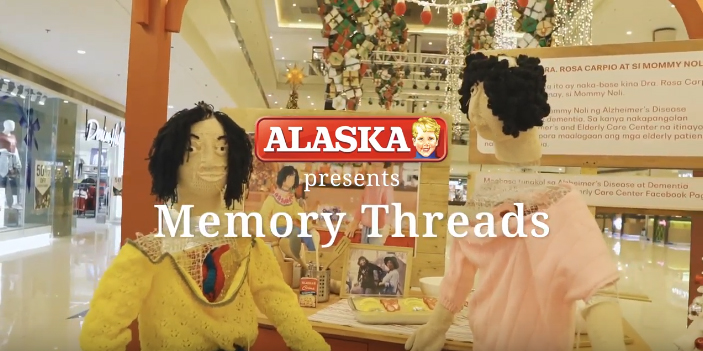 Christmas is a time of making memories. But when the mind begins to fade away, as in the case with many of our elderly loved ones, how do families make sense of what remains?
As a powerful follow-up to a heartfelt film, Alaska, in partnership with Noli Alzheimer's Care Center and MullenLowe Philippines launched the "Memory Threads" installation—an interactive art exhibit meant to raise awareness about dementia.
"Alaska has been a part of Filipino homes for generations, most especially during the holidays," said Harvey Uong, Marketing and Business Development Director of Alaska Milk Corporation.
"We need to raise the discussion now because this season is one of the most stressful for those with dementia. The lack of awareness can ruin the holidays not just for them, but also for the Filipino family that we've grown with over the years," Uong adds.
Dementia is a condition that breaks apart more than just memories. Left unchecked, the frustration it causes can drive a wedge into the bond of even the closest of kin.
Using several hundred meters of yarn, Artist Candace Alipio created a mixed-media installation depicting a mother and her daughter in a holiday setting.
These figures are built to be torn apart. Visitors are instructed to pull at the threads that make up the knitted sculptures, mimicking how dementia unravels one's memories. Once all strands are unraveled, a bright red heart hidden inside each figure remains. At this point, the message is clear—in the wake of dementia, memories made with the heart are the ones that stay.
Visitors are encouraged to cut a piece of the thread they've unraveled and tie it around their finger: a small reminder to think of the families going through this tough journey.
The figures are based on Dr. Rosa Carpio and her mother, Noli. Dr. Carpio founded the Noli Alzheimer's Care Center when her mother was diagnosed with Alzheimer's Disease—the most common form of dementia.
Dr. Carpio is adamant that families spend time and make crucial memories while they still can. "At Noli, I have declined requests to take in residents who are not yet in the severe stages of dementia," recalls Carpio. "For as long as the patient can still make memories, I always tell the family to spend as much time together as they can!"
Credits –
President/Chief Creative Officer: Leigh Reyes
Executive Creative Director: Abi Aquino
Creative Lead: Gabie Osorio
Creative Director: Roman Carlo Olivarez
Senior Copywriter: Hannah Portugal
Senior Art Director: Iya Parungao
Copywriter: Colleen Legaspi
Client Services Director: Aimee Sarmiento
Deputy Business Unit Director: Mel Jimenez
Account Director: Pat Juat
Account Manager: Steph Velasco
Head of Tech & Platform Services: Raffy Bariso
Content and Platforms Manager: Celine Tila
PR Client Services Director: Tricia Kiocho
Business Development Manager: Joel Quizon
Media Relations Manager: Jen Suguitan
Media Relations Manager: Jean Sanchez
Senior Account Manager: Nelle Silang-Cruz
Head of Content: Erwin De Leon
Media Relations Manager: Mich Tiongson
Production House: UxS
Broadcast Producer: Jhohanna Hukom
Alaska Milk
Marketing & Business Development Director: Harvey Uong
Marketing Manager: Joanne Mae Angeles
Brand Manager for Alaska Classic: Maria Kassandra Tagle
Brand Manager for Alaska Creams: Henry Camacho