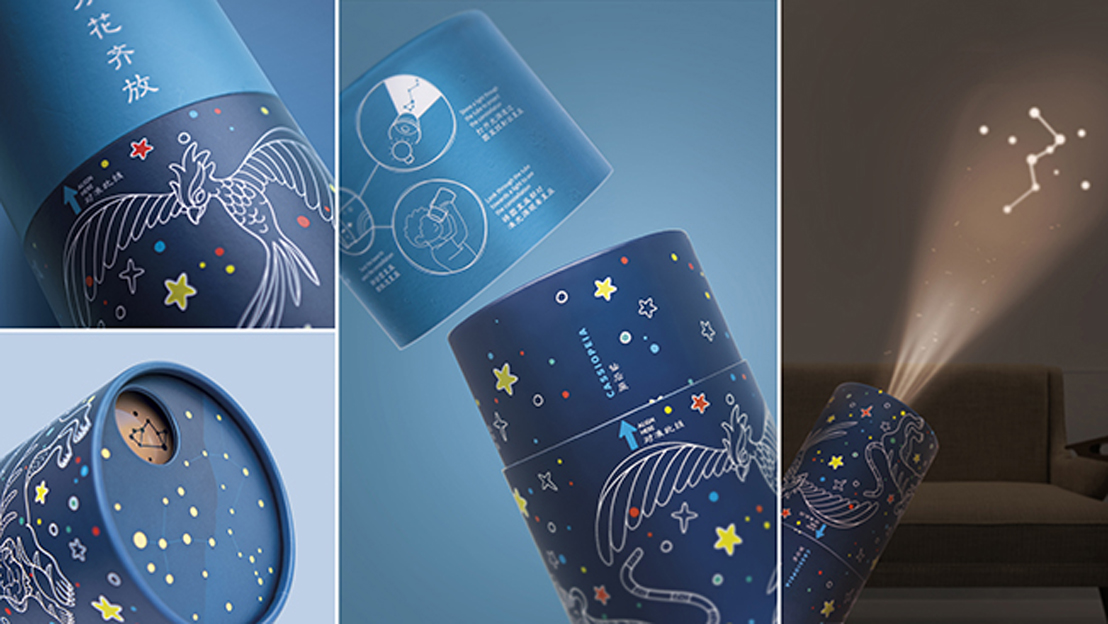 Four entrants in the 2019 Mobius Awards captured Best of Show (Grand Prix) awards. They represent four mediums, Package Design, Brand Identity, Commercials and Outdoor.
The Package Design top winner is Shangri-La Constellation Collection 2019, from Design Bridge Asia, Singapore, was done for Shangri-La International Hotel Management Ltd, Hong Kong. It features packaging for a Mooncakes Gifting Box distributed during the mid-autumn festival. Executive Creative Director Tim Siro led the project team of Senior Designer Christie Widjaja, Managing Director Joanne Tay, Visualiser Dea Jovita; 3D Designer Director Aaron Lim and Designer Elysa Tan. Others on the team are Senior Visualiser Ong Jian'An; Visualisation Director Charles Galland; 3D Technical Design Director Toh Meng Lee; Print & Production Team Lead Calvin Low; Production Manager Fenson Cheng; Artworker Vivian Vindu Dinata; Designer Pamela Ng; Senior Client Manager Andie Ngoh, and Client Executive Nur Farzana.
"McDonald's – Visual Identity System" created by from Turner Duckworth: London, San Francisco, New York, San Francisco, Calif., is the winner in Brand Identity. The project is for McDonald's, Chicago. The design uses the theme of a "golden company with red accents." The project was led by Global Chief Creative Officer Sarah Moffat, assisted by Design Director Tyler Brooks, Lead Designer Hannah Steinberg and Designers Loren Schott, Hollis Callas, Oliver Lo, and Sydney Bradshaw. Typography is by Dalton Maag. Production Director is Craig Snelgrove; Production Artist, Jeff Ensslen; Implementation Director, Liisa Turan-Walters; Implementation Designer, Sara Scanlan, and Account Directors, Wyeth Whiting, D'Arcy Danaher. Reach Creative is Digital Hub Partner.
Winning in Commercials is "UBISOFT – Ghost Recon Breakpoint" from THE production company Frenzy Paris, Paris, done for UBISOFT, France. This film is the trailer of the last Ghost Recon video game named "Breakpoint." The agency is DDB, Paris, with Clément Oberlin as Art Director; Corinne Persch as Head of TV Production and Jerome Deplatiere as Agency Post Producer. Frenzy Paris Director is Vellas; Producer, Capucine Charbonnier; Producer/Director, Julien Berlan; Production Coordination, Lara Deweerdt; Director of Photography, Khalid Mohtaseb; Decoration Chef, Production Designer, Pablo Tregebov; 1st AD, Flavio Lanfredi; and Service Producer, Nikita Bukowski. Music is by Criminal with Sound Design from 750 nph. Post-Production Company is Mikros MPC Advertising, Paris, with Editor Maxime Pozzi, Post-Production Supervisor Wassila Kailali, and Mikros Post Producer Lionel Juglair. Visual FX is from Mikros MPC Advertising, Paris, with Supervisor of VFX, Jao M'Changama, and Post-Producer VFX, Nicolas Huguet
The winner in Outdoor-Out-of-Home medium is "KeepLivingCoral" from White Rabbit Budapest, Hungary. The work uses the 2019 Pantone color pick of Living Coral to bring attention to the current dangers to the world's coral reefs. Client is WWF Hungary, which wanted to stress the message that reefs are crucial to healthy marine ecosystems. Chief Creative Officers Istvan Bracsok and Levente Kovacs headed a team of creatives that include Art Directors Marcos Mendes Tanaka and Luis Paulo Gatti; Copywriters Andre Nunes Bueno and Adam Lenart; Photographer Thirza Schaap, Client Service Director Levente Balint, Account Director Beata Stumpf, Senior Account Manager Lilla Katona and Director of Photography Bruin Feskens. Post Production is by Floss Creatives, London. Alexa Antal represented WWF Hungary where she is head of Marketing Communications.
Mobius Awards, which dates to 1971, is presenting 56 awards – Student, Mobius First Place and Certificate – in addition to the Best of Show, all of which are also First Place winners. Visit here for a full list of winners.