AdFest has recruited Suthisak Sucharittanonta (BBDO Bangkok), Michael Ritchie (Revolver/Will O'Rourke, Sydney) and Kalpesh Patankar (VMLY&R MENA) as Jury Presidents at AdFest 2020.
Sucharittanonta (pictured) will oversee the Audio Lotus, Film Lotus, Outdoor Lotus and Press Lotus categories; Ritchie will oversee the Film Craft Lotus and New Director categories; while Patankar will oversee the Digital Lotus, Digital Craft Lotus and Mobile Lotus categories.
They join Judy John, Grand Jury President at AdFest 2020 and Global Chief Creative Officer at Edelman.
Sucharittanonta is regarded as a pioneer of creative Thai advertising and is one of the most awarded creatives in Asia. His works have won countless awards at some of the most internationally acclaimed award shows in the world, including Thailand's first Cannes Film Gold Lion award in 2003. He was also inducted into the AdFest Lotus Legend Hall of Fame in 2017.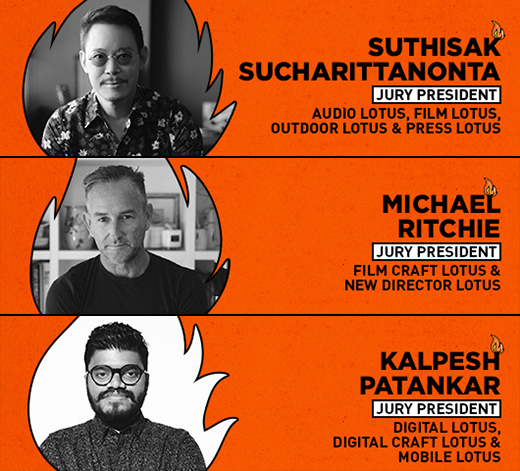 He said, "AdFest will always be my favorite regional festival as a globally-focused event with its heart in Thailand. I have always admired the festival's passion for putting Asian creativity on a global stage, and I'm honored to return as a Jury President this year."
Ritchie is the Co-Owner, Managing Director and Executive Producer of Revolver/Will O'Rourke in Australia, which he founded with acclaimed director Steve Rogers in 1999. In 2018, Revolver/Will O'Rourke were awarded runner-up for the prestigious Palme d'Or at Cannes Lions, the first Australian production company to ever do so. Ritchie, Rogers and Martha Coleman recently launched a new venture called RevLover, a TV & Feature Film production company, which is currently in development with around a dozen feature films and television shows.
"It's a privilege to be Jury President of Film Craft at AdFest 2020. With everything moving particularly fast at the moment its pretty exciting to immerse ourselves in the very best work – and focus on what makes our diverse region truly unique and amazing," said Ritchie.
Patankar is Regional Chief Creative Director of VMLY&R, MENA, and a member of VMLY&R's Global Creative Council. He is one of the most awarded creatives in the Middle East and North Africa region, and in 2018 was named among the top 10 Global Agency Leaders by Adweek.
"AdFest is an award show that celebrates our regions and has a very distinct cultural flavour. I'm looking forward to seeing how we are going to elevate work from our regions and how these insights will translate into the digital and mobile space," he said.
AdFest is now selling tickets to AdFest 2020, which runs from 18th to 21st March 2020 at PEACH, Royal Cliff Hotels Group in Pattaya, Thailand. For more information about registration fees and packages, or to book tickets, click here.