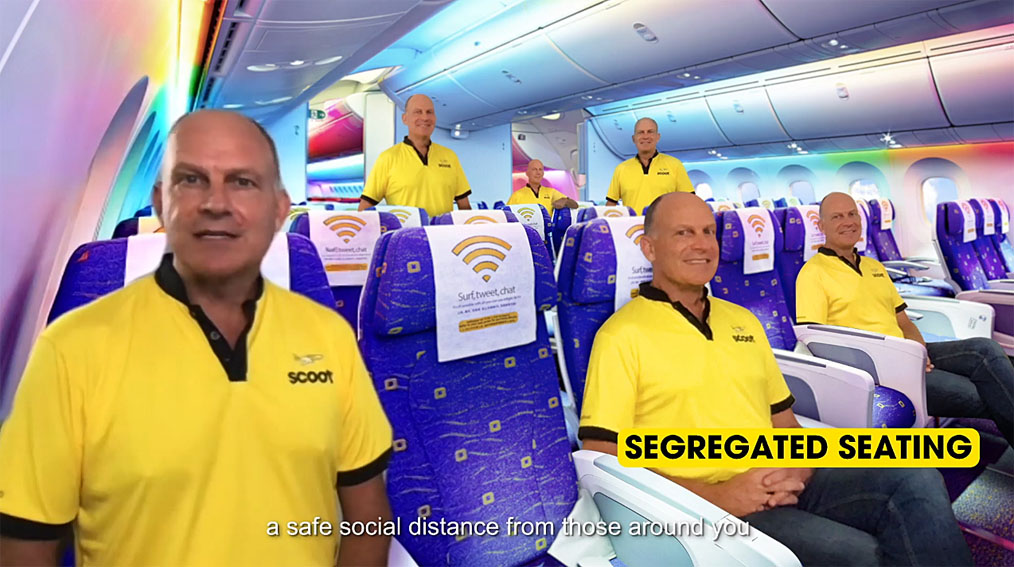 Scoot has always targeted travelers who desire to escape the ordinary and do the unexpected in life and in their travels. It is in that spirit that Scoot has to date maintained brand marketing efforts that are fueled by fun, culture and conversation, driven by agility and responsiveness.
In the absence of travel in the recent months, Scoot has had to review their brand efforts, and heighten that rigour more than ever.
Scoot partnered with BLKJ Singapore to demonstrate their commitment to safety, the video features Scoot CEO Campbell Wilson personally sharing all the measures that the low-cost carrier has put in place. As a zero budget shoot, the video was creatively shot on a laptop using a free teleconferencing tool's virtual background function, and the simple production allowed us to adapt to workplace safety measures where only a minimum number of staff were allowed on set.
CEO of Scoot, Campbell Wilson, said: "'Safe Travels' used to be a cheerful sign-off to loved ones going on trips. Today, the phrase has a whole new meaning. As we open up travel for essential purposes, safety is something that's at the top of every traveller's mind and 'safe travels' is no longer a farewell but something we put first at every touchpoint in our passengers' journey. I commend my team for staying vigilant and agile in adjusting to the ever-shifting market signals as we embark on the horizon of recovery."
Creative Group Heads of BLKJ, Christie Way and Rachel Chew, add:" Though the video was shot in Scoot's office during the Circuit Breaker lockdown in Singapore, it was designed to show Campbell presenting from aboard a Scoot plane by placing him into existing stock photos using Zoom's virtual background function.
"The team and our Scoot partners have been most adaptive in creating this piece, all while upholding the vibrant personality that Scoot has come to be known for."
In the first week of launch, the video has drawn positive sentiments from netizens, from comments commending the brand on its creativity to welcoming CEO Campbell Wilson back to Scoot.