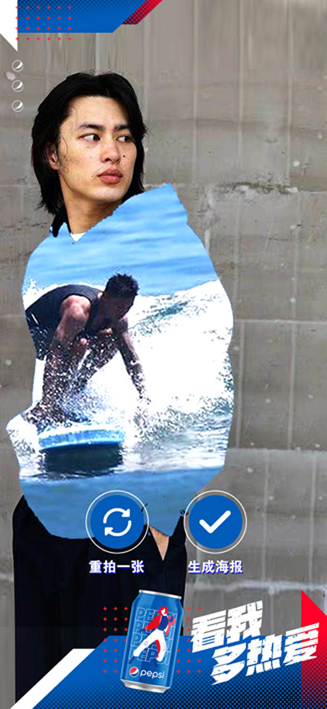 VMLY&R Shanghai has released a new campaign for PepsiCo letting mobile users across China showcase their passions by transforming any blue surface into their own Pepsi multimedia experience, increasing the quantity and engagement of the Pepsi brand across the country using augmented reality (AR).
The PepsiCo AR experience is the latest innovation in the brand's "For the Love of It" campaign, which aims to engage China's GenZ, by giving them a way to be the centre of attention and showcase what they love whenever they see Pepsi blue.
Launching in late June across both WeChat and TikTok in China, the new AR miniapps, allow users to scan any blue surface, which can then be used to showcase their own media content, allowing China's GenZ to show off their football skills on a billboard, or see their own musical performance appear on the side of a blue building via their smartphone.
By accessing the Pepsi AR WeChat miniapp, users are able to scan any blue surface and upload images to create their own unique Pepsi-branded poster, while the TikTok app allows users to upload and play videos on any scanned blue surface, which is accompanied by Pepsi branding and theme music. As of today, the app on TikTok has attracted 2.7Bn views.
"With no limit to the type of surface that can be converted, we are giving China's GenZ an innovative space to showcase their passions and create their own definition of our iconic Pepsi blue, said Lilly Yip, APAC CMO, PepsiCo.
"This is the first extensive commercial use of this technology in China, and we have already seen record engagement by millions of users across China showcasing what they love via the apps since launching just a few weeks ago," she added.
To launch the campaign, PepsiCo and VMLY&R China engaged popular celebrities and Pepsi brand ambassadors Jackson Wang and Zhou Dongyu, to showcase the technology to their social media followings, while also working with local TikTok vloggers to spread the word.
Since its launch, the campaign has seen users generate over 264,000 posters featuring user generated content via its WeChat Miniapp, and more than 332,000 videos via its TikTok miniapp, generating tens of millions of RMB in earned media.
VMLY&R Shanghai worked end-to-end on the campaign, from concept to execution. The agency's scope included digital videos, building partnerships with TikTok and WeChat and creating the AR miniapps within the two platforms.
Kevin Zhu, CEO, VMLY&R China, said: "PepsiCo is a brand that is always willing to push the boundaries in order to create innovative connected experiences for their consumers, which makes them an absolute pleasure to work with. This campaign harnesses creativity, technology and culture to connect PepsiCo with China's Generation Z, providing a next-level brand experience which is both fun and exciting and speaks to GenZ in a language they understand."
VMLY&R has worked on several successful campaigns with PepsiCo in the past, most recently on Your Pepsi Home Video, a 2019 Chinese New Year campaign which used big data from Alibaba to create personalised videos for hundreds of thousands of consumers across China, taking them on a nostalgic trip home, with footage featuring their hometown, local food, dialects, hobbies, complete with the historically accurate Pepsi can in-shot. The campaign won a gold, silver and two bronze medals at the ROI awards, as well as three silvers and a bronze medal at the Effie Awards for Greater China.
VIEW THE FIRST FILM
VIEW THE SECOND FILM
VIEW THE THIRD FILM