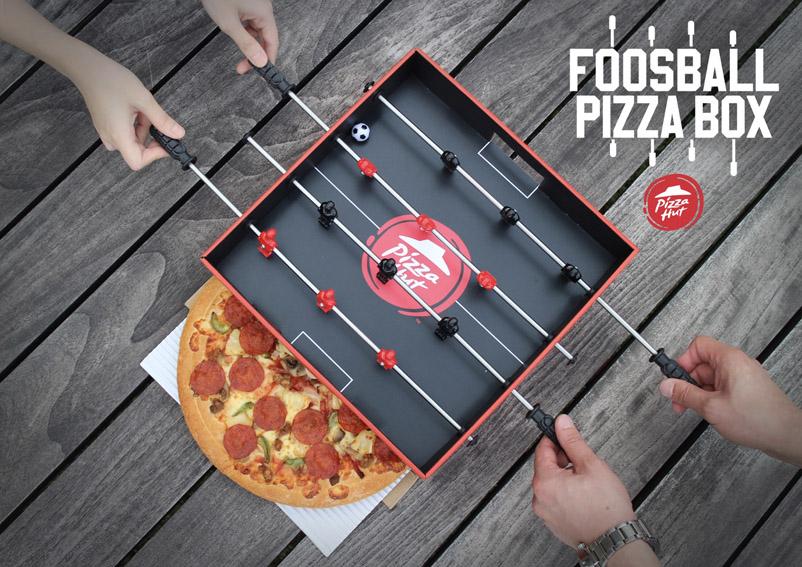 Ogilvy Hong Kong has extended Pizza Hut's '12th Player Club' European football season campaign with "Foosball Pizza Box" – specially designed with a fully playable foosball table integrated into the lid.
The campaign encourages football fans who are stuck isolating at home, to get into the football spirit, and great pizza.
Wendy Leung, Marketing Director of Pizza Hut explained: "The Pizza Hut Foosball Pizza Box was a great opportunity to remind football fans that pizza goes best with their football. We always want to go above and beyond when catering to our audience and given how fatigued the community has been this year, offering fun beyond just food, and bringing an experience like this to life, right in your pizza box, is the perfect way to make people smile."
John Koay, Executive Creative Director for Ogilvy Hong Kong said: "A lot of football fans have been stuck at home during these past few months, so we wanted to bring the fun and flavour to them. The Foosball Pizza Box is a great packaging idea that brings together the football action and delicious pizza for a memorable meal experience that you can share with friends."
The campaign runs from October 6 to October 20, 2020 with 5 Foosball Pizza Boxes up for grabs.
Credits:
Pizza Hut:
Wendy Leung – Marketing Director
Yoyo Lam – Marketing Manager
Karen Shea – Assistant Marketing Manager
Ogilvy:
Reed Collins – Chief Creative Officer APAC
John Koay – Executive Creative Director
Matthew Nisbet – Executive Creative Director
Amy Cheng – Associate Creative Director
Jo Wong – Senior Art Director
John Koay – Art Director
Alexandra Colgan – Copywriter
Yuliani Setiadi – Executive Group Director
Vincent Lam – Group Account Director
Rachel Tsui – Account Manager