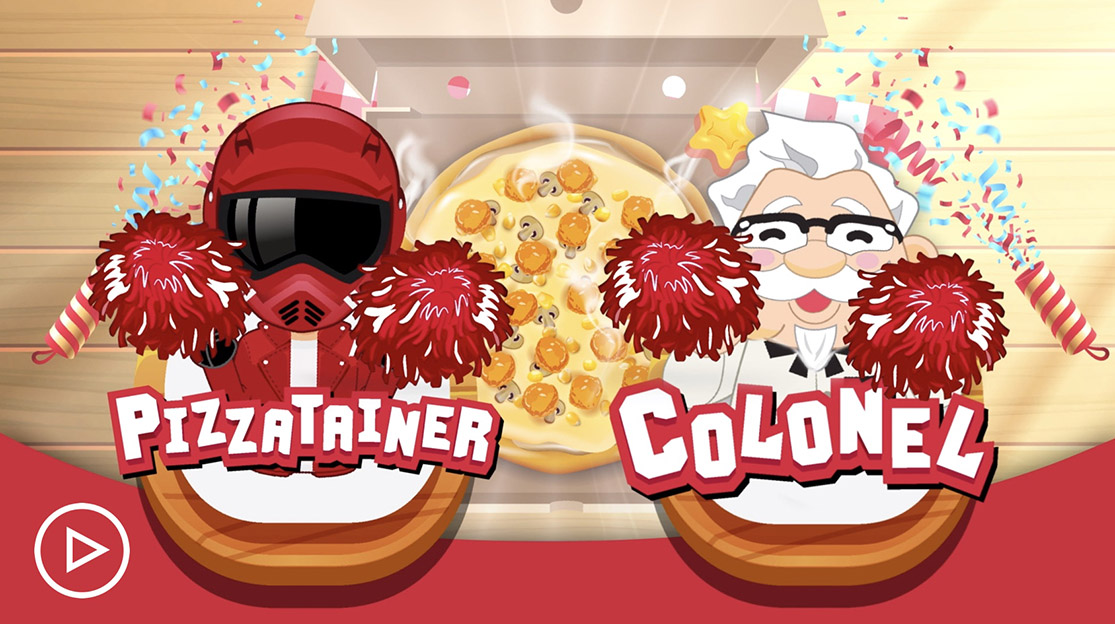 Pizza Hut in Hong Kong has teamed with KFC to launch a limited-edition pizza that combines Pizza Hut's crispy crust with KFC's Chicken Popcorn pieces, gravy, plus a serving of cheese, sweetcorn, and mushrooms.
To celebrate this tasty partnership, Ogilvy Hong Kong and the two brands launched the 'Pizza Hut x KFC Kitchen', a mobile game that connects two phones and challenges two players to craft a 'Pizza Hut x KFC Chicken Popcorn Pizza' against the clock together, playing as the Pizzatainer and Colonel Sanders.
Teamwork is the name of the game as players have to knead the dough, fry the chicken popcorn, and bake the pizza too. Complete the tasks in the time given to win Pizza Hut and KFC coupons.
John Koay, Executive Creative Director at Ogilvy, said: "This collaboration pizza between these two huge brands is a dream come true. That's why we were excited to create the Pizza Hut x KFC Kitchen, a fun two player game for fans to create this epic pizza with a friend, and unlock tasty rewards too".
Wendy Leung, Marketing Director at Pizza Hut Hong Kong, said: "The Pizza Hut x KFC Chicken Popcorn pizza brings the best of both worlds together. This mobile game based on teamwork is a great way to engage with our fans and consumers whilst also increasing awareness of our brand and food innovation credentials".
Credits
Agency – Ogilvy Hong Kong
Reed Collins – Chief Creative Officer APAC
John Koay – Executive Creative Director
Matthew Nisbet – Executive Creative Director
Amy Cheng – Associate Creative Director
Jo Wong – Senior Art Director
Adrienne Andaya – Senior Art Director
John Koay – Art Director
Sana Au Yeung – Art Director
Copywriter: Alexandra Colgan
Yuli Setiadi – Executive Group Director
Vincent Lam – Group Account Director
Rachel Tsui – Account Manager
Clover Yuen – Senior Account Executive
Manolis Perrakis – Head of Creative Technology
James Wong – Senior Digital Producer
Leslie Cheung – Principal web developer
Dick Tang – Web Developer
Client – Pizza Hut
Elizabeth Lix Ting – Chief Executive Officer
Wendy Leung – Marketing Director
Yoyo Lam – Marketing Manager
Karen Shea – Assistant Marketing Manager