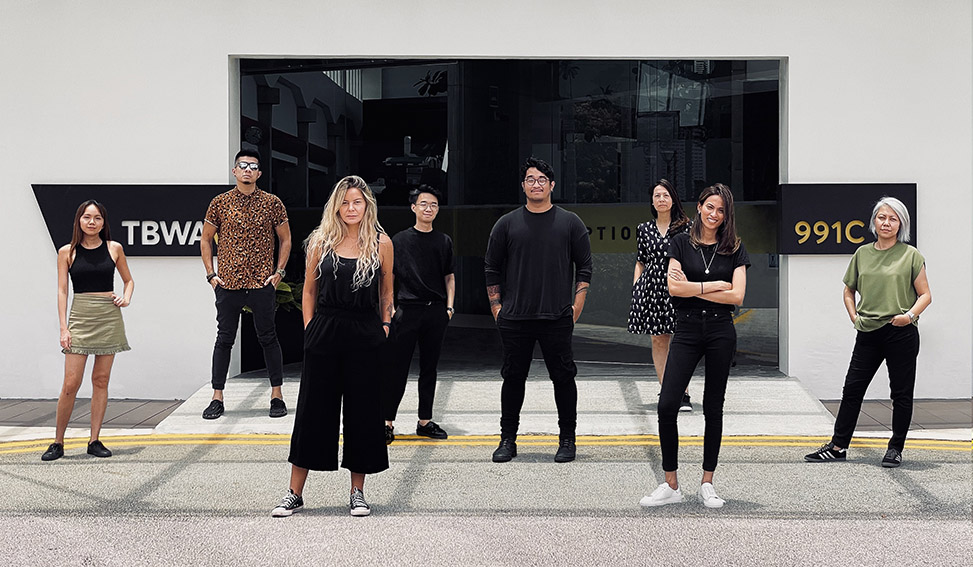 TBWA\Singapore has welcomed a team of multi-talented, award-winning creatives who bring a host of hybrid skills and experience to the agency.
Loo Yong Ping joins as Creative Director. Ping brings over 10 years of experience across multi-platform and integrated work and has won almost every creative award in the industry. Ping has worked with global agencies Ogilvy and Tribal DDB, media companies BBC and Fox International, and for brands which include HSBC, McDonalds, Twitter and SingTel. Key campaigns he has worked on include the Jewel Changi Launch First Visitors, First on Twitter and Singtel Data Extreme.
Copywriter Angie Featherstone and Art Director Eirma Webster join as Creative Directors with 20+ years of experience. A creative team of 15 years, they bring diverse skills from global agencies BBH, Leo Burnett and McCann Erickson, with award-winning work across IKEA, Mastercard, Axe, Levi's, SK-II and Vaseline. Their work for Levi's Kids Little Toughies was featured in the legendary Sir John Hegarty's book: Hegarty on Advertising. Featherstone is also an awarded children's book author.
Fernanda Machado joins TBWA as Senior Creative. With 15 years of experience across South and North America in agencies Africa Brazil, David The Agency and Leo Burnett Detroit, Machada brings copywriting, craft and motion graphics across work that has been recognized at leading award shows. Passionate about big ideas at the heart of creativity, she has worked on campaigns that include Coca-Cola House Rules and Uber Distracted Driver.
Art Director Chris Leow's hybrid background in video editing and motion graphics has led to his work on a broad spectrum of integrated campaigns which include JollieEverAfter, Virtual Sentosa and Absolut It's In Our Spirit. Leow is also a skilled photographer with an impressive portfolio featuring agency and student portraits.
With experience in agencies BBH, TSLA and Dentsu X, Art Director Zachary Desker brings skills in motion graphics, craft and social media. Campaigns he has recently worked on include Nike Women's Instazine, IKEA White Canvas and DBS Live Fresh.
Only 3.5 years into the industry, copywriter Amanda Devarajan was named one of Campaign Brief Asia's 20 most awarded Singapore creatives. Most recently at Ogilvy Singapore, Devarajan has built a portfolio of conceptual writing and highly impactful work across PR, integrated and film. Campaigns she has worked on include Please Arrest Me (RIT Foundation) and Slap Off (Ponds).
Copywriter Yashanti Yap is a highly innovative creative whose copywriting and motion graphic skills are evident across her work. Most recently at BBH Singapore, Yap has worked on multi-platform, integrated campaigns that include Nike Instazine, Uber Hidden Cities and IKEA Human Catalogue. Yashanti dabbles in illustration as @sketchy_monkey_.
Andy Grant, ECD TBWA\ Singapore, said: "In true TBWA\ style we've found the most unique 'Pirates' out there. I'm thrilled to have this diverse and skilled talent on board who are all disrupting creativity in their own way. I'm looking forward to them helping us achieve our goal of creating world-class work for our incredible roster of clients."
Picture above from left to right: Amanda Devarajan, Loo Yong Ping, Fernanda Machado, Chris Leow, Zachary Desker, Angie Featherstone, Yashanti Yap, Eirma Webster