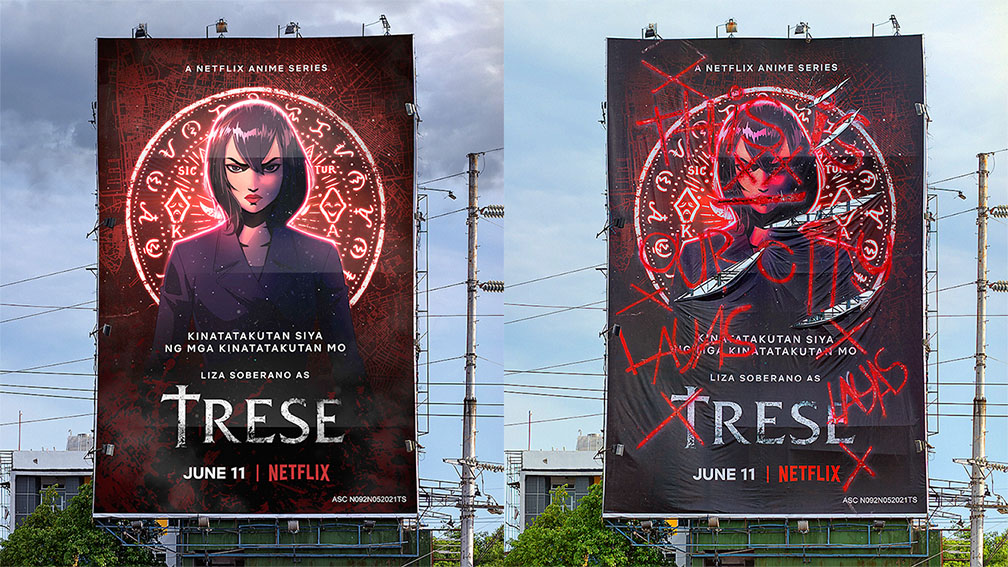 Independent agency GIGIL Philippines has launched this massive advertising campaign for Filipino anime series 'Trese', which is now streaming on Netflix.
The series premiered at midnight of June 10, 2021 and fans everywhere have been raving about it since.
'Trese' first became the talk of the town because of Netflix's promotional efforts. First came the billboards, rising all around Manila. Days later, they were found ripped and vandalized, with creepy words like 'Get out of our city' graffitied on them. Who could have done this? Click here to view it for yourself.
Multiple spectators quickly shared their excitement online upon seeing the billboards.
Netflix Country Marketing Manager, Stef Pajarito, published a post on his personal LinkedIn page regarding the campaign, "Our billboards all over the country started getting vandalized, apparently protesting Trese's arrival. Social media, and the actual media, went into a frenzy."
"We turned Trese into a huge national moment, and ultimately giving this for Pinoy – by Pinoy – about Pinoy title the recognition it deserves, all in time for Independence Day weekend," he added.
Then, a concert was mounted to promote 'Trese,' called 'Not ALive Concert,' headlined by cult band UDD (formerly known as, Up Dharma Down). A music video was released soon after, featuring "ghost fans" all watching UDD's spirited performance.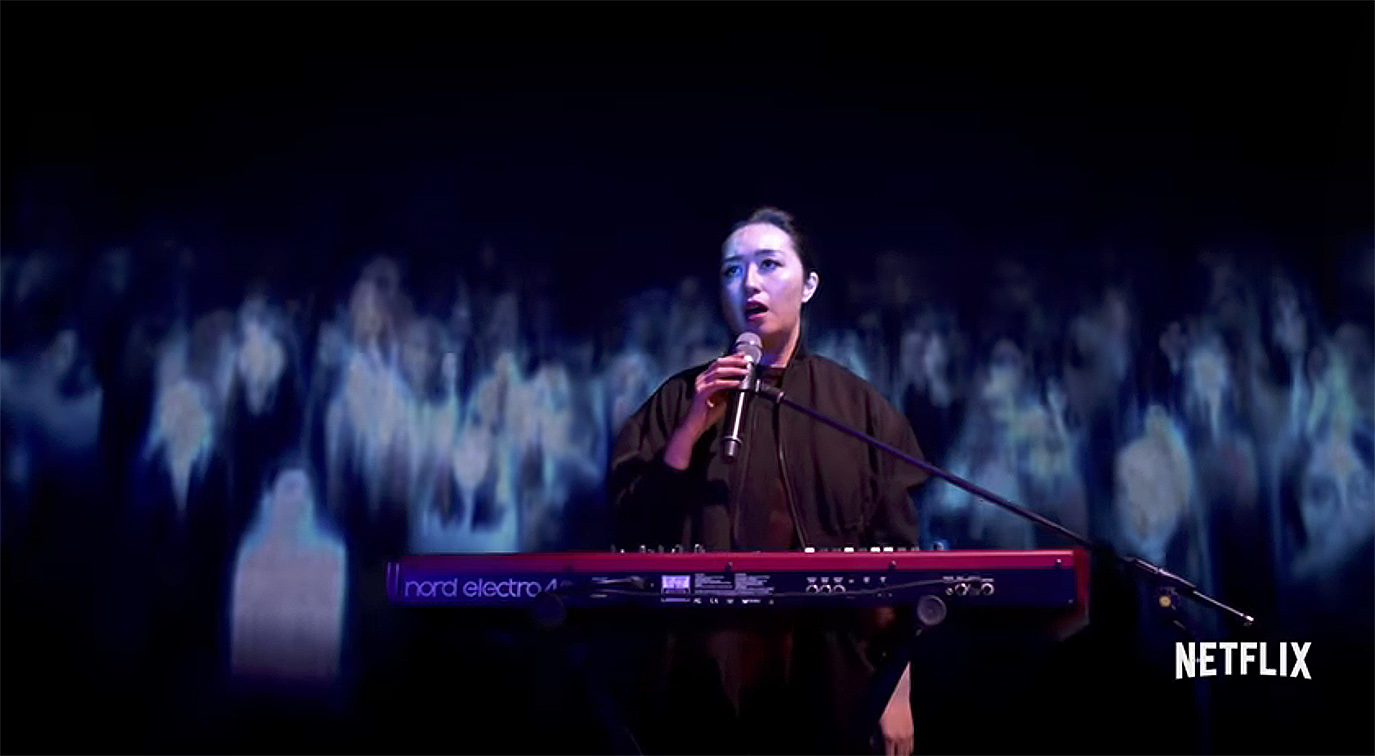 Pulling out all the stops, the campaign then took over the headquarters of the Philippines' biggest broadcast network, ABS-CBN. On the day of the 'Trese' launch, signages on the building of ABS-CBN were taken down, and replaced with the logo of ABC-ZNN, the fictional station in 'Trese.' Fans of the largest media company of the country were stunned, seeing the word 'Trese' splashed across the facade of the iconic building.
GIGIL Senior Art Director, JR Bumanglag, said: "Coming from the brief, we knew we wanted something that would really blow up. So what we thought was, 'How do we bring to life an [animated] world?' That was really the challenge. Then we realized that, as Trese is coming, everyone is excited. It's a [series] that every Filipino can be proud of, there are places on the show that people [will recognize]. But as everyone was excited, Trese's enemies on the show weren't. So how do we give them that voice and how do we [make people feel like] the monsters were real? So we used the billboards as the venue to express that idea."
If you still haven't watched it (no spoilers ahead), 'Trese' tells the story of paranormal detective and heroine, Alexandra Trese (voiced by celebrity Liza Soberano in the Filipino dubbed version) as she goes head-to-head against the biggest villains in Filipino folklore. The series is based on the independent comic book written by Budjette Tan and illustrated by Kajo Baldisimo.
GIGIL Account Manager, Nova Novido, said: "I think this is one of the biggest [campaigns] we've done, at least for 2021. I'm pretty sure that our team is very 'gigil' and we wouldn't stop here. But there will be future campaigns that will hopefully be as grand or even grander as Trese. But at the moment [the Trese campaign] is one of the biggest things we've done [so far] and we're really proud of it. The attention that this has caught in public, sobrang nakaka-proud lang that our team was able to produce it for such a well-loved comic series and Netflix."
"Despite the fact that we were all doing this from home," added GIGIL Group Account Director, Jim Jimenez.
In its first week, Trese made it to Top 1 position in the Philippines, and Top 10 in 19 other countries on Netflix. The show practically took over Philippine social media, as it has been trending online and receiving overwhelming praises from fans. On Twitter alone, it was the Top Trending Topic for a week.
An entire fandom has emerged, with the community creating memes and fan art, cosplaying, and, funnily enough, fawning over the show's characters, Crispin and Basilio.