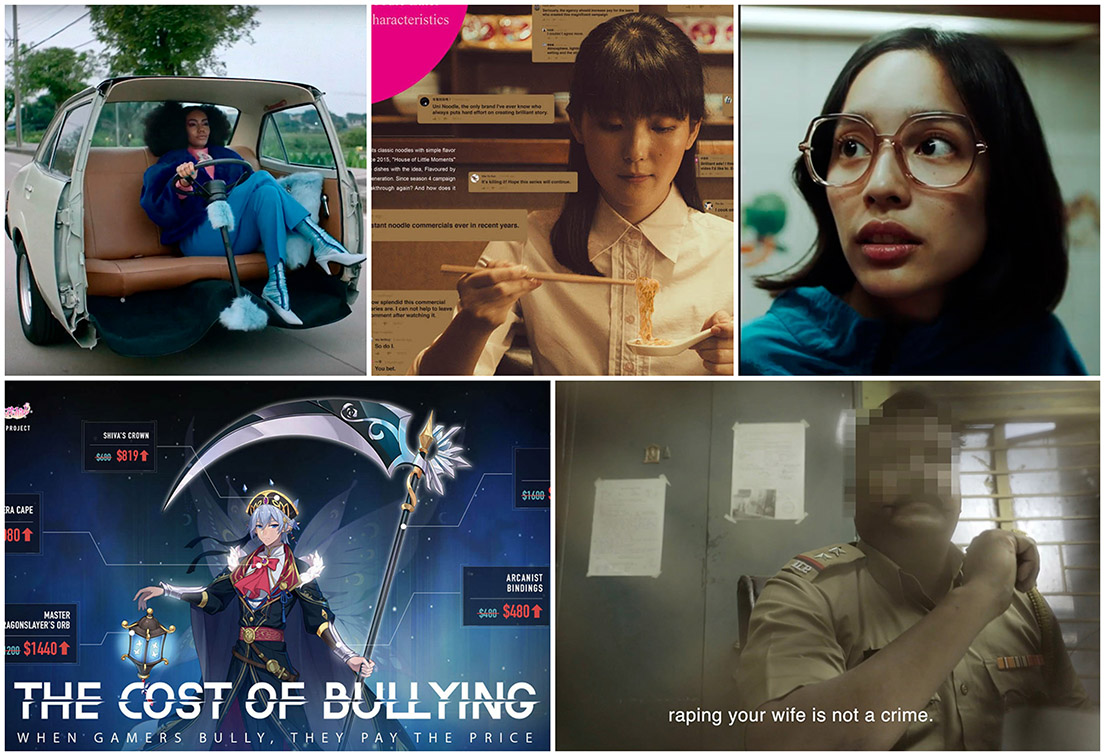 London International Awards (LIA) has announced the shortlist for Branded Entertainment and Music & Sound, with Asia scoring 23.
Asia collected 22 shortlists in the Branded Entertainment category lead by Ogilvy Singapore who picked up the most shortlists from Asia with 5 – The RIT Foundation "Please Arrest Me" campaign scored 2 and 1 each for clients including Furry's Kitchen, National Crime Prevention Council and Simon Community Northern Ireland.
China performed well with 8 shortlists being awarded. Picking up 2 each where Cheil PengTai Beijing for their Samsung "The Cost of Bullying" campaign, Ogilvy Shanghai for Illuma, Wyeth "Voice Doodler" and TBWA\China's BMW China "Bayier's Spring Festival". Tencent, Shenzhen and Ogilvy Beijing each scored 1 shortlist.
From Thailand, GREYnJ UNITED Bangkok picked up 2 shortlists for their Kulov Vodka "6 Takes Of Drama" and Pantene "A Scripted Life" campaign. Ogilvy Group Thailand's Tourism Authority of Thailand x YGGDRAZIL "Home Sweet Home Episode 2" scored 2 shortlists. Wolf Bangkok's award winning Central Midnight Sale "Shop Unfriend" also picked up 1 shortlist.
ADK Taiwan, Dentsu Inc., Tokyo, Edelman Singapore and Innocean Worldwide, Seoul all scored 1 shortlist each.
There are a total of 76 entries Shortlisted in Branded Entertainment representing 23 countries. The United States dominated the category with 19 entries shortlisted, followed by China and Germany tied with eight shortlisted entries each.
The Branded Entertainment jury was led by Keith Cartwright founder and CCO of Cartwright, Venice, CA. Joining Keith for the long hours of virtual judging were Perry Fair, McCann New York; Sherina Florence, 72andSunny, Brooklyn; Holly Fraser, WeTransfer and WePresent, Amsterdam; Armin Jochum, thjnk, Hamburg; Linda Knight, Observatory, Los Angeles; Sascha Kuntze, BBH Singapore; Natasha Romariz Maasri, Leo Burnett, Beirut; Joel Simon, JSM Music, New York and Patrícia Weiss, ASAS.br.com / BCMA – Branded Content Marketing Association, São Paulo.
Ogilvy Singapore picked up Asia's only shortlist in the Music & Sound category for their RT "Lessons of Auschwitz: VR Tribute By School Students".
In Music & Sound the Jury shortlisted 71 entries. The United Kingdom leads the tally with 27 entries shortlisted followed by the United States with 18 and Brazil with five shortlisted entries.
The Music & Sound jury was led by Jennifer Hills, SVP, strategic marketing and partnerships, Universal Music, London. Joining Jennifer were Jérôme Alquier, The, Paris; Sam Ashwell, 750mph, London; Tamon Fujimi, MassiveMusic, Tokyo; Kelly McCluskey, Grayson Music Group, Toronto; Gloria Pitagorsky, Heard City, New York; Aaron Reynolds, Wave Studios, New York; Lucas Sfair, CANJA Audio Culture Brazil; Alec Stern, DDB, Chicago; Kate Urcioli, Heavy Duty Projects, New York; Diederik van Middelkoop, Amp.Amsterdam // The Sonic Branding Company, Amsterdam
Winners for all media will be announced on 17th November.
To view all Shortlisted entries released thus far with media and full creative credits, please visit: www.liaentries.com/shortlist
BRANDED ENTERTAINMENT SHORTLIST 2021 (by country):
AUSTRALIA:
Special Group Australia
• Uber Eats "Uber Eats No Repeats" in Best Use of Real Time Advertising
TBWA, Sydney
• Tourism New Zealand "PLAY NZ" in Experiential/Live Events
VMLY&R Melbourne, Melbourne
• Monash University "A Future Without Change" in Experiential/Live Events
BRAZIL:
WMcCann, Rio de Janeiro
• Coca-Cola "Black Santa" in Zeitgeist
Wunderman Thompson, São Paulo
• United Nations "Inertia City" in Scripted Short Film
CANADA:
Zulu Alpha Kilo, Toronto
• Amazon Rainforest Conservancy "The Rainforest Fire Channel" in Taped or Live TV Event
CHINA:
Cheil PengTai Beijing, Beijing
• Samsung "The Cost of Bullying" in Games
• Samsung "The Cost of Bullying" in Social Awareness
Ogilvy Beijing, Beijing
• Huawei "5G Kung Fu Showdown" in Virtual Reality
Ogilvy Shanghai, Shanghai
• Illuma, Wyeth "Voice Doodler" in Entertainment Audio
• Illuma, Wyeth "Voice Doodler" in Zeitgeist
TBWA\China, Shanghai
• BMW China "Bayier's Spring Festival" in Branded IP
• BMW China "Bayier's Spring Festival" in Scripted Short Film
Tencent, Shenzhen
• United Nations – 2030 SDGs "The Penguin and The Whale" in Social Awareness
COLOMBIA:
Commonwealth McCann, Bogota
• Chevrolet "Lost Roads" in Documentary Feature Film
DDB Worldwide Colombia, Bogotá
• Claro "Walk With Me" in Zeitgeist
DENMARK:
&Co. / NoA, Copenhagen
• SAS – Scandinavian Airlines System "What is Truly Scandinavian?" in Zeitgeist
ECUADOR:
MullenLowe Delta, Quito
• Banco Pichincha "Unseen Players" in Best Use of Real Time Advertising
• Banco Pichincha "Unseen Players" in Experiential/Live Events
FRANCE:
Herezie, Paris
• Amazon Prime Video "Cités" in Online Series
Publicis Conseil, Paris
• Renault "Electric Village" in Experiential/Live Events
• Renault "Electric Village" in Reality/Unscripted/Alternative TV Show
GERMANY:
fischerAppelt / Philipp und Keuntje, Hamburg
• United4Rescue – Human Rights "Drowned Requiem" in Social Awareness
• United4Rescue – Human Rights "Drowned Requiem" in Zeitgeist
• Violence Against Women "#UNHATEWOMEN" in Social Awareness
• Violence Against Women "#UNHATEWOMEN" in Zeitgeist
INNOCEAN Worldwide Europe, Berlin
• DaHouse Audio "The Client Said No" in Entertainment Audio
Kolle Rebbe, Hamburg
• Warner Music Central Europe "Hell-P" in Entertainment Audio
Sehsucht, Hamburg
• WWF "Eurythenes plasticus" in Social Awareness
Serviceplan Germany, Munich
• LEGO Star Wars "Build With The Force" in Augmented Reality
ITALY:
Alkemy, Milan
• Barilla "CareBonara" in Scripted Short Film
Publicis Italy, Milan
• Barilla "Playlist Timer" in Entertainment Audio
JAPAN:
Dentsu Inc., Tokyo
• Chicken Ramen Akuma no Kimura "Stress-inducing Timer" in Scripted Feature Film
KOREA:
Innocean Worldwide, Seoul
• Hyundai Card "Believe it or Not" in Scripted Short Film
LEBANON:
Leo Burnett Beirut, Beirut
• ABAAD Resource Center for Gender Equality "#SafetyForSafekeepers – Baklava Got Legs" in Social Awareness
POLAND:
Ogilvy Poland, Warsaw
• LEGO "LEGO Green Instructions" in Multi-Channel Storytelling
RUSSIA:
Daddy's Film, Moscow
• Sansara "We Will Become Better" in Music Videos
SINGAPORE:
Edelman Singapore, Singapore
• Causes for Animals Singapore "The Perfect Voiceovers" in Social Awareness
Ogilvy Singapore, Singapore
• Furry's Kitchen "Food Influencers Tasting Dog Food" in Experiential/Live Events
• National Crime Prevention Council "Prince Charming" in Scripted Short Film
• RIT Foundation "Please Arrest Me" in Documentary Short Film
• RIT Foundation "Please Arrest Me" in Social Awareness
• Simon Community Northern Ireland "Homeless ASMR" in Social Awareness
SPAIN:
DAVID, Madrid
• Burger King "Stevenage Challenge" in Games
SWEDEN:
NORD DDB, Stockholm
• Elgiganten Denmark "The VAR Discount" in Best Use of Real Time Advertising
• Elgiganten Denmark "The VAR Discount" in Sponsored Commercial
• Elgiganten Denmark "The VAR Discount" in Zeitgeist
SWITZERLAND:
DocMorris, Heerlen
• DocMorris "Take Care" in Online Episode/Special
TAIWAN:
ADK Taiwan, Taipei
• Uni Noodle "You Are How You Slurp" in Online Series
THAILAND:
GREYnJ UNITED, Bangkok
• Kulov Vodka "6 Takes Of Drama" in Scripted Short Film
• Pantene "A Scripted Life" in Documentary Short Film
Ogilvy Group Thailand, Bangkok
• Tourism Authority of Thailand x YGGDRAZIL "Home Sweet Home Episode 2" in Games
• Tourism Authority of Thailand x YGGDRAZIL "Home Sweet Home Episode 2" in Zeitgeist
Wolf Bangkok, Bangkok
• Central Midnight Sale "Shop Unfriend" in Scripted Short Film
THE NETHERLANDS:
Media.Monks, Hilversum
• Canon "Long Live Love" in Virtual Reality
• Reporters Without Borders Germany "Minecraft – The Uncensored Library" in Games
• Reporters Without Borders Germany "Minecraft – The Uncensored Library" in Social Awareness
UNITED STATES:
BBH Entertainment (BBH USA), Los Angeles
• Samsung Galaxy S21 Ultra 5G "Exposure: A co-created mobile photography competition format on Hulu" in Multi-Channel Storytelling
• Samsung Galaxy S21 Ultra 5G "Exposure: A co-created mobile photography competition format on Hulu" in Reality/Unscripted/Alternative TV Series
Courageous Studios, New York
• P&G "They Will See You" in Documentary Short Film
Digitas, Chicago
• KitchenAid "A Woman's Place: Fighting for Equality in the Kitchen" in Documentary Short Film
• KitchenAid "A Woman's Place: Fighting for Equality in the Kitchen" in Social Awareness
Facebook, Menlo Park
• WhatsApp "Carnival – It's Between You" in Documentary Short Film
• WhatsApp "Carnival – It's Between You" in Scripted Short Film
• WhatsApp "Carnival – It's Between You" in Zeitgeist
FRED & FARID New York, New York
• Rémy Martin 1738 Accord Royal "Team Up For Excellence – The Film" in Scripted Short Film
Hungry Man Productions, Los Angeles
• H&M "Role Models" in Documentary Short Film
• Mastercard "True Name" in Social Awareness
Observatory, Los Angeles
• Netflix is a Joke + Ben & Jerry's Punch Line "The Punch Line Hotline" in Entertainment Audio
• Nike "The Day Sports Stood Still" in Documentary Feature Film
R/GA, New York
• Verizon "Fortnite Stadium" in Experiential/Live Events
SATURDAY MORNING, Los Angeles
• Procter & Gamble "The Look" in Social Awareness
Tool of NA, Santa Monica
• Compton Cowboys "Keiara" in Documentary Short Film
• Pizza Hut "WebAR PAC-MAN® Box" in Augmented Reality
VMLY&R, Kansas City
• Wendy's "Feast of Legends" in Games
• Wendy's "Super Wendy's World" in Games
MUSIC & SOUND SHORTLIST 2021 (by country):
AUSTRALIA:
Rumble Studios, Sydney
• NRMA "Sloways" in Sound Design
Sonar Music, Sydney
• Hyundai "Santa Fe" in Music Adaptation – Song
Squeak E. Clean Studios, Sydney
• Aware Super "Aware Super Brand TVC" in Sound Design
BELGIUM:
BBDO Belgium, Brussels
• Lidl Belgium "Sounds Horrible" in Sound Design
BRAZIL:
CANJA Audio Culture, Curitiba
• Fala Mulher "2breakthesilence" in Music Original – Score
• Horizon "Down & Out Kidney" in Music Original – Score
• The Grammys Recording Academy "Behind the Record – Records of Credit" in Music Original – Score
DaHouse Audio
• Climate Reality Brasil "Refugee Tree" in Experiential Use of Music & Sound
• Climate Reality Brasil "Refugee Tree" in Music Original – Score
CANADA:
Grayson Music, Toronto
• Tim Hortons "Snowpeople" in Music Adaptation – Instrumental
Vapor Music, Toronto
• Kruger "Unapologetically Human" in Use of Licensed Music
CHILE:
Wunderman Thompson, Santiago
• WWF "Nature Is Calling For Help" in Sound Design
FINLAND:
Bob the Robot, Helsinki
• Saarioinen "A Classic You Can Count On" in Music Adaptation – Instrumental
• Saarioinen "A Classic You Can Count On" in Sound Design
FRANCE:
Havas Paris, Puteaux
• KFC "KFCinema" in Sound Design
GERMANY:
fischerAppelt / Philipp und Keuntje, Hamburg
• United4Rescue – Human Rights "Drowned Requiem" in Experiential Use of Music & Sound
• United4Rescue – Human Rights "Drowned Requiem" in Music Adaptation – Instrumental
Fork Unstable Media, Hamburg
• RonaFlair® Functional Fillers "Microplastic Journey" in Sound Mixing/Editing
German Wahnsinn, Hamburg
• ADAM a Specialist Provider of Air Hygiene Safety "A New Sound For Air" in Audio Branding
ITALY:
Indiana Production SPA, Milan
• Coordown "The Hiring Chain" in Music Original – Song
RUSSIA:
RT Creative Lab, Moscow
• RT "Lessons of Auschwitz: VR Tribute By School Students" in Music Original – Score
SINGAPORE:
Ogilvy Singapore, Singapore
• Simon Community Northern Ireland "Homeless ASMR" in Experiential Use of Music & Sound
THE NETHERLANDS:
Sizzer, Amsterdam
• Diesel "Francesca" in Music Adaptation – Song
• Diesel "Diesel Enjoy Before Returning" in Music Original – Song
• Mercedes Benz "Sustainability" in Music Adaptation – Song
TURKEY:
Havas Turkey, İstanbul
• Finish "Birds Will be Back" in Experiential Use of Music & Sound
UNITED KINGDOM:
750mph, London
• Burberry "Festive" in Sound Design
• Libresse "#wombstories" in Sound Design
• Libresse "#wombstories" in Sound Mixing/Editing
• Abbott FreeStyle Libre "Now You Know" in Sound Design
• Eurosport "Tokyo 2020 Olympic Games" in Sound Design
• Eurosport "Tokyo 2020 Olympic Games" in Sound Mixing/Editing
Anné Kulonen, London
• Leica "Like the Night" in Music Original – Score
Factory, London
• BT Sport "Hope United" in Sound Design
• Medecins Du Monde "We Don't Care" in Sound Design
• Channel 4 Paralympics "Super. Human." in Sound Mixing/Editing
• Hey Girls "Seeing Red" in Sound Mixing/Editing
• Green & Blacks "Made of Nature" in Use of Licensed Music
Factory and SIREN, London
• BBC Sounds "The Power of Sounds" in Sound Mixing/Editing
Grand Central Recording Studios, London
• Nike "Helden" in Music Adaptation – Song
• Nike "You Can't Stop Us – Victory Swim" in Sound Design
• Nike "You Can't Stop Us – Victory Swim" in Sound Mixing/Editing
KOM (Kay-Oskwarek Music), Manchester
• Nike "You Can't Stop Us – Victory Swim" in Music Original – Score
Lucky Generals, London
• Amazon "The Show Must Go On" in Music Adaptation – Instrumental
• Co-Op "Round Are Way" in Music Adaptation – Song
Machine, London
• Watch Dogs: Legion "Tipping Point Cinematic Trailer" in Sound Design
Native Music, London
• Ovarian Cancer Action "I Will Survive" in Music Adaptation – Song
• Viagra Connect "Love Story" in Use of Licensed Music
PG One, London
• Pampers "Pampers Preemies Special Care" in Use of Licensed Music
String and Tins, London
• Just Eat "Did Somebody Say Just Eat featuring Snoop Dogg" in Music Original – Song
• Oculus "First Steps" in Sound Design
Twenty Below Music, London
• Burberry "Festive" in Music Adaptation – Song
• HP "Orchestra" in Music Original – Score
UNITED STATES:
21GRAMS, New York
• Greenwich Biosciences "Unspoken Symphony" in Experiential Use of Music & Sound
Barking Owl, Los Angeles
• Lululemon "The Selfish Giant Anthem" in Music Original – Score
• Lululemon "The Selfish Giant Anthem" in Sound Mixing/Editing
Carmichael Lynch, Minneapolis
• Bush's Beans "Bean Song" in Music Original – Song
dentsumcgarrybowen, New York
• Burt's Bees "For Lips, With Love" in Use of Licensed Music
Facebook, Menlo Park
• WhatsApp "Dark Mode" in Music Adaptation – Song
• WhatsApp "Carnival – It's Between You" in Music Original – Score
• WhatsApp "Carnival – It's Between You" in Sound Mixing/Editing
• WhatsApp "Sunbeams" in Use of Licensed Music
FRED & FARID New York, New York
• Rémy Martin 1738 Accord Royal "Team Up For Excellence – The Film" in Music Original – Score
Heard City, New York
• Beats By Dre "You Love Me" in Music Original – Score
JSM Music, New York
• Sandy Hook Promise "Back-to-School Essentials" in Music Original – Score
RPA Advertising, Santa Monica
• Los Angeles LGBT Center "What's Love?" in Music Adaptation – Song
Wave Studios NY, New York
• New York Times "Life Needs Truth" in Sound Design
• Lobos 1707 "Build a Bigger Table – Anthem Film" in Sound Mixing/Editing
• New York Times "Life Needs Truth" in Sound Mixing/Editing
• New York Times "Life Needs Truth" in Use of Licensed Music
Yessian Music, Detroit
• Sony "Sound Bar" in Sound Design
To find out more about LIA, visit http://www.liaawards.com/
DOWNLOAD THE BRANDED ENTERTAINMENT SHORTLIST
DOWNLOAD THE MUSIC & SOUND SHORTLIST