Ando the animated spy is back in a sequel, 'Winter Rescue' for Head & Shoulders scalp. Ando was first introduced to us in 'The Chase' in April 2021 when he appeared on the scene as an enigmatic spy in Japan, narrowly escaping the likes of a kingpin and his band of henchmen.
Winter Rescue, only a few weeks into its launch, has already garnered 7.2+ million views and counting. Ando, it seems, has become an invaluable brand ambassador to head and shoulders Japan.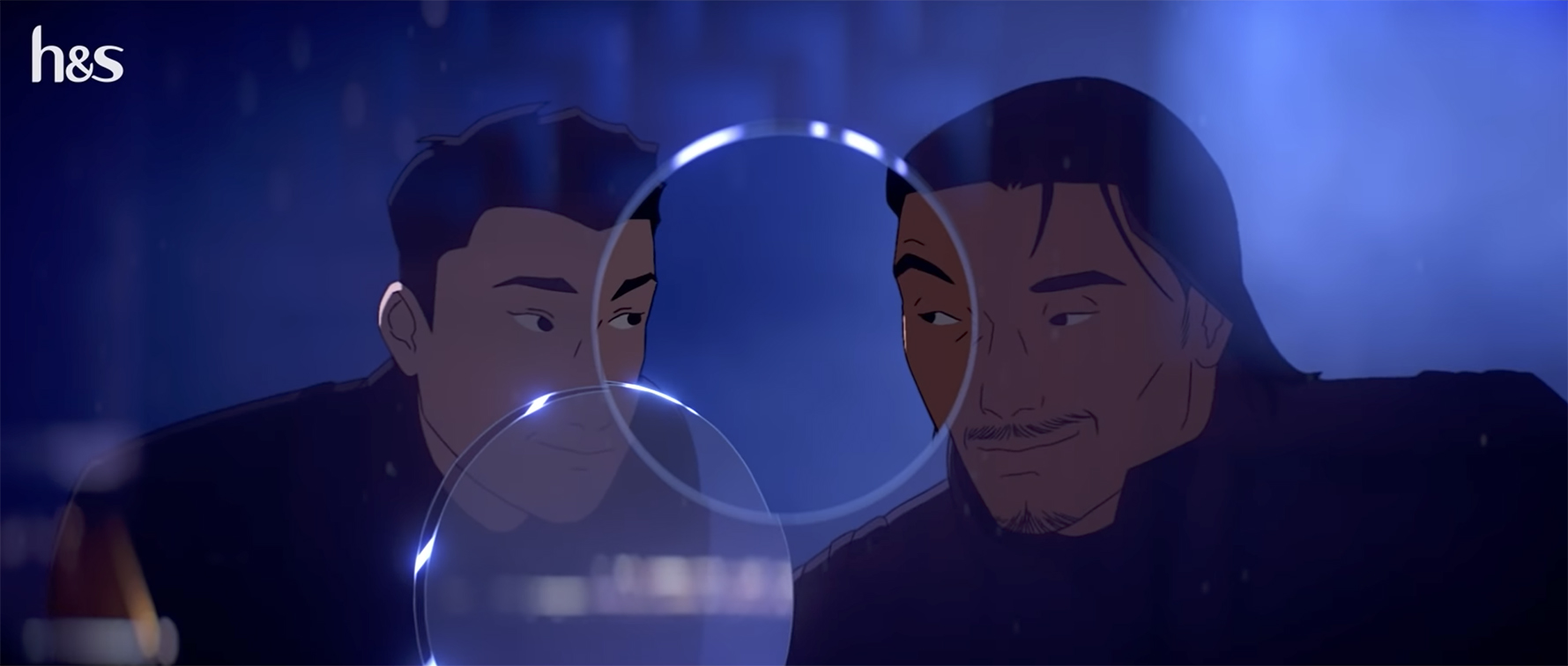 "This campaign is an exciting sequel to The Chase and continues our effort to destigmatize dandruff and help men break free from this taboo. This is especially critical in winters where dandruff and dryness are key hair issues and can become everyday life barriers," says Afsheen Qaiser, Brand Director h&s Japan, P&G.
So how did Ando the animated spy come to be? Meet Qihao Shum and Ivan Guerra, the creative duo from Forsman & Bodenfors Singapore, who dreamed up an anime spy who is breaking convention in the hair category:
1. Who is Ando?
Ando is a suave, skillful spy. He may or may not be loosely based on one of its creators. If we told you the truth, we'd have to kill you. Ando can trick, sneak, and fight his way out of the worst kinds of situations. Except, ironically, the simplest of them all: dealing with dandruff. But that is an important little schtick: Ando is meant to be an aspirational guy with a relatable condition. That's because, in Japan, dandruff is often associated with the shameful feeling of being unhygienic, and it is a sensitive topic for Japanese men to talk about. So if such a cool and sleek spy can suffer from dandruff, there's no reason for other men to be ashamed of it. In a way, Ando is supposed to be you and me. He's every man. Well… if every man was good looking and had an infinite assortment of talents…
A spy as our protagonist not only made the most sense but it also meant Ando could be portrayed as this guy that showed up with the right solution without drawing attention to real men and their dandruff conditions.
2. Why anime?
We wanted to bridge the conversation between head & shoulders Japan and dandruff. The brand needed to stand out and have its message heard. This isn't too hard to do in a category that is filled with clichés and tropes. It's all very derivative. Storytelling is pretty much nonexistent. Craft, too.
With Ando, our clients appreciated we had something different on our hands. Inside secret: Ando was initially meant to be a live action hero with quick camera action and crazy stunts, because we felt the talents' performance was essential to bring out the humour in the story. 007 and M:I were obvious references, including Japanese live action movie Lupin the Third.
Then Covid hit. Together with our clients, we felt animation was a more plausible approach. Animation was category breaking; it allowed Ando and the story's action to happen in more, varied places and we knew it would be well received in Japan, a country with a long tradition of great animation. The challenge became finding a style that would honour this tradition, but feel distinct from what audiences are used to.
3. Tell us about the creative process?
It became very important to us to find people who could honour the Japanese anime tradition, but also break from it, push it to a new place. That's where CRCR and the whole team at Wizz and Psyop come in. They introduced us to the concept of 2.5D animation, where you overlay 2D characters onto backgrounds that are created and rendered in 3D – giving each scenario a grandeur and stunning look that you don't see in regular animation.
Since day one with "The Chase", CRCR have been amazing partners. Every film begins with a script from us and a simple animatic to illustrate how we see the film coming together. CRCR takes it and weaves their magic. The process is always incredibly fun and collaborative with a very tight partnership. We really value our creative partners as we embrace them into being as accountable for the incredible result we've had with this platform and for our clients.
4. Winter Rescue is getting some great traction!
"The Chase" had set the bar pretty high in terms of action and comedy. We wanted the sequel to be as good or even funnier than the first. We felt the film needed an iconic scene that people would remember. We needed a comedic/dandruff twist, and we felt giving Ando and Jiro a "bromantic" choreographed dance across the laser beams would bring the house down. Drawing inspiration from famous bromances in films like "Blades of Glory", we worked with CRCR to create an epic, never done before, laser room dance. The results? Well, you tell us.