Chris Kyme (pictured above) continues his 'Postcard from Hong Kong' series with his comments on last night's Kam Fan Awards. As with any local awards show, for years and years and years the 4As Hong Kong Kam Fan awards has been a much anticipated night of celebration, fun, hope and ups and downs as we get a look at who has been doing what and what they might get in return for all the effort.
Recently of course (and again, as with many shows) that's been a more difficult tradition to sustain what with restrictions on gatherings, not to mention perhaps a slight lack of interest in light of other more pressing issues the city has gone through.
So to me, it's something of an achievement that last night (December 15th) the show must and did go on, and I for one was impressed with the turnout. The effort and enthusiasm, the support, and the general sense of a local creative industry that still wants to get up and shine. If only for one night.
Of course, gone are the days when this was an annual ego-fest of whining and dining with a turnout of 800 plus people all dolled up in their Sunday worst to hop on stage. We live in a different world now, and this felt more like a small, niche cottage event than a big show. But given everything that Hong Kong has been through in the past few years (not just because of Covid you understand) it is, to me, something of a miracle that the 4As pulled up everyone's socks and got the show on the road at all. And in good style.
First off, the format. I know that 4As Executive Director Onie Chu has been doing her homework in terms of what makes some other shows work well, and, rather than sit through what used to be sometimes a 4-hour slog through category by (yawn) category until we're all half asleep as the one final big winner was announced, last night we whizzed through the categories and winners as if the after-party restaurant downstairs were calling for last orders.
Ah, the venue. Yes. This in itself was an inspired choice, being held at PMQ in Hong Kong, a 'mixed use arts and design venue' in Central (as opposed to a big corporate auditorium). It was compact and had a more relaxed vibe. Something different. The actual awards ceremony hall itself echoed this too. Rather than a sit down theatre show (Spikes, Cannes etc), we were in a large cube at the venue, with a circular centre stage, and all the seating arranged around that.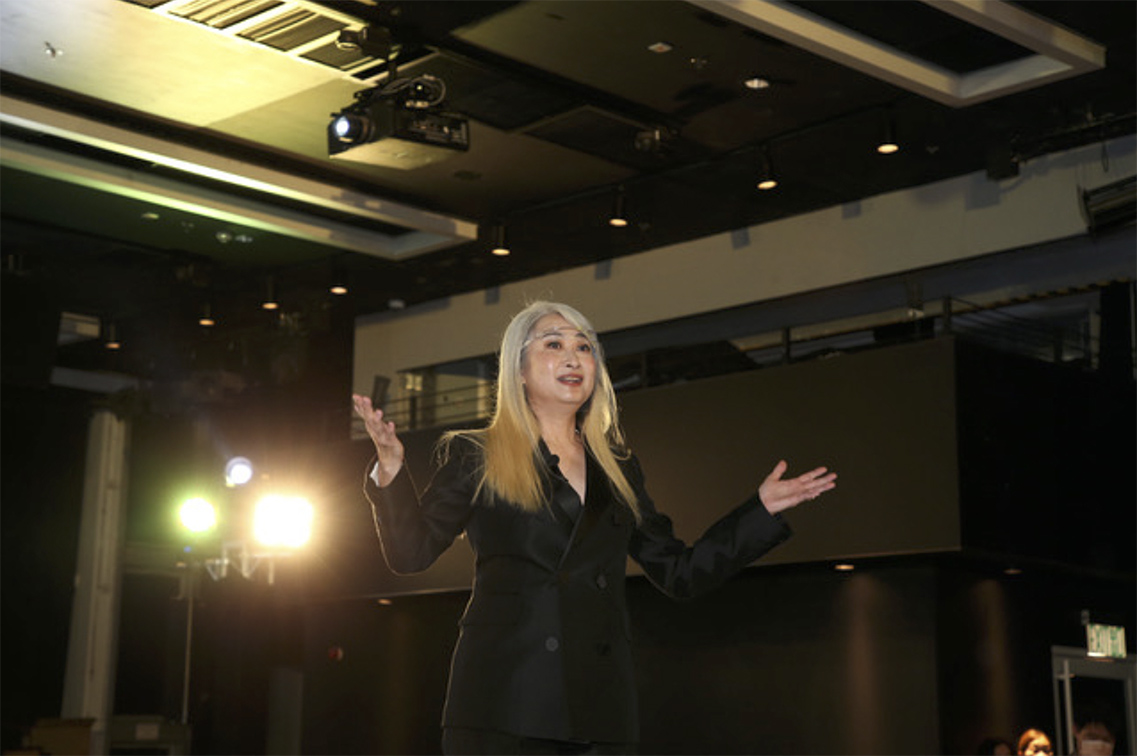 Onie Chu "Let the show begin"
The show kicked off with a respectful and fitting tribute video for the recent loss of Jimmy Lam… nice touch and totally appropriate. Before which Onie herself (now this was really different) took to the stage, all flowing shock-blonde locks and MC suit, like a grand circus ringleader calling the shots (maybe a whip wouldn't have been inappropriate… keep the mischievous pesky agency creative types in place).
So, the work. Well with the stage in the centre, it had almost a boxing match vibe about it. "In this corner we have O&M..and in the other corner, Cheil..let the match begin." And it did and of course it was no great surprise that it was really a match between those two past masters at competing in the shows. Naturally some of the winners were to be expected as we've seen the work before doing well in others shows. O&M with its Pizza Hut & Ikea Sava chair campaign, and Cheil's Chupa Chups and VW campaigns. Expected winners on the night.
Ultimately it was Paul Chan and his Cheil merry boys and girls who ran away with the show in the end, as 'Agency of the Year'. Gold after Gold after Gold etc. Because that man knows how to work the shows for sure. You have a surefire winner on your hands, stick it in every category possible, if it wins Gold in this, it has to win Gold in that and so on. So they cleaned up and took the Grand Kam Fan award too for their rather brilliant social media campaign 'Cost of Bullying', to try and tackle online bullying in games…(not sure how much longer they can keep sucking awards out of the Chupa Chups brand though it has to be said…).
Paul Chan and his masked merry men & women
However, none of this surprised me and this is not what I was left thinking about afterwards. End of the day, what cleans up in a local showing like this is the agency that works hardest at winning, at playing the game, backed by the budget that all that entails (forking out to do the work up, forking out for the case study videos etc etc). That was that. No different anywhere in the world. We all know what it is.
What I liked to see though, was the broader effort made by some of the other agencies entering. In particular, encouraging to see some of the smaller independent local agencies making a good show of it. This is meaningful. It means there's creative life in Hong Kong yet.
More than that, I'm always more impressed by work that had to go through clients, the hard way. So special mentions to me should go to local agency Society and their work for Patesserie La Lune, with a beautifully crafted, touching film, Saatchi & Saatchi for the 'Till we fly again' campaign for Cathay Pacific, InstaMockExam for Hang Seng Bank by The Bread Digital, and Discover the State Theatre for New World, by Saatchi & Saatchi.
I'm not going to list out everything that showed up here, you can do that by checking the 4As Hong Kong website later. But just to say it was good to see everyone up for it on the night, and we need more of it. Not just that, people put on jackets. Impressive.
What I would love to see though, is to build on this. After all the ups and downs we've had, to see it get bigger again. And to get more participation across the industry. Not just from the agencies, but clients and media too. Get behind it. Support it.
Talking of support, I have to also give a special mention to Ed Bell, General Manager of Brand at Cathay Pacific, for his continued show of enthusiasm in the name of creativity. How great to see a senior client getting behind it all. What a great message that sends to our young creative generation. We need more of that.
If this could lead to once again this show being a balance between really good real work and that which was created just to impress, with more of a skew towards the former, wouldn't that be progress? It used to be that way. If the creative energy and talent we know exists in the young bloods of agency creative departments in Hong Kong was so infectious that agencies started pushing great work through clients, wouldn't that be better for all?
So the work is not just seen behind closed doors among industry folks. But out on the streets. In the train stations. In the newspapers and magazines and on our phones. All around us more often. That would be something.
Anyway, I digress. The night belonged to Cheil, and also to the creative young guns of Hong Kong, who showed some aspiration and some spirit. And to Onie and her crew for putting together a worthy (if small scale) night, despite the challenges.