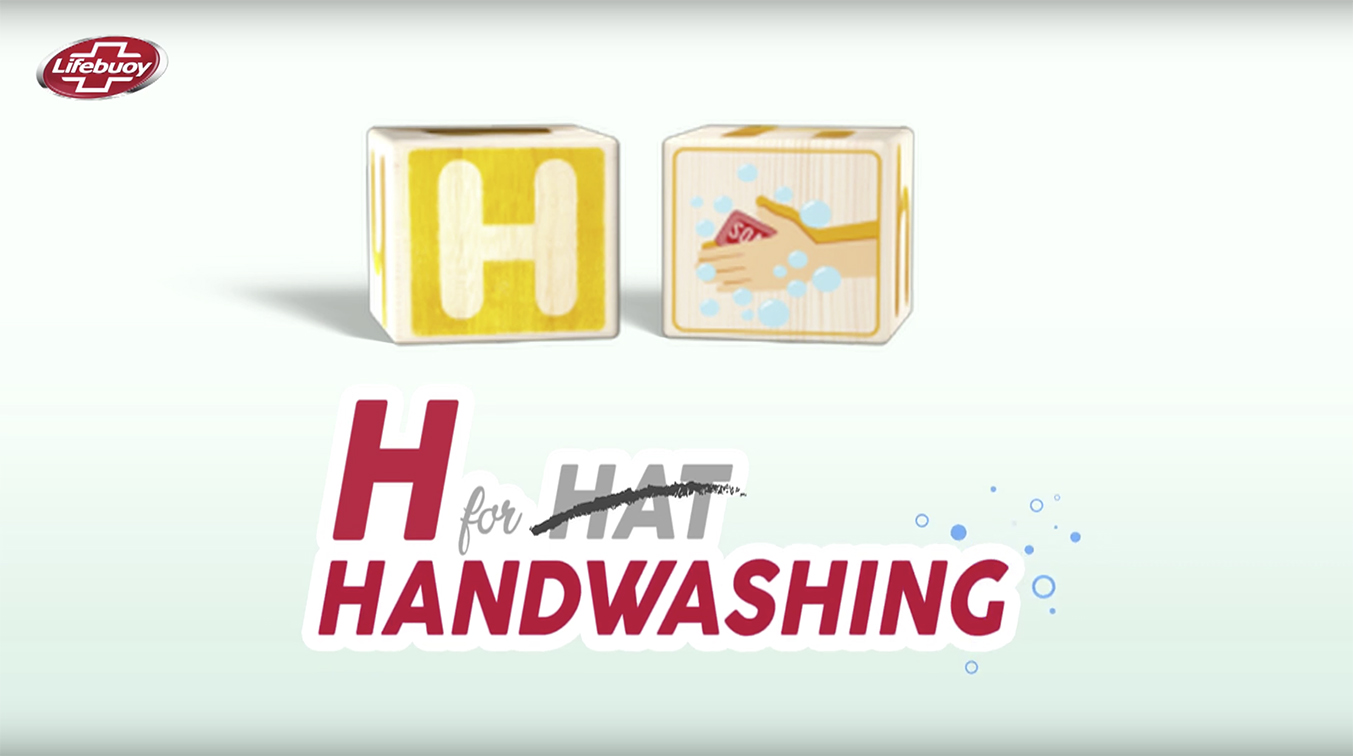 The Lifebuoy and MullenLowe team found out last week that they had won two Spikes Awards for their campaign on H for Handwashing. The campaign focuses on saving children's lives and scored a Gold Spike and a Silver Spike for Strategy Effectiveness. Here Campaign Brief Asia highlights the strategy behind the campaign developed by Lifebuoy and MullenLowe.
Humanity has a problem – people trivialize simple yet effective interventions like Handwashing that are proven to prevent the spread of infectious diseases.
Globally 4 out of 5 people don't wash their hands after using the bathroom. During the pandemic, handwashing rates dropped dramatically after the initial spikes.
Therefore, to future proof humanity from infections, people need to ensure that this habit is ingrained and instinctive, which requires us to design an unconventional strategic and creative approach.
Background:
Lifebuoy was born 100 years ago when infectious diseases were the primary cause of death.
Armed with a mission to make 'cleanliness commonplace,' Lifebuoy has placed itself in the service of public health service, actively championing good hygiene. Today Lifebuoy is the number 1 selling germ protection soap and a trusted hygiene expert.
The challenge:
People don't sustain the habit of washing their hands. But this challenge is more acute in developing nations. The health departments of these countries experience shortages of resources.
The WHO focuses on setting standards and coordinating relief efforts, and most NGOs may have limited resources and funds to focus on the habit gap across multiple regions.
Hence Lifebuoy focuses on efforts on long term habit change – hygiene as the key prevent infection, specifically in countries that typically suffer high germ transmission with fewer resources to fight outbreaks.
The Insight:
MullenLowe's bullseye target was preschool children between three and five years old. They start to learn language, objects around them, basic concepts and differentiate right from wrong.
Our insight is rooted in scientific truth. The first lessons of life are hardcoded in us. UNICEF's early childhood development research demonstrates that supporting the right interventions in the early years of life significantly bolsters development. Early learning and language skills go hand in hand in establishing patterns and memories.
Then, the strategic approach was to hardcode Handwashing in one of the first lessons children all learned. A simple intervention would introduce the concept of Handwashing to children at the right age, making it widespread habit that is learnt early but can last a lifetime.
The Creative Idea:
According to a 2020 global study, 4 out of 5 people don't wash their hands after using the bathroom.
MullenLowe has developed one of the simplest, scalable and effortless to execute ideas – H for Handwashing.
It focuses on how, for generations, children have been taught the letter of the alphabet through simple associations for everyday references like 'A for Apple' 'B for Ball' 'C for Cat'. Lessons they never forget. Ever.
The idea is simple: Lifebuoy wants to change how the letter H is taught fundamentally. No longer will H stand for 'House/Hat', but H must stand for Handwashing. A simple intervention that introduces the concept of Handwashing to children at the right age, making it a widespread habit that is learnt early but lasts a lifetime.
The Outcome:
• Engaged with over 21,500 schools, over 22,000 teachers and around 1.78m learners globally
• Collaborated with governments in South Africa, India and Sri Lanka, to adopt H for Handwashing alphabet. Ten other countries committed to including H for Handwashing in their curriculum
• Educational material across over 20,000 schools was transformed to incorporate the H4H message across languages
• We created the world's largest classroom featuring Elmo from Sesame Workshop, which was attended by 17,000 participants from over 35 countries and broke the Guinness World Records
• The campaign reached over 250m people with approximately a social media reach. 72.5 million people
• 100+ celebs and influencers partnered with Lifebuoy