Hari Raya season (Eid) is upon us, and the Internet is inundated with festive Hari Raya commercials. But this year, Directors Think Tank is doing something different – A Feature Film. A Soundtrack Album, and two Branded Film campaigns for the festive season.
The main trailer for "3 Janda Melawan Dunia" dropped this week – a feature film produced by Directors Think Tank, Multimedia Entertainment and the brainchild of in-house film director Hyrul Anuar.
A film 2 years in the making, this is a unique endeavour – a film unlike anything the Malaysian film industry has seen.
A genre bending film – part musical, part friendship drama, all comedy – this film is in Hyrul's inimitable style and in his own words is "Breaking Bad meets Ozark with all the comedy of Hantu Kak Limah, starring 3 of Malaysia's Golden Girls!"
But it took a long time to get here.
With a screenplay by Hyrul Anuar, this film was pitched to Golden Screen Cinemas (GSC) in 2020, pre-pandemic.
GSC, together with Multimedia Entertainment – the production company behind successful Malaysian cinematic hits 'Ola Bola' and 'Paskal The Movie' – and Directors Think Tank formed a trifecta to bring the vision to life and agreed to form the main investors for the film. Six Fun Media and Astro also came on-board as investors.
Directors Think Tank and Komodo Pictures (a Multimedia Entertainment subsidiary) shared production chores which only commenced in September 2021 due to COVID lockdowns.
"Directors Think Tank is known for doing TV Commercials and branded content. But we also believe in telling good stories in whatever form, and giving our directors the opportunities to go out there and create something different," said Rajay Singh, founding partner of Directors Think Tank and Executive Producer on the movie.
"We believe in working together with partners who are like-minded, and each party can bring their own unique skills to the table. For us, we were excited to push the envelope through our film-making."
This film represents the second foray into feature film production by Directors Think Tank on the back of the success of Malaysian Horror film "Pusaka" – a 2019's collaboration with Astro Shaw that grossed a respectable RM 13.7 million domestically.
Slated for a post-Hari Raya nationwide release on the 19th of May "3 Janda Melawan Dunia" is a feel good fun comedy that hopes to win over audiences with a one-of-a-kind story with a Malaysian twist.
A UNIQUE FILMMAKER
Hyrul Anuar is known for his award winning work and for campaigns like Tesco, Grab, Astro, Vinda and Tokopedia – each with a comedic bent. A film-maker with his finger on the pulse of Malaysian humour and smart comedy, Hyrul is no stranger to innovation.
Prior to joining Directors Think Tank, Hyrul was with Leo Burnett for over eight years, where he held the position of Art director and then Creative Content Director.
The first Malaysian to win the young Lotus competition at Adfest (Asia Pacific Advertising Festival), he then received an offer to join Fabrica (United Colors of Benetton's Communication Reserch Centre in Treviso, Italy and was awarded a full scholarship.
This led to exhibitions in Lisbon, Venice, and KL.
Since returning to Malaysia, Hyrul has established himself as one of Malaysia's comedic mainstays within the advertising community. With "3 Janda Melawan Dunia" as his feature film debut, he is able to express himself creatively in new ways.
"For me, this is a way for me to give my best to Malaysian cinema. I feel we can push the envelope." said Hyrul.
"To create something fresh, I looked for elements in contrast and that are unlikely. And what is more unexpected than 3 old mak ciks making vape juice? But I didn't want to make a stupid comedy – It had to be smart and meaningful. The story had to be special."
Hyrul was hands on with the screenplay and it took a few months from basic concept to the shooting script. Ideas evolved even during the shoot to make sure the story was the best it could be.
The story revolves around 3 widows from the kampung, who set up a vape juice business to make enough money to attend the final concert of their favourite singer – Aiman zalini.
The recipe is such an unexpected success that it even rehabilitates drug addicts, which draws the unwanted attention of the local drug cartel – leading to a comedic adventure about friendship, empowerment, trust and forgiveness.
THE RIGHT STUFF
In committing the story to the screen, the production went to great lengths to bring it to life.
"For our directors and producers to do their best work, we believe that any creative execution requires the best tools to bring it to life. Aside from working with our commercial crew, art department and DOPs, we are proud that 3 Janda Melawan Dunia is the first Malaysian feature film to use the Bolt High Speed Motion Control Robotic Arm – something we purchased in 2021 precisely for our in-house directors to better express themselves creatively " said Pat Singh, Executive Producer for Directors Think Tank. "As the only Bolt Motion Control in Malaysia, it was something that we could contribute as a value-added asset for certain high speed sequences to increase the production value of the film."
"It's great to collaborate with Directors Think Tank – a passionate company who always gives 200% effort. I enjoyed working with Hyrul – a crazy talented director! With the crews and cast put together for the film, we created some unique visuals on screen that I hope the audience will really enjoy. " said Keoh Chee Ang, Executive Producer for Multimedia Entertainment.
Pushing the envelope wasn't merely visual, but in terms of selecting the cast as well. Most Malaysian movies tend to cast young up-and-coming 20- somethings with millions of instagram followers. But Hyrul was determined to work with faces he had known from watching movies as a child.
With a cast led by 3 veteran actresses of Malaysian Cinema – Khatijah Tan, Normah Damnhuri and Raja Azura, as well as Norman Hakim and theatre newcomers – this is a unique ensemble cast.
"Even though this is a comedy, I looked for 3 serious actors who are famous, but not in their hey-day anymore. It's a combination that will attract people," Hyrul said. "It's something different from the roles they're known for in the past, and that makes things fresh and interesting."
Raja Azura, one of the leads, said: "When I was asked to do this movie by Hyrul, I said "Wow, you're quite daring to cast 3 old aunties like us!". But when he explained the story, with his energy, I was taken by the story and felt that this really can be something new for Malaysian Cinema. It's like a new genre".
YK Tung, General Manager of GSC, said: "This movie is all about Hyrul and his infectious laughter! GSC is proud to collaborate with Directors Think Tank in discovering talents both in front and behind the camera. Together, we take pride in using creativity and passion to take local productions to greater heights."
ORIGINAL MUSIC
"Malaysian's love music, but we don't have the tradition of musicals in the same way the West does. Malays love song, especially pop songs," said Hyrul.
With a film style that lends itself to with different genres of music and dance, Hyrul together with his brother Rizdzuwan Jusoh, created and composed 6 new songs specifically for story-telling moments in the movie.
Published by Space Records, an independent record label, and together with Warner Music, the songs and the film score will be released on Spotify throughout the month of May with Music Videos on Youtube.
With such a rich array of material from the movie, it felt right to go further in terms of promoting the film as well.
CROSS- PROMOTIONAL ECOSYSTEM
Directors Think Tank, with its forte in TV Commercials and branded content, saw this as a unique opportunity to create a cross-promotional media landscape together with sponsors and partners who could broaden the film world.
"The hope is that the songs and music videos would feed interest in the trailers which would feed interest into the branded content and vice versa, creating a month of memorable content," said Maurice Noone, Co-founder of Directors Think Tank.
While sponsorship for movies is common – with product placement in films as the mainstay for brands – product endorsements related to movie launches typically feature the actors or actresses from the movie as themselves. "We wanted to try to create an ecosystem of buzz, where the world of the movie exists in other branded content outside of the film, " Maurice continued.
By creating branded films for sponsors and partners that showcased the characters from the movie – rather than the actors or actresses endorsing products as per the norm – the plan was to create unique stories for brands and would drive up overall engagement.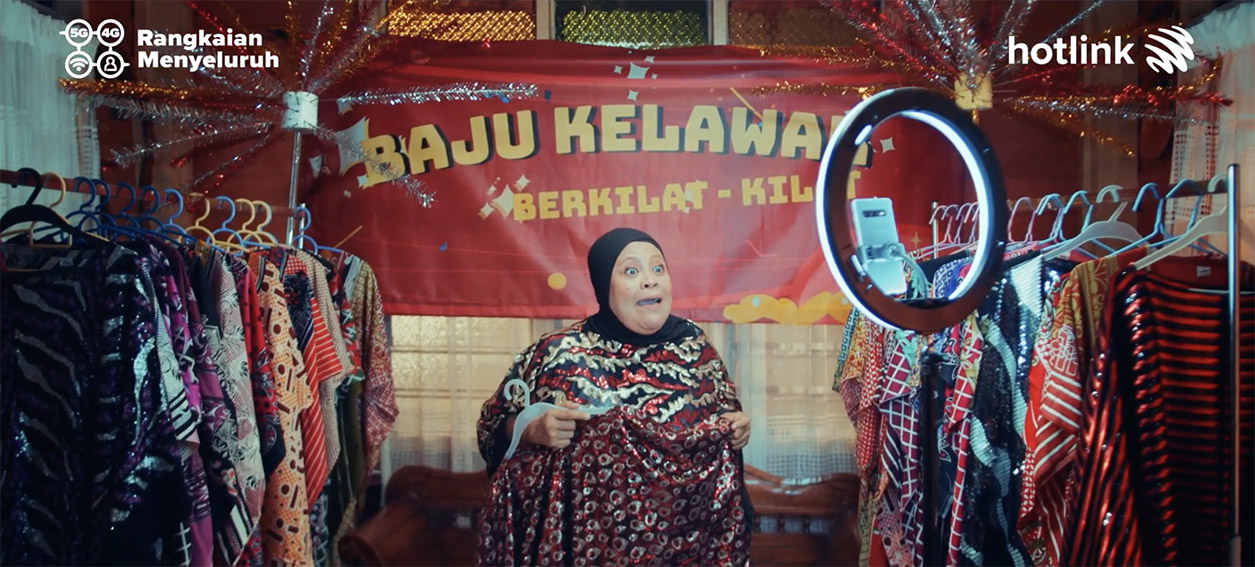 "Audiences care about good stories and good characters. In this way, we hope to introduce a wider audience to the 3 Janda characters and their world as a lead-in to the movie, and our sponsors and partners would have branded films with their own propositions. It's win – win!," said Maurice.
Nescafe and Hotlink were both receptive to the idea and came on-board as main sponsors and participate as valuable partners in creating more content for multiple channels.
Directors Think Tank then produced 3 x 20sec TVCs, and 3 x 6 second tag ons for Nescafe which will air primarily on free-to- air and digital. For Hotlink, a 1 x branded film and 3 Branded Trailers were produced for digital – with a FB Live event to follow in May.
Post-Production on the movie and all the branded films were completed by Directors Think Tanks in-house post production facility Tank3 Asia. With Post-Production completed in April, the film campaign will unveil in stages:
Music videos and songs will be released every week on Spotify and Youtube. The branded content and film trailers will roll out digitally and on TV throughout the month, building to the film premiere on the 10th of May. With Opening Night for the general public on the 19th, May looks to be an exciting month for "3 Janda"!