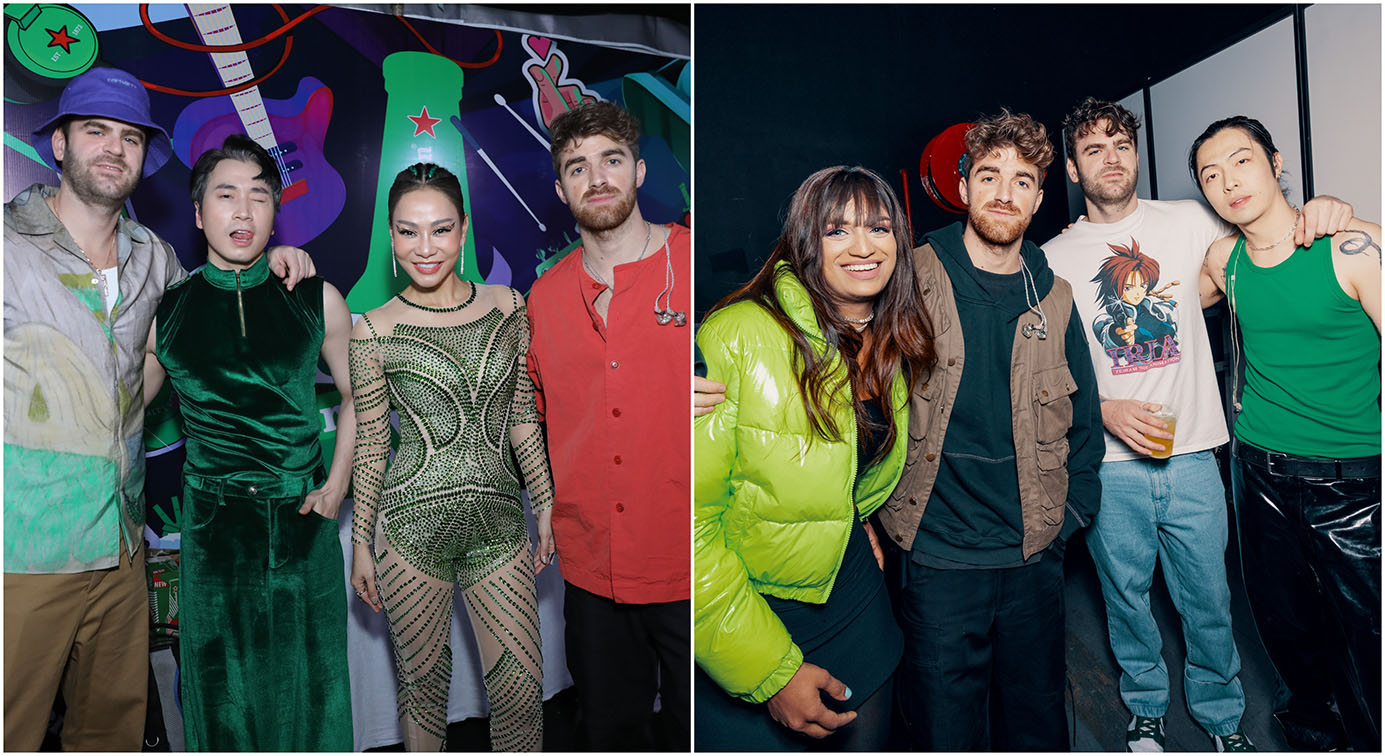 HEINEKEN recently kicked off its 'Refresh Your Music, Refresh Your Nights' campaign in Asia with two concerts featuring the world-famous electropop duo, The Chainsmokers. The campaign, which has been launched Asia-wide, was developed by Le Pub, BBH Singapore, Leo Burnett Vietnam and Leo Burnett Malaysia, while Iris Singapore led the regional PR and influencer strategy.
Four local artists, namely, Thu Minh and Karik from Vietnam and Yunohoo and NYK from Malaysia, performed alongside The Chainsmokers.
Both concerts were major successes, with over 85,000 music fans in attendance who displayed immense support for The Chainsmokers and their local artists' performances.
Prior to the concerts, HEINEKEN encouraged fans to break out of their music bubbles, seeking to open their minds to different genres through sharing music from many cultures. In the lead-up to the concerts, fans were encouraged to vote for their favourite refreshed renditions of The Chainsmokers hit songs created by the local artists.
In Malaysia, the concert was held on 9th December, and Yunohoo kicked off the evening with her songs like Kaalam, AV, and Rani and ended with her rendition of The Chainsmokers' hit song Don't Let Me Down, in her distinctive musical style. This was followed by NYK's set, who performed his popular songs such as Daylight, faded, and pretty burn, before launching into his rendition of The Chainsmokers' song, Something Just Like This, showcasing his take on the duo's song. The Chainsmokers' performance of their popular songs received rousing cheers from music fans.
The concert in Vietnam was held on 10th December and saw local artist, Karik perform his popular songs Quan trọng là thần thái, Có chơi có chịu and Vì mẹ anh bắt chia tay. He ended off his set with The Chainsmokers' hit song, Don't Let Me Down, incorporating his trademark style of hip-hop. Thu Minh entranced the audience with some of her most-loved songs such as Just Love, Hot and Đường cong before launching into her version of The Chainsmokers' hit song, Something Just Like This, bringing forth a completely new take on the song with the Soprano C singing voice she is renowned for. The Chainsmokers' set brought fans' excitement to an all-time high as they performed some of their most loved songs.
Rajeev Sathyesh, HEINEKEN, Brand Director APAC, said: "Through the 'Refresh Your Music, Refresh Your Nights' campaign, we wanted to echo HEINEKEN's belief that life tastes better with an open mind, regardless of social situations or music preferences. The fans' incredible energy and willingness to break out of their music bubbles affirmed our belief that music does transcend all boundaries."
Credits
Agencies: LePub / BBH Singapore / Leo Burnett Vietnam / Leo Burnett Malaysia Campaign: Refresh your Music, Refresh Your Nights
Advertiser: Heineken
HEINEKEN
Global Senior Director Heineken® Brand: Bram Westenbrink
Heineken® APAC Brand Director: Rajeev Sathyesh
Global Heineken® Consumer Connections Director: Rob van Griensven
Heineken® Global Digital Development Manager: Pearly Lim Mei Sze
Global Communication Manager Heineken® Brand: Tanya Lubis
Heineken® Global PR Lead: Jonathan O'Lone
Heineken® APAC Business Development and Trade Marketing Manager: Josephine Tang
Le Pub
Global CEO of Le Pub: Bruno Bertelli
Executive Creative Director APAC: Cyril Louis
International Coordination Creative Director: Guy Lewis
Associate Creative Director Publicis Italy: Livio Gerosa
Chief Client Officer: Anthony Wong
Global Business Director: Elianne Vermeulen, Natalie Hellon
Global Senior Account Director: Francesca Baldrighi
Chief Strategy & Innovation Officer: Charles Laporte
Aust Global Director Experience and Innovation: François Rousseau Global
Strategy Director: James Moore
BBH Singapore
Chief Creative Officer: Sascha Kuntze
Group Creative Directors: Gaston Soto, Nikhil Panjwani
Art Director: Christine Lim
Business Director: Manavi Sharma
Senior Account Executive: Angel Fadila
Strategy Director: Ruth Lim
Strategist: Cheryl Koh
Head of Production: Wendi Chong
Producer: Derri Ng
Senior Animation Artist: Beverly Ng
Leo Burnett Vietnam
Chief Executive Officer: Kate Bayona-Garcia
Groupe Managing Director of Communications: Anish Kotian
Chief Creative Officer – Paolo Garcia
Executive Creative Director – Chandu Rajapreyar
Associate Creative Directors – Yen Dang, Raven Ngo, Linh Le
Art Directors – Kit Tik, Daniel Tingcungco, Marvin Ramos
Copywriters – An Tran, Chau Huynh, Duyen Phan
Account Director: Vu Tuan Thanh
Senior Account Managers: Tracy Thu Tran, Phung Vo Senior
Account Executive: Huong Le
Account Executive: Ngoc Tram Tran
Account Assistant: Van Anh Pham, Nhi Vo
Senior Strategist: Tim Denley
Leo Burnett / Publicis Groupe Malaysia
Chief Creative Officer: Emir Shafri
Executive Creative Director: Iska Hashim
Associate Creative Director: David HK Tan
Sr. Copywriter: Vickknesh Raj
Jr. Copywriter: Jing Jie Chang
Designer: Diyana Yusof
Chief Strategy Officer: Andrew Michau
Strategic Planning Manager: Benjamin Cheong
Managing Director: Firzan Mulafer
Business Director: Irene Kuan
Account Executive: Daryl Cheong
Chief Technology Officer: Robin Sue (Digitas)
Executive Digital Producer, Prodigious: Gensy Chong
Digital Producer, Prodigious: Eting Chang
Technical Manager, Prodigious: Aaron Woon
PRODUCTION
Music Management: MassiveMusic
Global Director of Clients & Partners: Luc van Stiphout
Senior Consultant: Edo van Duijn
Senior Account Director: Anjali Nazarenko
Account Director: Ella Chevasco
Account Manager: Tristan Leopold
Creative Music Producer: Friso Hoekstra
Music Curator: Emilie Kannekens
Music Curator: Casper Nederhand
Digital Production: DIGITAS Vietnam
General Manager: Julian Brzoska
Technical Director: Hoang Nguyen Vo
Technical Project Manager: Cuong Luong, Huy Tran
Technical Executive: Duc Ho
Data Analytics Manager: Tuan Anh Nguyen
Event Production: ALDA
Concept development & Event Production: ALDA Touring B.V.
Founder & Director: Allan Hardenberg
Chief Operating Officer: Dennis de Bruin
Project Manager Vietnam: Fabienne de Seriere du Bizournet
Project Manager Malaysia: Jade Boes
International Artist Management: Ellen Gussinklo
Technical Producer Vietnam: Joey Wijnen
Technical Producer Malaysia: Rik Smeets
Creative Concept: Gerben Roos & Rens Goseling
Stage and Show design on behalf of ALDA Touring B.V.: High Scream Limited Creative Director: Romain Pissenem
Creative Project Manager: Pol Fernandez Losada
Creative Show Producer: Dave Platt
Animation: Le Cube
Director: Ralph Karam
Executive Producers: Gus Karam (FF), Fernanda Soma (LC), Eva Amuchastegui (LC), Yanyie Tran (FF).
Line Producer: Sofia Arissian, Eric Zheng.
Animation Director: Federico Radero
Art Director: Santiago Oddis
Illustrators: Lucas Andreu, Gianluca Patti, Emilia Calvo, Alejandro Durty Gonzalez, Jose Elgueta, Nahuel Sagarnaga, Juan Barabani, Nahuel Rollan
Compositing Supervisor: Adrián Mirandeborde
Compositing: Adrián Mirandeborde, Fernando Lamattina, Alcides Izaguirre, Lui Nogueira
2D Animation & Tie Down: Appétit
3D Modeling, Shading, Lighting: Lui Nogueira, Fernando Lamattina, Agostina Carrera, Leo Dias, Juan Martin Miyagui
Clean-Up Supervisor: Laura Desmery
Clean Up: Appétit, Facundo García, Juan Natch, Julieta Soloaga, Melisa Pighin, Clara Chini, Marcela Chiban, Nicolas Quintar Riboli
Production: Final Frontier
PR
Iris Worldwide
Managing Director: Andy Cairns
Executive Creative Director: Cristina 'Tin' Sanchez
PR Account Director: Khushboo Tanna
Content Strategy Director: Yingting Low
Creative Team: Miguel Escobar and Daniel Aung
Social Media Manager: Jasmine Yeo
Junior PR Executive: Sharanjeet Kaur
MEDIA
Dentsu
Global Client Director: Kate Hinz
Global Account Director: Cyrielle Eutrope
Global Strategic Digital Director: Ricardo Lopes
Global Strategy Partner: Richard Wright
Senior Global Account Manager | team lead: Maria Lekka
Senior Campaign Manager: Lisa Van Vliet
Global Client Manager: Tijana Vukovic
Digital Campaign Manager: Yuxun Zhang
Digital Trader: Teddy Tan
Digital Campaign Executive: Martina Di Marzio
Boomerang / Publicis Groupe
Chief Commercial Officer: Alexander Veltman
Chief Creative Officer: Eldin Fetahovic
Chief Production Officer: Fikret Fetahovic
Project Manager: Arnaud Muller
Post Producer: Lina Joukhadar
Digital Producer: Anna Potashkina
Dynamic Templater & Editor: Gerard Milling
Dynamic Asset Manager: Daria Iakovenko
Dynamic Asset Manager: Daan Specht
BTL
DASS-Inc
Global Account Director: Wayne Cowden
Creative Director: Justin Cheong