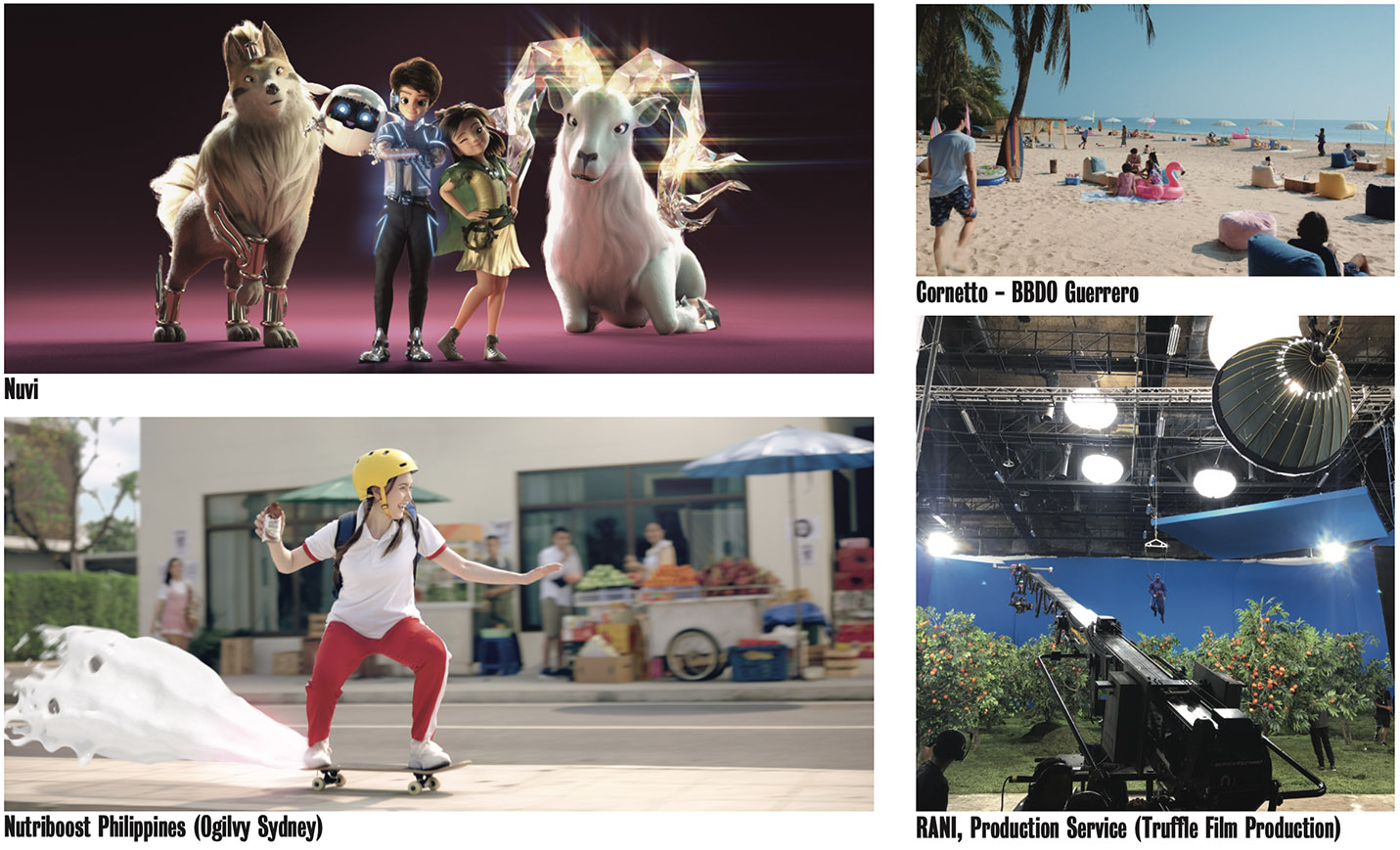 From traditional filmmaking to cutting-Edge 3D animation – it's all in a day's work for Indigo Production, launched eleven years ago by veteran advertising executive Adrian Van de Velde. Based in Bangkok, Indigo is a 'one-stop shop' which incorporates traditional so called 'live action' filming with a recently added post-production and CGI (computer generated imagery) division.
While Hollywood's major studios have long recognized Thailand as a great place to make movies because of its dazzling scenery, lower production costs, skilled technicians and state-of-the-art gear and facilities, the country is also home to a slate of smaller production houses that are delivering quality TV commercials and films for leading brands across the globe.
During the Covid pandemic, Indigo Production succeeded in overcoming the lockdown restrictions on several live action filming projects by going 100% remote.
Its clients include the mainstay FMCG brands under multinational giants Unilever, P&G and Coca-Cola, a global hotel chain with 1000s of properties worldwide, and a growing number of local and regional brands across Thailand, Vietnam and the Philippines.
One such brand is Nutifood Vietnam, a flavoured milk and yogurt producer. This project gave Indigo the perfect opportunity to launch its CGI Division.
"As it turns out, our timing to launch Indigo Post was remarkably prescient, says Van de Velde. "While most of the industry couldn't shoot live action because of the rolling pandemic restrictions, we didn't skip a beat."
"We now offer our clients the full package, from basic concept and script development right through to post-production and completion," says Richard Holt, Indigo's managing director, who recently joined Indigo to oversee the growth and expansion of its service offering.
"We still love the ad business with Production Services and Direct Production remaining a key component of the business. But the addition of Post Production has allowed us the set our sights much higher."
The company currently employs 17 full-time staff, all well-schooled in media creation, which includes its all-star team handling CGI for a growing number of clients requesting these services. For the more demanding projects Indigo still taps into its local and global freelance director network, but can now offer in-house talent on a number of project styles thanks to a shift in its hiring strategy.
Nutifood Vietnam
"I've always believed in the importance of passing on knowledge and training to the next generation. There is so much raw artistic and producing talent in Thailand. We are always looking for keen young minds to add to the team," says Holt.
In the fast-paced world of advertising production, 'out of the box' thinking has always been a prerequisite. These qualities were heavily tested during the Covid pandemic, when the company succeeded in overcoming the lockdown restrictions on several live action filming projects by going 100% remote.
One of the more ambitious versions of this strategy was rolled out on a seven country campaign for Cornetto, shot on location in Hua Hin Thailand. An advertising film set is usually buzzing with clients and the advertising agency, in addition to the production crew. Additionally, with country markets as diverse as the Philippines, Indonesia, Malaysia, Singapore, Vietnam, Cambodia and Thailand often a representative from each of these markets can attend a shoot. But solving this was the easy part, Indigo's producers also had to contend with a remote film director.
Holt said: "As you can imagine, the thought of not having a film director physically on set was unthinkable before the pandemic. And while it did present a different set of challenges, these were outweighed by still being able to offer our clients unrestricted access to the global director talent pool Indigo has been known for."
The biggest challenge, however, came in the form of Indigo's obligations to its hotel client. This project required the on-site filming at fifty of the chain's North American properties, right through the most restrictive period of the pandemic. Indigo Producer Jee Paensri coordinated the logistics of four film teams traveling for months across North America and Bangkok.
Holt said: "Given CGI is effectively a new thread to Indigo business, it has been both challenging and immensely rewarding. And it has allowed us to now seriously consider a move into long form TV and film production, via our CGI capabilities. Thailand recently stepped up its incentives to lure filmmakers here, which fits in neatly with Indigo's own business philosophy – to offer the right conditions to attract overseas companies and thus create employment and earn foreign investment for the country. Filming in Thailand with its fantastic locations, local skills and international expertise makes it a very good option."
http://www.indigoproduction.com/
Credit: This has been edited from an article on Indigo Production in 'Big Chilli' Magazine, July-August 2022 edition, written by Colin Hastings.