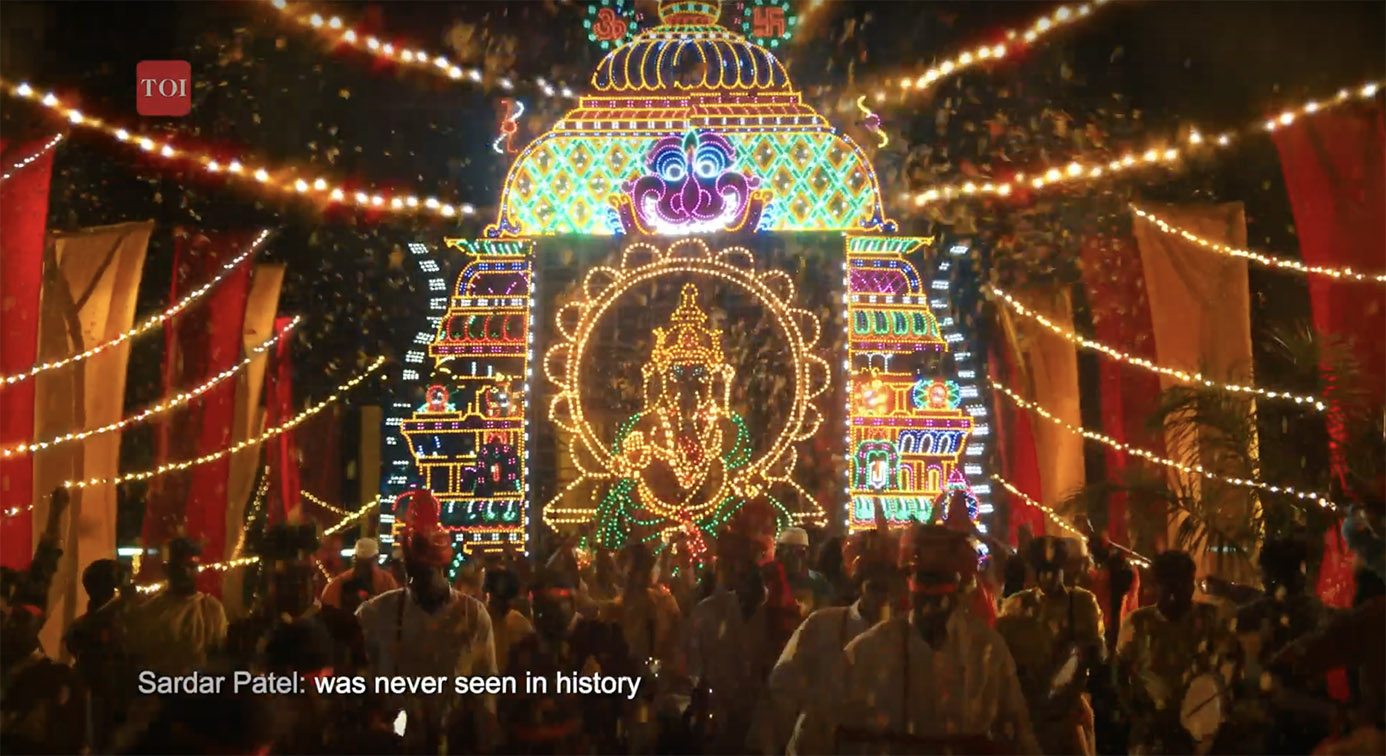 The Times Of India celebrates the invisible thread that binds us all as one in spite of our diverse differences via new Wunderman Thompson India campaign. The ektara that binds a billion voices into one song. The Idea of India represented by the thread of light that embraces our differences and elevates our unity in diversity. The idea of the seamless thread that has held us all together as one nation over the 75 years of our Independence.
The campaign is live across national news media, social media and various digital platforms. #WhatMakesUsOne campaign has a unique hashtag that invites every Indian to participate and celebrate the Idea of India in their own way.
Kaustuv Chatterjee, Brand Director, TOI & Languages, said: "Over the past decades India has made rapid strides in various sectors, and this has fuelled a sense of pride in the nation's growing stature in the world. In this context, our new initiative from TOI – #WhatMakesUsOne, focuses on the many unifying threads that make up our Idea Of India. Despite our diversity and multiculturism, the threads that unite us also drive our growth in the world today powerfully. Just look at what's happening in Space-Tech, Defence, IT, Sports or our cultural influence across the world. We hope this initiative will spark conversations and connections around What Makes Us One, as we prepare to celebrate our 74thyear of becoming a Republic."
Senthil Kumar, Chief Creative & Film Director, Wunderman Thompson India, said: "INDIA WAS AN IDEA LONG BEFORE IT BECAME A FREE NATION. It was the song from a thousand years ago. It was the spirit of thousands of freedom fighters. It was written in blood by the thousands who laid down their lives for our freedom. It was the same thread of unity in diversity and adversity and festivity. It is the same thread that continues to bind us as one nation, in spite of our diverse differences. It is the invisible ektara that stirs our souls and ignites our hearts. This binding thread of tolerance and inclusivity is represented as the thread of light cinematically and metaphorically in the powerful Times Of India narrative form."
Joy Chauhan, Sr. VP & Managing Partner, Wunderman Thompson, Delhi, said: "The idea of India is a campaign that makes you pause and yet again fall in love with our magical nation. What makes us one is a question with over a billion answers. Its depth is unseen and uncharted. Today with our potential and the will to lead this world the Idea of India has never looked brighter. It was an opportune time to celebrate our diversity and #WhatMakesUsOne We are proud to partner the iconic Times of India in this celebration."
The thread of light travels across the country from Kashmir to Kanyakumari and Mumbai to Meghalaya at the speed of light, cinematically and metaphorically capturing a day in the life of India in split seconds through the medium of timelapse.
Over a thousand forms of the same thread of light adorn Temples, Churches, Mosques, Gurudwaras, Monasteries, Monuments and Statues across India. Giant serial light forms highlight multiple religions and multiple regions, transforming the same thread of light through all our Gods, Angels, Leaders, Idols and Stars to illuminate our villages, towns and cities.
Time travels with the same thread of light through trains, trucks, boats, rickshaws and seamless transitions from one location to another occasion at the speed of light.
The Idea of India illuminated by the thread of light that binds all India as one family connecting the dots between our differences and uniting the collective soul of our country, blurring the boundaries between multiple religions, regions, cultures, languages, festivals and dissolving all our differences at the speed of light.
The visual thread for this film is the festival of lights captured by hundreds of cinematographers and drone photographers and timelapse content creators throughout the festive season from Navaratri Lights in October to Diwali Lights in November, Christmas Lights in December to Sankranti Lights in January at multiple locations across the country.
The musical thread of the invisible ektara elevates our ekta and binds the speeches of our inspiring leaders into one national narrative delivering the Timeline of India, through song and speech, powered by the voices of Mahatma Gandhi, Subash Chandra Bose, Jawaharlal Nehru, Sardar Patel, Indira Gandhi, AB Vajpayee and Narendra Modi. All the voices in our head that set fire to our imagination with the Idea of India.
Because India is the melting pot of multiple cultures and multiple languages where people of all religions live together in harmony and the Times of India welcomes everyone in the world to come and grow with it, as one family. Vasudhaiva Kutumbhakam. The whole world is one family.
IDEA OF INDIA THE TIMELINE OF INDIA FILM
Credits
THE TIMES OF INDIA BRAND TEAM
Sivakumar Sundaram – Chairman Of the Executive Council (CEC)
Kaustuv Chatterjee – Brand Director – TOI & Languages
Debadyuti Karan – General Manager – TOI, East & Special Projects
Badal Rag – Vice President – TOI, North & East
WUNDERMAN THOMPSON CREATIVE TEAM
Senthil Kumar – Chief Creative Officer
Shams Jasani – Chief Executive Officer
Pinaki Bhattacharya – Chief Strategy Officer
Joy Chauhan – SVP & Managing Partner
Siddharth Prasad – Executive Creative Director
Bhavana Dogra – Executive Business Director
Amrita Hazari – AVP & Client Services Director
Mandeep Singh – Films Head
MUSIC CREDITS
Music Director: Druv Ghanekar
Lyricist: Swanand Kirkire
Singers: Krishna Beuraa, Rishikesh Kamerkar, Darshan Menon
Sound Studio: Wah Wah Music
Sound Engineer: Ishan Naik, Jash Mistry, PA Deepak
Original Voices of Mahatma Gandhi, Subash Chandra Bose, Jawaharlal Nehru, Sardar Patel, Indira Gandhi, AB Vajpayee, Narendra Modi & Rakesh Sharma – Source : Prasar Bharati Network.
FILM PRODUCTION CREDITS
Production House: Thinkpot Films
Director: Senthil Kumar
Executive Producers: Manoj Pillai, Sunil Nair
Managing Director: Geetha Chalattil
Creative Producer: Krithika Manohar
Director of Photography: Harshvir Singh Oberai
Associate Cinematographer: Arpit Bharde
Cinematographers South: Spoorthi Gupta, Raj Mohan, Chethan KMS
Cinematographers East: Arnab Pal, Prasanta Kumar
Cinematographers West: Mohit Gurjar and Team BrainWings
Cinematographers North: Danish Qazi, Praksh Jain, Ashish Tanwar
Offline Editor: Utsav Bhagat
Online Editor: Dev Nayak
Colorist: Navin Shetty
Post Producer: Mithun Jayaraj
Assistant Editor: Ankit Kadam, Said Ansari
Associate Online Editor: Parag Kakade
Post Artist: Anil Wagle
Post Production Assistant: Nagesh Sanghi
Post Studio: Picture Post Studios
+ Hundreds of Drone Photographers
+ Hundreds of Serial Light Arists from Chennai, Madurai & Kolkata
Chief AD: Ayush Saini
Camera Operator: R K Prathap
1st Assistant Cinematographer: Praveen Pothan
Focus Puller: Gagandeep Bawa
Gaffer: Rasool
Line Producer: Shiv Sharavan Arjun
Production Manager: Nandhini R, Henil Bhawnani
Assistant Production Manager: Rishi
Makeup & Hair: Theja and team
Costume Designer: Tina Rosario
Grips: Venkatesh
Jimmy Jib Operator: Arun Dasan
Panther Operator: Kandeeban, Babu