The Peranakan Museum is the go-to destination for Peranakan heritage and culture, housing the world's finest collection of Peranakan artefacts. The Peranakans are a cultural group that were born in Southeast Asia over 600 years ago, and a vital part of the history and heritage of the region, with its maximalist aesthetic that encapsulates the amalgamation of cultures. Yet, Peranakan culture was diminishing in the public eye, often reduced to tropes and inauthentic representations.
Brand practice Anak embarked on a journey to inject new life into the Peranakan Museum, to create a new brand identity for the Peranakan Museum that would transform the institution from an archive into a space for forward-looking creativity and inspiration.
Anak re-drew the existing wordmark, and created an emblem by evolving the 'P' letterform into The Museum Peony. It serves as both a symbol of the community's multiplicity, and a graphic identifier for all brand touchpoints.
The brand idea, 'Unapologetic Beauty', celebrates the Peranakan's creativity, defiance of convention and exuberant self-expression. The brand system is a distillation of their maximalist aesthetic, centered on a digital library of reimagined patterns and motifs, both static and animated. The brand patterns are informed by two pillars of Peranakan material culture: Craft (i.e. stitching, adorning, tiling) and Creation (Food, ceramics, textiles). These patterns breathe new life into old-world motifs and artefacts, and contextualise them for modern-day application. The design team was granted access to the museum's permanent collection, and key artefacts and motifs were used or inferred in the patterning.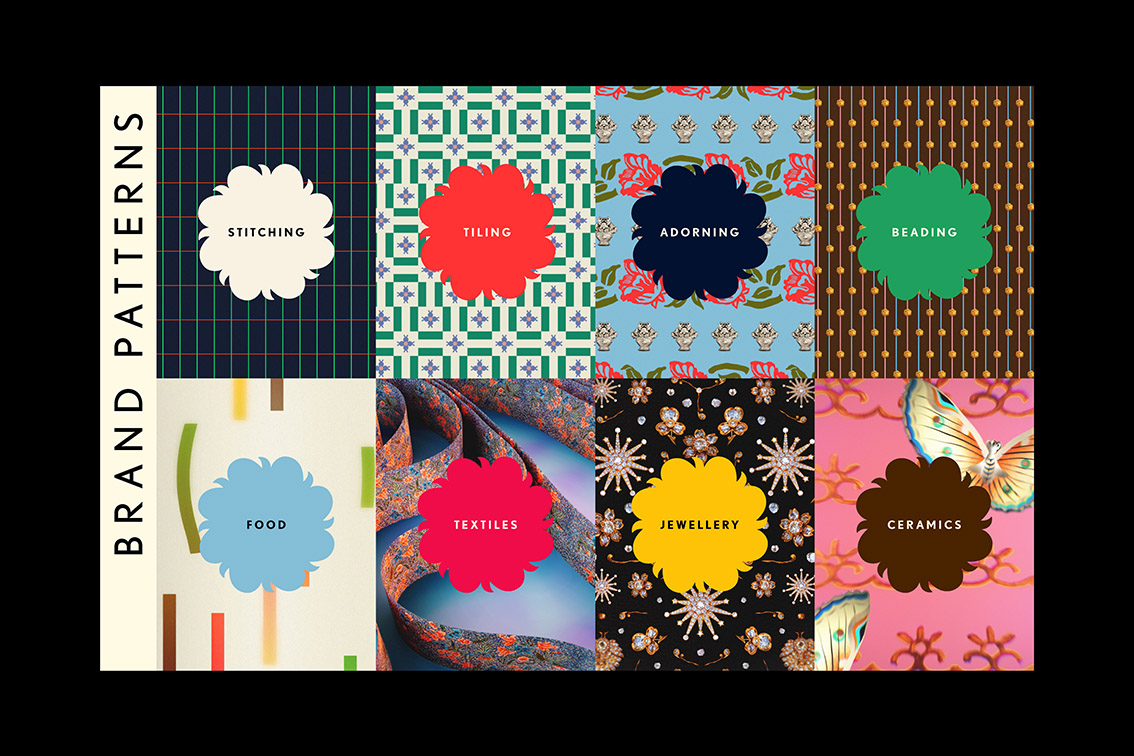 On typography, the museum utilises Nobel by Frere-Jones Type as its headline typeface and Arlt by PampaType for body text; both institutional and contemporary in their base forms, with slight characterful and decorated lilts, allowing the brand to speak with both the formality of a museum and the flair of a Peranakan.
The overall result is a visually arresting brand world which brings together both old and new in a riot of audacious beauty – to release Peranakan culture from the confines of history so it can inspire a new generation of makers, rebels and creators.
Jeremy Tan, Senior Designer at Anak, said: "The museum was shifting its curatorial direction from historic archive to decorative-arts institution. To signal this in the most Peranakan way possible was to allow the visual cacophony so representative of their loud personalities to take center stage. We leaned into their more-is-more aesthetic with colour, typography, and graphic choices that added to and complemented the museum's rich collection of artefacts."
Kennie Ting, Director of Peranakan Museum, said: "In Malay, the word 'Peranakan' has 'child' at its root, and means 'locally-born' or 'of the same womb'. It was a welcoming and inclusive sort of word, used by Malay-Indonesian communities in Southeast Asia to refer to all other communities who had made a home here, and blended the rich local culture with their own proud heritage. With the movement of people globally today, are we able to use the term Peranakan in the same way that older Malay communities did? To embody that ethos and language of inclusivity? To say that we are from the same womb and we welcome you? We are all, in some ways, updated Peranakans, so to speak."