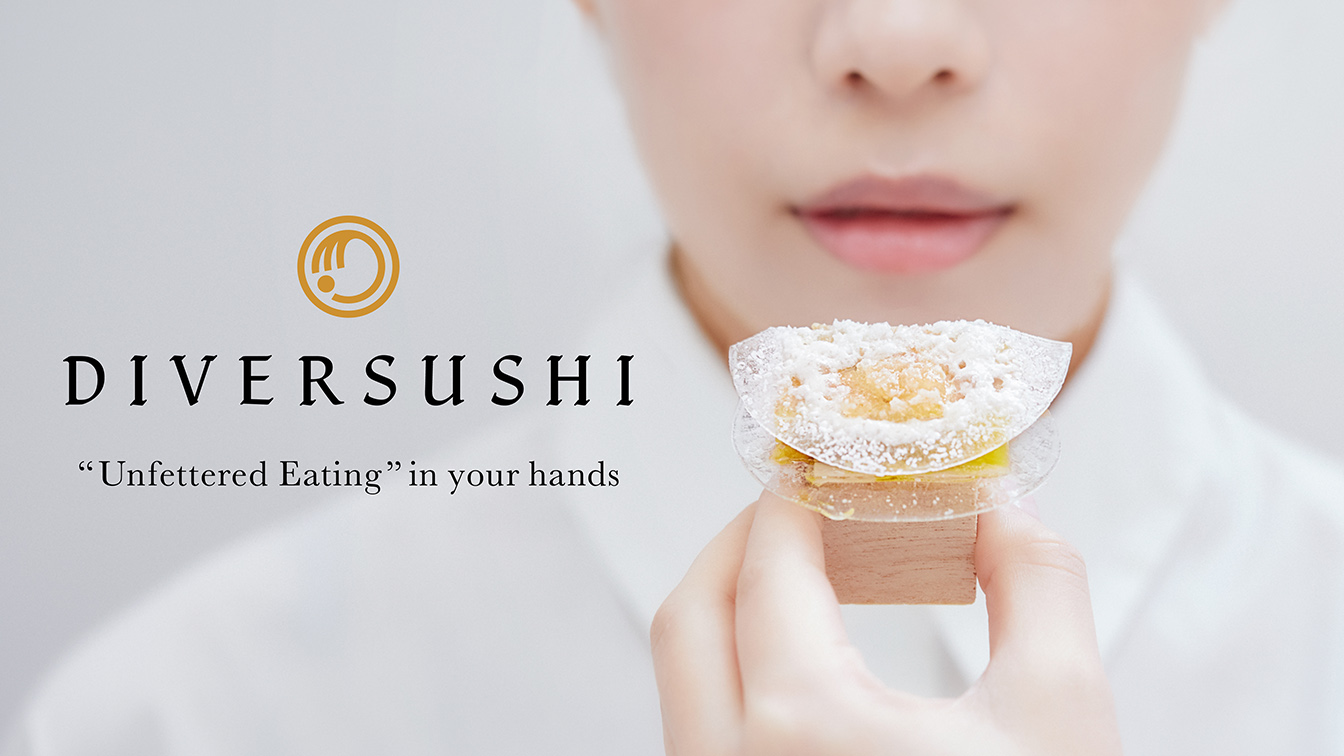 TBWA\HAKUHODO Tokyo has launched the "DIVERSUSHI" project, initiated by Japanese media artist Yoichi Ochiai and "the world's brightest visually impaired person" and social entrepreneur Shunsuke Narisawa. "DIVERSUSHI" is a new dining experience that allows people with visual impairments to eat fine-dining food directly with their hands in one bite, intending to solve issues that visually impaired people face when eating and creating a world in which anyone can enjoy meals together regardless of having a visual impairment or not.
With the launch of the "DIVERSUSHI Project," crowdfunding began in May 2023, with the goal of holding the first dining event which will be held in July.
– Project Website
– Crowdfunding page
"DIVERSUSHI" is a combination of the words "Diversity" and "Sushi". The term was coined from the insight from 'the way of eating sushi', which is known to be an easy, inclusive way of eating.
The insight from the project was from a conversation in 2019 between Yoichi Ochiai and Shunsuke Narisawa, a visually impaired social entrepreneur, when Ochiai asked, "If you were allowed to eat anything, what would you like to eat?" and Narisawa replied, "Sushi is good." Narisawa's answer was not only because he likes sushi. During dining, visually impaired people have to figure out the location, distance, and height of the tableware such as chopsticks or forks and foods. However, the Japanese traditional way of eating sushi, in which people take the sushi directly from their hands to their mouths all in one bite, is easy for any person.
By implementing the way of "eat directly with your hands in one bite" just like eating sushi in all kinds of fine cuisines, including French, Italian, or Chinese, the team is aiming to create a new dining experience that makes everyone enjoy meals without frustration from visual impairment. The goal of the project is to see the day when the "DIVERSUSHI" way of eating is introduced to restaurants all over the world to provide inclusive options, just like Halal, vegan, and kosher are now widely accepted.
As a first step, they are beginning crowdfunding to hold a "DIVERSUSHI" dinner event with Chef Taichi Murayama, who has won Michelin awards for 11 consecutive years, and Chef Miyuki Igarashi, a Japanese cuisine chef. After the first event, we aim to expand this activity nationwide.
TBWA\HAKUHODO are holding a "DIVERSUSHI" dining event in Tokyo on Sunday, July 2, 2023. They are inviting both visually impaired and non-visually impaired people to attend the dinner and are hoping to use this event as an opportunity to expand this activity nationwide.
– Crowdfunding platform: READYFOR
– Funding duration: May 15 ~ June 16, 2023
– Target Amount: 7 Million JPY (approx. 52K USD)
– Webpage: https://readyfor.jp/projects/DIVERSUSHI
Chefs Murayama and Igarashi, who have endorsed this project, are in charge of developing the menu for DIVERSUSHI. In addition, businessman Masamichi Toyama will join as an advisor.
Credits
Agency: TBWA\HAKUHODO Tokyo
Creative Director: Masatoshi Usami
Senior Art Director: Yuhei Ito
Art Director: Leona Mori
Designer: Hajime Sunada
Copywriter: Shoko Uchida
PR Planner: Kyosuke Hashimoto
Producer: Taisuke Kudo
Producer: Shun Sasaki
Movie Director: Mayuka Kawamura