Chris Kyme continues his "Postcard from Hong Kong" series and this month his topic is better late than never…
Deadlines..deadlines…actually for the regular column I don't have one as such however, seeing as it's the end of April, just about, I am running a tad late getting this in. There are reasons for that however! One being that the elevator in our office building is being renovated which means walking up three flights of stairs! Okay, that's not a great excuse, but having just returned from a beautiful Easter break in Yunnan, China is. With so many distractions, from the Snow Mountain outside Li Jiang to the scenic splendor of Lake Lugu and the ancient streets of old town Shangri La, not to mention some brilliant food at every stop, the chance of me sitting down to churn out some insightful advertising points of view from Hong Kong was remote to say the least.
So back to the real world, and, it being April (still, just) Hong Kong is still recovering from the sporting typhoon weekend that is the Rugby Sevens which came, saw and conquered (well Fiji did anyway). And now I recall – what a nice campaign we had this year! As you probably know, the Cathay Pacific account was recently won by Publicis Groupe in Hong Kong (huge win that) and the annual Sevens campaign is one of the major items on the calendar, the task for which this year was taken up by Leo Burnett Hong Kong.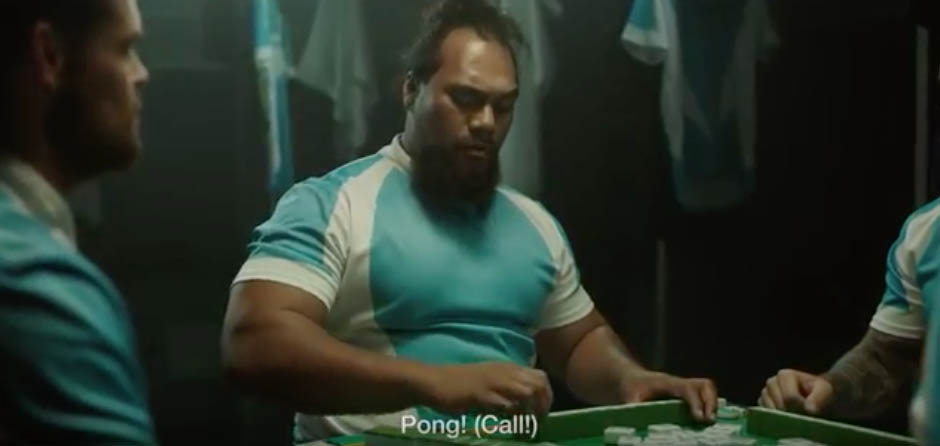 Now in the past, this brief has produced some decent enough work. It's a challenge though, in terms of how to do it differently. We've had lots of sonic music-driven action spots with flight attendants throwing or kicking rugby balls (or players), we've had kung-fu rugby, we've had wackily-dressed party animals. I reckon it can't be easy as there are only so many ways you can show Hong Kongers having mad crazy fun with a rugby ball. Which made this year's campaign such a delight, as fresh as a cup of Jasmine tea.
Shot in Sydney by Nick Kelly of Sweet Shop, we see big beefy blokes sitting around in the changing rooms speaking perfect Cantonese while playing mahjong, eating egg waffles ("Dai gan zai") and drinking elegant cups of Chinese tea. It's about as far away from a scrum as a night at the ballet and equally as charming.
Always great to discover nice (real) work popping up in Hong Kong, I decided to get to the bottom of it by having a quick chat with young (ish) Carol Lam, who herself is no stranger to the CX account, who's official title at LB these days is 'Queen Carol', or whatever. So what's the lowdown Carol?
"The client wanted an idea that resonates with overseas rugby fans and local non-rugby fans at the same time. Two different target groups with totally different mindsets and attachment with the event. After self-trashing countless ideas that have any trace of crew dancing, crew playing rugby with big players, action-packed vignettes, banana & sausage costumed fans and alike on the plane or in Choi Hung estates, rugby flying over the city and the citizens responding with fake smiles… the idea you see is the sole survivor, that we thought was good to show to client. Thankfully, they loved it. We told them the stories, they laughed out loud and bought them on the spot. We got it nailed in the first round of presentation. Luckily.
And your favourite version is..? "Yum cha"
The official blurb from LB was:
"The campaign, titled Nobody Does Rugby Sevens Like Hong Kong, pays homage to the distinctive cultural textures that make the Hong Kong Sevens a unique destination experience. Across three short films, viewers are invited into the locker rooms of rugby players gearing up for the tournament. Surprisingly, rather than banter or physical therapy, the players are found enjoying some of the city's most loved rituals – engaging in an intense game of mahjong, sipping aromatic Iron Buddha tea and snacking on Gai Dan Zai egg waffles. These lighthearted scenes speak to Cathay Pacific's role in bringing together the spirit of Hong Kong and rugby to the Sevens for both locals and visitors alike."
And rightly so.
It's a lovely campaign and was rightly well received when it kicked off (excuse the pun). check them out for yourself.