Regular Campaign Brief contributor Chris Kyme has for quite a while now, been interested in to catching up with a person who he believes many readers of Campaign Brief Asia know well enough – a young fella (well, young to Chris) named Jody Xiong, founder and owner of The Nine in Shanghai. Kyme recently caught up with Xiong online to find out more.
I've been interested and fascinated by Jody's work for quite a while. Not just that he's all over the award shows or in the news, but how he thinks and approaches his work. Of course, some of it has been very high profile. But he seems to have a style all of his own. More artist than just advertising creative, and I know that this is the stylistic film director in him.
I'm from a traditional ad background, where creative ideas always come from a solid proposition and from there you get into ideas etc. But Jody's work seems to be more free in its style and not adhering to any traditional rules. So I nagged him with a few questions, and his answers gave me some insights into all of this. Starting with his personal industry journey.
"I worked in international 4As for 18 years, from Beijing to Shanghai, from a designer to creative director. Before founding The Nine Shanghai in 2016, I worked in Ogilvy Shanghai as Group Creative Director, responsible for Buick's Automotive Business. Before that, I worked in DDB Shanghai as Creative Director and helped the agency to win Volkswagen and McDonald's businesses, also winning China's first Gold Design Lion in Cannes. But for me, working in international 4As is more than just a good experience and memory. In particular, the outstanding founders of different networks, who are passionate about the field, have always inspired me with their great ideas… For example, William Bernbach put forward, "Advertising is not a scientific formula. It is a subtle and constantly innovative art." David Ogilvy said playfully: "Never create an advertisement that you don't want your wife and son to see." "Reach for the stars. Even if it is futile, it is not one-handed mud." said Leo Burnett. That's why I love this industry. Creativity is a business and an adventure with clients, and the fascinating thing is that you never know what the next idea is going to be or what the next step
When we have been in an industry for a long time, it is easy to be "institutionalized", and even find it difficult to break away from this "institutionalization", such as 4A companies. Although 4As agencies are a great platform, like Ogilvy, in China, it has long been known as the "Whampoa Military Academy" of the advertising industry. I remember that in 2012 I received a call from Ogilvy HR, and Graham Fink, Chief Creative Officer in China, invited me to join the Red Army. Graham is highly respected in the industry, rated by D&AD as one of the top 28 art directors in the world. So I didn't hesitate to join and enjoyed more than 720 days of hard work, which helped the company win two new customers, Nikon and Buick."
Who wouldn't want to enjoy some success working under Graham Fink, that must have been very influential, so why break away? (Jody refers to one of his many popular culture references.)
"The Shawshank Redemption" is a movie that has been at the top of the IMDB global movie list for many years. Why? Although human beings cannot escape from gravity and are firmly imprisoned on earth, we are born to yearn for freedom! Therefore, I eventually wanted to have "jailbreak", just like Andy, the protagonist in this movie. In May 2015, I chose to leave Ogilvy and 4A system, and studied Directing at the New York Film Academy for half a year. When I came back in 2016, with more fresh knowledge and rethinking of the industry, I established an independent creative agency "The Nine". I want to do more than just traditional "advertising."
I see, and you feel you can't do that within a typical big agency environment then?
"Well, the platform and resources of the big companies are great, and I'm grateful for the opportunities and training these companies have given me over the years, but during the last few years at Ogilvy, I deeply felt that the mature system and assembly line operation mode of large companies does not allow for my "ambition". There are not many opportunities for fault tolerance. So I wanted to break through the boundaries of advertising and do things that go beyond what my past experiences have been. Things that may be considered high risk for a large agency. I needed to have my own stage, so I founded The Nine."
So is The Nine and agency or a production company?
"The Nine is not just an advertising or design institution, it is more like a creative laboratory or a commercial art laboratory. The Nine's Chinese name is 九曜(jiǔ yào, lit.) which represents energy in ancient Chinese. In this rapidly changing market, customers have higher and higher requirements. Unlike the traditional print posters or TV advertisements, they need more unique creative communication methods, perhaps a drama, a performance art and a song etc. Therefore, based on the insights of humanity, we integrate technology, art, design, aesthetics, entertainment and events etc. so that the brand and products can communicate with the public in the most perfect way."
I love it. Breaking down the barriers. Opening up new opportunities. That's what makes the industry exciting.
But what did you learn from your years in agencies that you can bring to running your own agency?
"As the Chinese saying goes, 'Walking among three people, I find my teacher among them.' My leaders and colleagues have always been my best teachers. They come from different countries and regions, and the various cultural differences have greatly benefited me. I have to express my thanks to Graham Fink, Kweichee Lam, Francis Wee, Michael Dee… and so many others I've met. It is a privilege for me to spend some time with them. There is no denying that China, a rapidly changing market with the most diverse clients, is also my teacher.
More than that, life itself is the best teacher. All the details of life, every romantic relationship, every trip, every dream, every loss, every good book, every art exhibition, every movie…"
I like everything about our life on earth because everything inspires me, especially movies. When I was a child, I went to the cinema to see "The Shaolin Temple". I felt that there was a great energy in the cinema to allow people inside to forget about the cruel realities, including fear and death. On my way to studying film making, I realized that I was faced with two problems, one for the audience and the other for myself. Almost all the creators want to find out from themselves what the problems are to be solved, and the main characters in their films always take the question with them on their ways and finally solve them, although sometimes the answer is not satisfied to everyone. However, because of the presence of the audience and the presence of people who like movies, we still have the obligation and responsibility to take the audience together with us creators during this exploration, to take our own problems with the audience, and to experience with the audience in the process, the meaning of life. This, I think, is the charm of film making. Film is a comprehensive art. For those of us who're creators or designers, who don't have much luxury of time to enjoy daily life, film is a powerful nutrition for us to learn not only editing, music, costume, lighting, art, composition, storytelling, etc., but also more experience in life, even though it is virtual. I remember that the screenwriter's training sessions were fun and useful such as kangaroos, Beijing Opera characters, high heels, buttons… all these unrelated elements are to be combined and form an unexpected story. And with that we need to set up multiple and complex characters, societies, politics, religions and philosophies and ultimately a grand world that no one has ever seen.
I often tell my colleagues in The Nine Shanghai that people are the most perfect AI, eyes, skin, ears, soul and every pore… You should feel everything freely and greedily, gaining more experience and information so as to create better works.
Your style of work seems, to me, quite untypical. It's hard to define. Quite style-driven. Is that a conscious direction you've decided to explore…or, does it come from your background in design?
"From 1993 to 1998, I attended two universities, Hunan University of Technology Business and Central Academy of Arts & Design, where I studied Art Design. That's where I began the training of my basic aesthetics. I left Ogilvy in 2016 and attended school at New York Film Academy for half a year. Today, The Nine Shanghai don't just provide creative services to our clients but also provide commercial film directing for brands. It means a lot more possibilities for myself.
My first job after graduation was architectural environment design, and my first work was the design of children's playground: using cement steel bars to simulate a tree-shaped canopy, intertwined with each other to form a towering tree paradise of 50 meters wide and 6 meters high. Among them, there are more than a dozen of projects that challenge children's mental and physical fitness, such as climbing bamboo poles, drilling holes in the ground, and slides etc..For my second job, I was engaged in graphic design in Shenzhen, which was the mirror image of Hong Kong. It was deeply influenced by European and Japanese design styles and mixed with Chinese regional style, forming the most vanguard graphic design culture in China at that time. I also began to learn typesetting and typeface in that atmosphere, and learned the world history of design by myself during work. The third job was joining international 4A D'Arcy. At that time, the ECD in Asia Pacific was Jimmy Lam, the late godfather of Huawen advertising last year. He paid great attention to the promotion of company's reputation through awards. He would give lectures every month and sometimes invited some European creative directors to train us. Besides, There were "monthly meetings" in D'Arcy at that time, and Jimmy would comment and analyze the award-winning works for us, which benefited me a lot."
So all of these experiences shaped you into who you are now?
"More or less, every creator's work is accompanied by traces of his own experience and life. It's hard to define your own work because of the intersection of different fields. I am an advertising creator when I created the MV brand music video "What We Wish" for Time China Real Estate; I am a contemporary artist when I enlarged the classic Coca Cola bottle to 12 meters high, and the original work is called "Love Customization Company"; I am an advertising director when i was directing the short film "Safely Feel The Real World" for Durex and Volvo Cars; I am a sculptor when I designed the book "Guess Which Book Is It" for Zhihu and Yanjiyou bookstore; I am a stage designer when i launched "Handheld Concert" for Rokid portable smart speaker; I am a space designer when I designed " Miao Jiang Pattern Experience Museum" in Import and Export Expo for Guiyang's government; I am a product designer when I designed the creative cultural products "The Twelve Noble Ladies" for Daming Palace in Xi'an; I am an architect when I created the brand installation "Intelligent Head" in 15 tons conference of Huadi kitchen appliances…"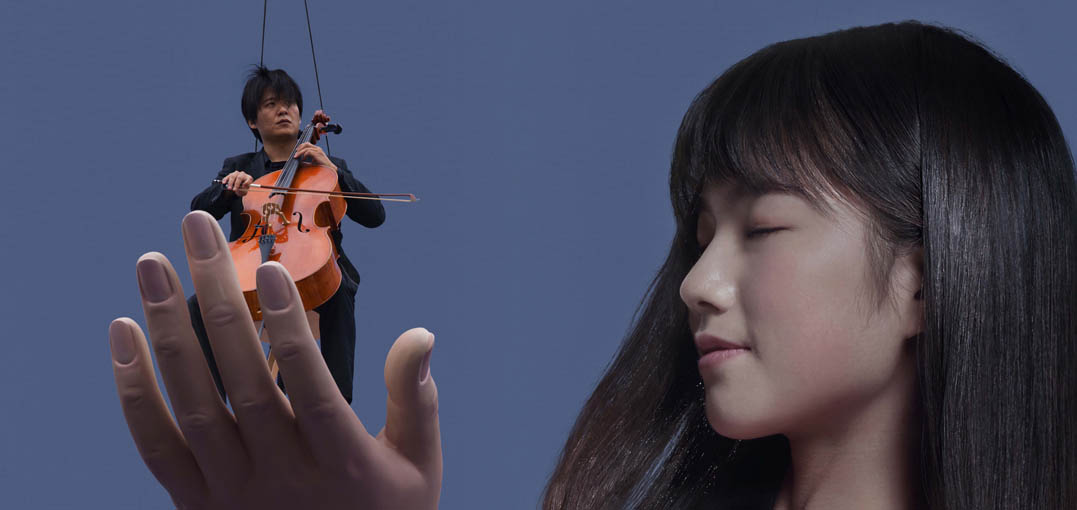 Well we live and work in an industry whereby we are no longer specialists in one thing or another, and the idea of the hybrid agency is more and more common. So which discipline do you enjoy the most?
"Our client list is diverse, ranging from brand upgrades to packaging design, installation art, space design, IP toy design and of course, traditional commercial films. More than often, I play multiple roles and this allows me to experience a richer life. Why not! The Nine Shanghai has only 9 employees, but keeping it elite and sharp is what we wanted since the beginning. Being established for 5 years, The Nine has earned some international reputation for producing real and impactful cases (rather than scam work). For example, I was named as one of the Asia's top 12 most awarded creative leaders by Campaign Brief Asia; The Nine made its way into the top 12th most creative agencies in Asia and 2nd in China, amongst the fiery competition of big international agency networks.
I've been longing for the opportunity to create works that are truly beyond advertising. Incredibly, I was invited to join Zhang Yimou's team, the chief director of the opening ceremony of Beijing Winter Olympics and Winter paralympics, as the visual effect director and visual artist of the two opening ceremonies. I took part in the countdown projects of the Winter Olympics opening ceremony named "Beginning of Spring" and "Tribute to the People" together with China's top digital technology team Blackbow. At the same time, i also created a technological and artistic installation called "The Bloom" as a tribute to Winter paralympics. This is an experiment of technology and art, an expression of the spiritual power of the disabled. "Beginning of Spring", "Tribute to the People" and "The Bloom" incorporate oriental aesthetics and technology. It's the result of teamwork, containing countless days and nights of painstaking efforts by countless people. I would like to thank chief director Zhang Yimou for his appreciation and guidance, and also visual effect director Joe Wang and Cai Guoqiang. Thank you for giving me the opportunity to participate in these two great events and let Chinese creative power be seen by the world. No matter what I do, I never stop creating. For me, it's one of the greatest pleasures in life."
What do you think of creativity in China today? How is the industry evolving? Does China have a style in the way that countries like Thailand and Japan do?
"China's creativity is definitely on the rise. For example, at this year's Art Directors' Cub in New York, 73 finalist entries were from China and 46 from Japan, with 90% of the final entries coming from Chinese local creative teams. In the summer of 2008 and the 2022 winter Olympic Games opening ceremony, under the guidance of film master Zhang Yimou, we used Chinese elements to integrate digital, design, technology, performance and art, to transfer Chinese romanticism to the whole world. These two events were also an advertisement for our country's image. With the participation of different teams from different areas, the creative power of China today was presented in various forms.
In 1986, the first multinational 4A advertising company was established in China, whose development has exceeded 35 years, still too short for Europe and the United States. The Western film industry alone is 50 years ahead of China. Multinational advertising companies have created many well-known brands for international or domestic clients. The influences of creative directors from Europe, the United States, Hong Kong, Taiwan and Singapore has created a lot of international and local work and cultivated many creative talents, but the formation of the style still has a long way to go. In recent years, some local talents cultivated by 4As agencies have established their own companies, forming a new force of Chinese creativity, but the styles of production are very different, and the quality is mixed. Many works are less of creativity, and the involution is very severe for survival and business. The fusion of pure creativity and local humor has formed a strong style and IP in Thailand or Japan, just like the Hong Kong's Shao-style martial arts movies.
If we must talk about the creative style of Chinese advertising, the "monthly cards" may be one of them. In the 1930s in Shanghai, there were such a group of people who were engaged in painting but scorned by traditional painters. The source of the influence is their painting called monthly cards, which is a kind of advertising painting by adding an annual calendar and commodities on a picture of a modern woman. It can be said that in the 1920s and 1930s, the monthly cards advertisements were the largest advertising carrier at that time, representing a variety of products, such as Ford cars, British American Tobacco, dance halls, etc., involving food, clothing, housing and transportation at all levels. The citizens of Shanghai got the latest commodity information, social trends, and the people across the country learned fashion trends through it. From the perspective of painting, it integrated traditional painting, western-style painting and variable Chinese character design, and also incorporated elements such as photography and film, and pioneered the invention of the brush watercolor painting method. Unfortunately, the world of mortals has annihilated this style, but in our memories, we salute."
A number of years ago, I was invited to speak at the China Advertising Festival, and the organisers specifically asked me to touch on the issue of copycat-creativity. I discovered quite a few examples of campaigns ripping off other campaigns. Is that still a problem in China? Is it something that gets talked about?
"Copying is suicide." Bernbach said. I hate plagiarism, and I have experienced the pain of my own ideas being plagiarised. I often tell my employees that I would rather have no ideas than plagiarism. There is a website in China dedicated to exposing plagiarism scandals. Three years ago, it reported that a Chinese artist had copied western artists for 30 years, which caused a sensation in the whole country at that time. What is more absurd is that the copycat's work is sold at a higher price than the original. The revelation of this phenomenon, although it happened in the art circle, has radiated reflection to other fields. In the age of the Internet, the true original works have been disseminated through multiple channels, leaving nowhere for plagiarists to hide.
Plagiarism in China has been moderated and contained to some extent. A few days ago in Shanghai, I saw a newly released advertising video with a good idea and execution. Unfortunately, yesterday I found its "Mother" on the official website of a well-known French advertising agency. Driven by money and profits, it is difficult to put an end to this phenomenon, which may occur in every corner of the world, not just In China. The constraint of behavior can only rely on the conscience and responsibility of creators. The birth of NFTs better protects the interests of creators, and the smart contracts of the works on the chain are proof to the world."
What I like about your work is that, you're winning awards, but you don't seem to indulge in scam work, as many do for the purpose of winning awards. Yet, selling in original ideas to clients takes skill and trust. How do you approach selling in your ideas to clients? (I ask this because I think it's one reason we see so much scam work..it's easier than trying to get clients to buy great work for real).
"Thank you for your appreciation. I totally agree with you. Scam work created to win awards is much easier than getting customers to buy a really great work. Last month, I mentioned in a design seminar in China that it is hard to come up with good original ideas, but even harder is to sell crazy ideas to clients, execute them and influence the market. Fortunately, a number of great customers have grown up in the Chinese market. Clients have the same starting line as ours, and sometimes they even look ahead of creators. In front of them, those old routines will not work. They are eager to see something different. They not only require accurate information to be conveyed, but also desire to see ideas and concepts beyond imagination.
Especially after I founded The Nine, I am deeply touched and proud of it. We have created some breakthrough and influential cases for this market, and won international reputation, but not through scam work. In 2018, the "Handheld Concert", which was created for Rokid portable smart speaker, was a pitch project. When we first submitted the plan to the customer from post-70s to post-90s, they all praised it as a good idea at the competitive presentation conference, and then we won the budget and implemented it. Finally the work won two New York ADC Bronze squares and a Clio bronze award.
In 2019, the MV "What We Wish" created for the 20th anniversary of Time Real Estate was also a pitch project. Due to the time limitation at that time, We only submitted a simple story script to the client, but the client liked the concept very much, so we developed and shot it, which received 5 million views and won 2 Clio Silver Awards, becoming one of the best real estate advertising films in China.
Jointly with Amber Shanghai, I directed the short film "Safely Feel The New World". It's a cross-category collaboration between two major international brands: Volvo and Durex. It is a gentle and exciting story. After the client finished watching, he increased 12 million yuan of media advertisement fee and it was released on White Day on March 14, 2021 and has attracted tens of millions of views and discussions in China. It won a D&AD pencil, Golden and Silver awards at the London International Advertising Festival, and Bronze awards at the Global One Show and ADC in New York.
The installation and short film "The Bloom", created for The opening ceremony of Winter Paralympics, won 3 ADC cubes in New York 2022 and the national government officials passed the proposal. Real cases, good ideas, excellent execution, and to win international awards are still challenging for the current Chinese market. We're not doing nearly enough, but we're on the road."
So what's your final thought you would like to leave people with Jody?
"Dancing on a wire. The necessary constraints and compromises can create creativity and can give you the power to find novel ideas and solutions in your work. A good idea with sincerity, heart, effort and time is better than any proposal skills in front of a bold and discernible client."
And with that slice of unique philosophy, we left it there. Until we can meet in person, Covid restrictions permitting.