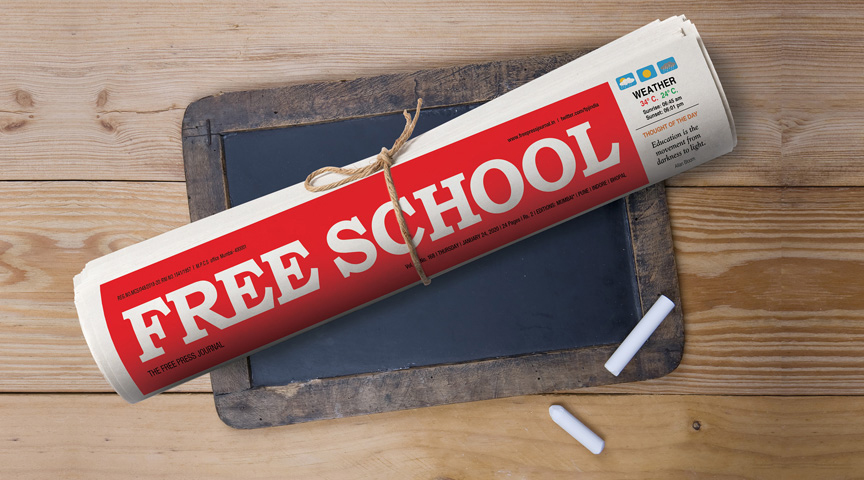 On World Education Day, Free Press Journal launched Free School, (Along with first two pages dedicated to highlight the issues) the sixth issue of their special Free Press edition.
The last five special editions have seen them changing their masthead to draw the nation's attention to issues that deserve to be addressed.
The movement started on 29th August 2019, National Sports Day, by changing our 90-year-old brand name to Free Sports; followed by Free Food on World Food Day (16th October, 2019); and Free Child on Children's Day (14th November, 2019); Free Farmers on Farmers' Day (23rd December, 2019). And today, we want to shine the spotlight on a fundamental human right – education.
The numbers state an alarming fact. India has the largest number of uneducated and under-educated young people estimated at about 500 million. After 70 years of independence, over two crore children still remain out of school in the country. The dropout rates are shocking, skyrocketing from Class III to Class V, touching 50% for boys and 58% for girls. The state of the infrastructure doesn't help the cause, with approximately 95.2% of schools not yet compliant with the complete set of RTE infrastructure indicators, according to a survey conducted in 2010. And about 31% teachers instructing without a degree.
In today's International Education edition, in the first two pages you'll find their contributors talking about the need and power of education and what impact it will have in a country like India. Inside, you'll see articles written by many prominent personalities. Amitabh Behar CEO, Oxfam India, Shaheen Mistri Founder and CEO, Teach For India, Milind Soman, Mantra Mugdh, Amrita Arora, Dr. Aditi Govitrikar, Anchal Kakkar, Mahamaya Navlakha, Kreeanne Rabadi, Samyukta Subramanian and the environment, among many others.
This day gives us the chance to reflect on the state of education in the country. And the opportunity to reach out to those in positions of power, urging them to make a difference. The plan is to use the power of social media and on-ground activation to kindle a movement that will spark a change in the education system of our country.
"Though we are in the business of journalism, we want to focus on addressing the issues at hand. Education is a very important factor in the economic development of any country. Since the early days of independence, India has focused on improving the literacy rate. Even today, the government runs many programmes to promote Primary and Higher Education in India. We thought this is our way of shedding light on and starting a conversation around this issue," said Chairman Director, Abhishek Karnani
Chief Creative Officer and Co-Founder of Taproot Dentsu, Santosh Padhi said, "I'm happy that we're now publishing our 6th special edition. The last five had us tackling five different issues. And this one is no different. I'd like to thank the Free Press Journal team for helping bring this idea to life by reaching out to concerned contributors to address the issues and ensuring that we give space to different points of view."