FCN-FTW Indonesia has taken out #1 ranking in Campaign Brief Asia's 2023 Indonesian Creative Rankings agency table. They sit above the #2 ranked agency, Innocean Worldwide Indonesia and Mata Angin at #3. Innocean Worldwide's Chief Creative Officer, Chow Kok Keong is again the highest ranked creative in Indonesia.
With 165 points, FCN-FTW has ranked #1 in Indonesia. In #2 position is Innocean Worldwide Indonesia with 75 points. Mata Angin Indonesia has ranked #3, Pantarei Indonesia in #4, LUP Jakarta in #5, FlockStorikka Jarkarta in #6. Bates Chi & Partners Indonesia are #9.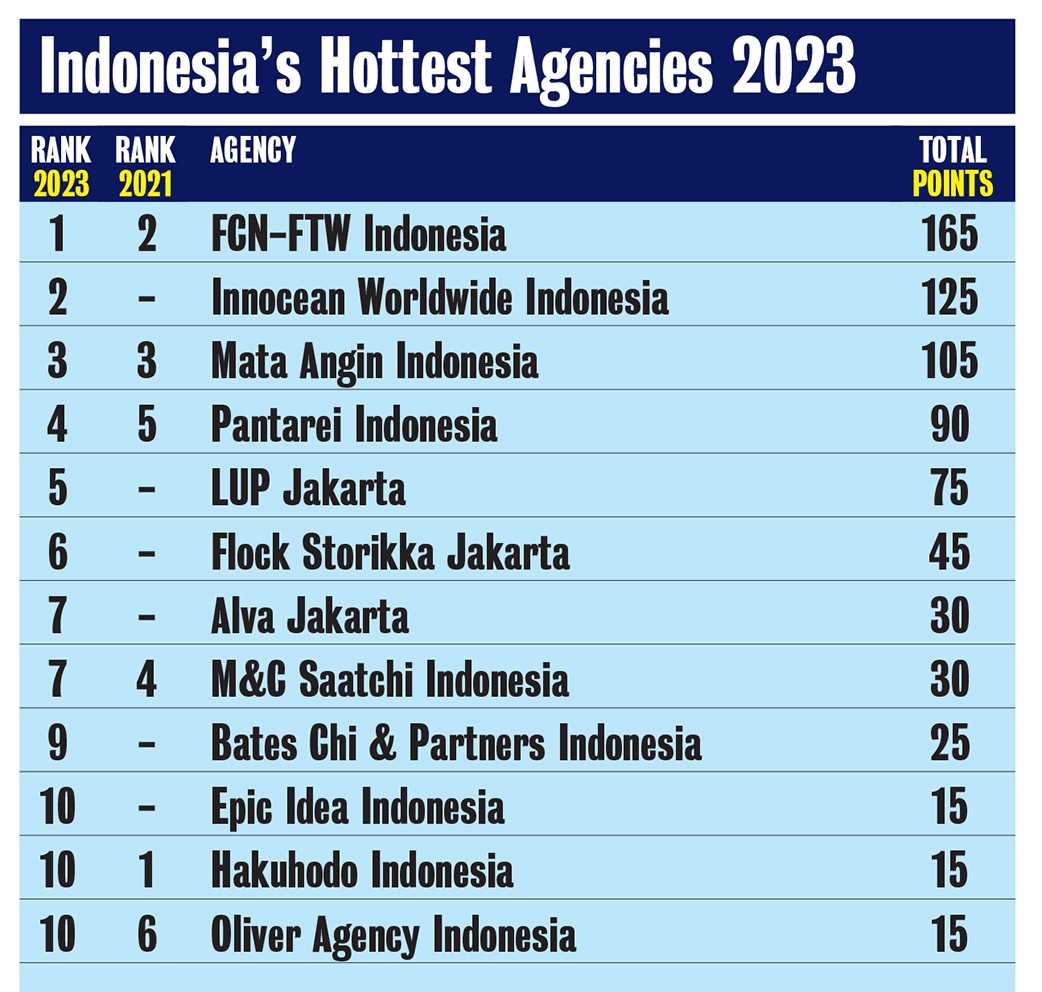 Only 15 points separate the top 5 ranked creatives in the country! Kok Keong has been a consistent performer in the Campaign Brief Asia Creative Rankings for many years now. His 140 points put him just 5 points ahead of Toaster Indonesia's Adryanto Santosa (135) in #2. Leo Burnett Indonesia's Tushar Sawant ranks in #3 with 130 points.
Rounding out the closely contested top 5 in equal #4 are Innocean Worldwide Indonesia's James Henry and Alvin Ho on 125 points.
With 105 points in equal #6 are FCN-FTW Indonesia's Vincent Wijaya and FlockStorikka Indonesia's Rifqa Nikita.
The #8 ranked creative is Innocean Worldwide Indonesia's Fajar Noor Fathjri with 95 points.
The Creative Ranking methodology.
INDONESIA'S TOP 30 MOST AWARDED CREATIVES – 2023
#1 Chow Kok Keong Innocean Worldwide Indonesia 140
#2 Adryanto Santosa Toaster Indonesia 135
#3 Tushar Sawant Leo Burnett Indonesia 130
#4 James Henry Innocean Worldwide Indonesia 125
#4 Alvin Ho Innocean Worldwide Indonesia 125
#6 Vincent Wijaya FCN-FTW Indonesia 105
#6 Rifqa Nikita FlockStorikka Indonesia 105
#8 Fajar Noor Fathjri Innocean Worldwide Indonesia 95
#9 Putriani Mulyadi Netflix Indonesia 80
#10 Anisa Sabila Finch Agency Indonesia 75
#10 Anggun Rahmawati LUP Jakarta 75
#12 Irfan Zayanto LUP Jakarta 75
#12 Refo Angkasa LUP Jakarta 75
#12 Rizqi Prasya LUP Jakarta 75
#12 Timotius Ginting LUP Jakarta 75
#16 Davin Susanto FCN-FTW Indonesia 60
#16 Faisal Hibatullah FCN-FTW Indonesia 60
#16 Intan Tri Rahardjo FCN-FTW Indonesia 60
#16 Michael Limantara FCN-FTW Indonesia 60
#16 Vivi Chandiana FCN-FTW Indonesia 60
#21 Wirga Mahesa Innocean Worldwide Indonesia 50
#22 Beda Pandutama BBDO Indonesia 45
#22 Danif Pradana BBDO Indonesia 45
#22 Meilina Lam BBDO Indonesia 45
#22 Jamil Bhatti Edelman Indonesia 45
#22 Kevin Nathanael FCN-FTW Indonesia 45
#22 Kevin Hasby FlockStorikka Indonesia 45
#22 Riesma Fridayani FlockStorikka Indonesia 45
#22 Dini Octavia A Mata Angin Indonesia 45
#22 DP Otten Mata Angin Indonesia 45
#22 Josua Sakti Suryanto Mata Angin Indonesia 45
#22 Selvi Wennelia Rieni Mata Angin Indonesia 45
#22 Ayu Ammalia Pantarei Indonesia 45