Ogilvy makes it four in a row as Thailand's Creative Agency of the Year following the release of the Campaign Brief Asia 2021 Creative Rankings. Ogilvy has maintained an exceptional award winning performance over recent years but this year face stiff competition from Wunderman Thompson Bangkok. One of the stars of the 2021 Campaign Brief Asia Creative Rankings, Wunderman Thompson has risen from number #5 in Thailand last year to a clear number #2 this year.
Ogilvy has filled the #1 creative ranking in Thailand since 2017 and with 1525 points in this year's rankings are again Campaign Brief Asia's 2021 Thailand Creative Agency of the Year. Ogilvy accumulated points from New York Festivals, One Show, Spikes Asia, Adstars, LIA, Clio, D&AD, AdFest and Campaign Brief's The Work.
Less than 200 points behind in #2 ranking is Wunderman Thompson Bangkok, who stared with a total of 1330 Ranking Points. Almost all of their points came from strong 2021 performances at Cannes, D&AD, One Show, AdFest, Spikes Asia and Campaign Brief's The Work. This 2021 performance gives Wunderman Thompson a big springboard into next year's Creative Rankings.
GREYnJ United (765) has move down one spot to #3 in 2021, followed by BBDO who has retained #4 position on 650 points – only 35 points ahead of CJ Worx (615) in #5.
In the #6 ranking is Creative Ranking's newcomers Wolf Bkk who have scored a creditable 490 points – all coming from 2021 award shows. The agency's Central Department Store 'Shop Unfriend' film is one of the best and most awarded campaigns of the year. If Wolf Bkk can continue this momentum they will continue to improve their ranking position next year.
TBWA has dropped from #3 in 2020 to #7 this year with 485 Creative Ranking points. Sour Bangkok has moved up 2 positions to trail TBWA by only 45 points at #8.
Leo Burnett (#9) and Dentsu One (#10) round out the top 10.
Ogilvy's Nopadol Srikieatikajohn is again the #1 creative director in Thailand followed at #2 by Wunderman Thompson's Park Wannasiri and former CCO João Braga (now at WT Australia). #3 is GREYnJ United Bangkok's Jureeporn Thaidumrung.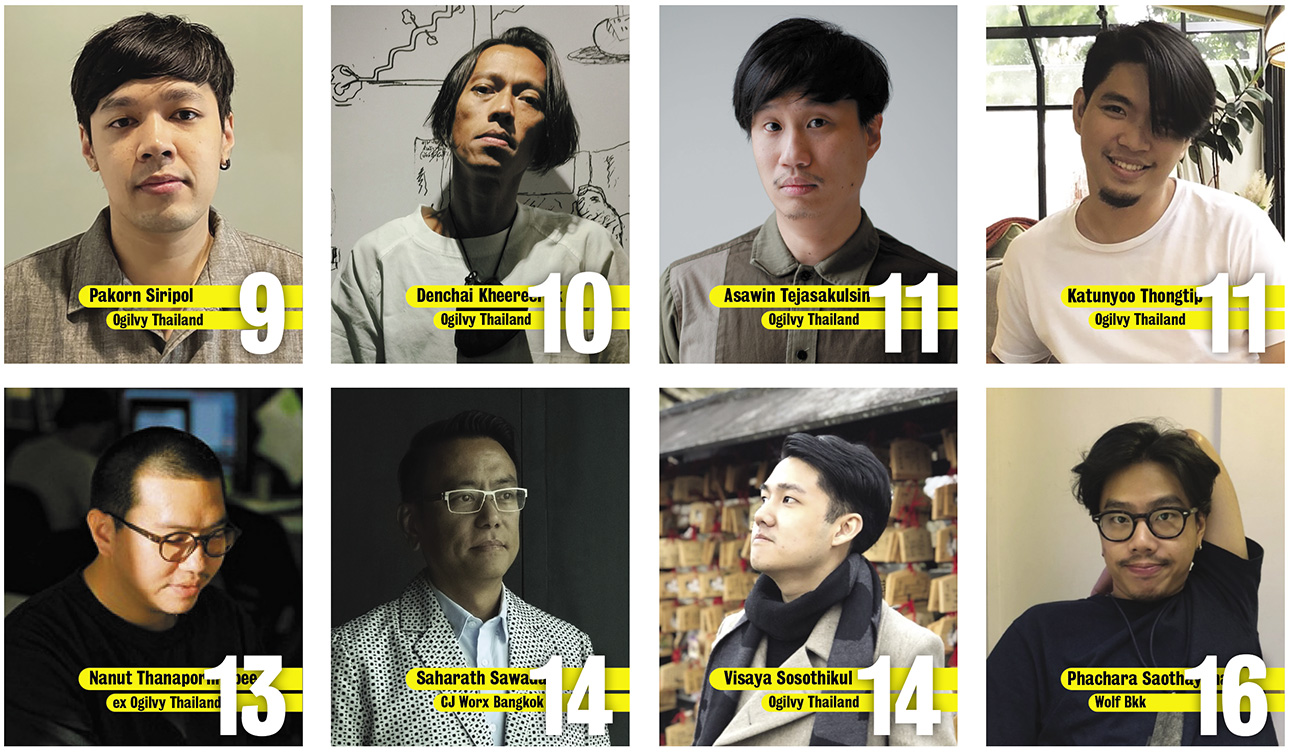 Srikieatikajohn (Ogilvy) has also retained his place on top of Thailand's Hottest Creative 2021 table for the second straight year with 1485 Creative Ranking points.
In equal #2 is Wunderman Thompson creatives Chatchai Butsabakorn, Kunat Chaengcharat and Yannaphat Boonkate. All three have scored 1155 points. Butsabakorn has jumped up the rankings from #59 position in 2020. Chaengcharat and Boonkate have  moved up from #41.
Last year's equal #1 ranked creative Wisit Lumsiricharoenchoke (1070) has moved down to #5, ahead of fellow Ogilvy creative Gumpon Laksanajinda in #6 on 885 points
GREYnJ United's Jesse Wong has shot into the Top 10, moving up 20 places to #7 this year on 705 points.
Anuwat Nitipanont is BBDO's only creative inside the top 20 on 610 points in #8.
Ogilvy creatives take up the next 5 positions with only 75 points separating them. Pakorn Siripol has continued his move up the table from #92 in 2018 to #9 this year on 575 points. 30 points behind in #10 is Denchai Kheereerak (545). Equal #11 goes to Asawin Tejasakulsin and Katunyoo Thongtip only 15 points out of this year's Top 10. On 500 points in #13 ranking is Nanut Thanapornrapee.
At equal #14 is Saharath Sawadatikorn (CJ Worx Bangkok) and Visaya Sosothikul (Ogilvy) on 495 Creative Ranking points, just 5 points ahead of the #16 placed Phachara Saothayanan (Wolf BKK).
On Monday Campaign Brief Asia will be releasing the full ranking of all agencies and creatives including the Top 25 Most Awarded Agencies in Asia; the Top 20 Most Awarded Creative Leaders in Asia; the Top 20 Most Awarded Networks in Asia before finally releasing the full Creative Rankings as a free downloadable magazine pdf.
Make sure you sign up for the Campaign Brief Asia Daily Newsletter so you don't miss any details.
The Campaign Brief Asia Creative Rankings were introduced 26 years ago (1995) to tabulate Asia's most creative agencies and individual creatives, based on award winning performances over the previous two year period at the top global and regional award shows. In total 203 award winning ad agencies and 1844 individual creatives in Asia are ranked.