The Campaign Brief Asia 2021 Creative Rankings overall Agency of the Year has once again been awarded to Dentsu Inc. Tokyo, who remain the #1 creative agency in Asia. Here we reveal the Top 25 Most Awarded Agencies in Asia for 2021. Interestingly, the top four agency rankings remain the same as last year.
Dentsu Inc. Tokyo are clear leaders on 2605 Creative Rankings points as Asia's #1 agency, where they have been for more than the past 5 Campaign Brief Asia Creative Rankings.
With 2200 Rankings points, TBWA\Hakuhodo Tokyo has retained #2 by only 135 points with Cheil Hong Kong (2065) closing in on them at #3 ranking for the second consecutive year.
Ogilvy Thailand has retained the #4 Creative Ranking position for the second year in a row.
Separated by only 5 Creative Rankings points FCB India has edged ahead of Innocean Worldwide Seoul to take out the #5 and #6 positions. The two agencies also had a close fight last year when they ranked #8 and #9, and after strong award performances this year they have continued to move up the Top 10 table.
Tencent Shenzhen has also continued to climb up the Campaign Brief Asia Creative Rankings improving significantly every year since 2017. Their previous ranking three ranking positions was #12 last year, and #48 and #95 in previous years.  This year sees them move into the Top 10 for the first time at #7 on 1385 points.
Wunderman Thompson Thailand has been one of the stars of 2021 which is shown with their #8 ranking in the 2021 Creative Rankings. They've moved up the table an impressive 21 places from #29 a year ago.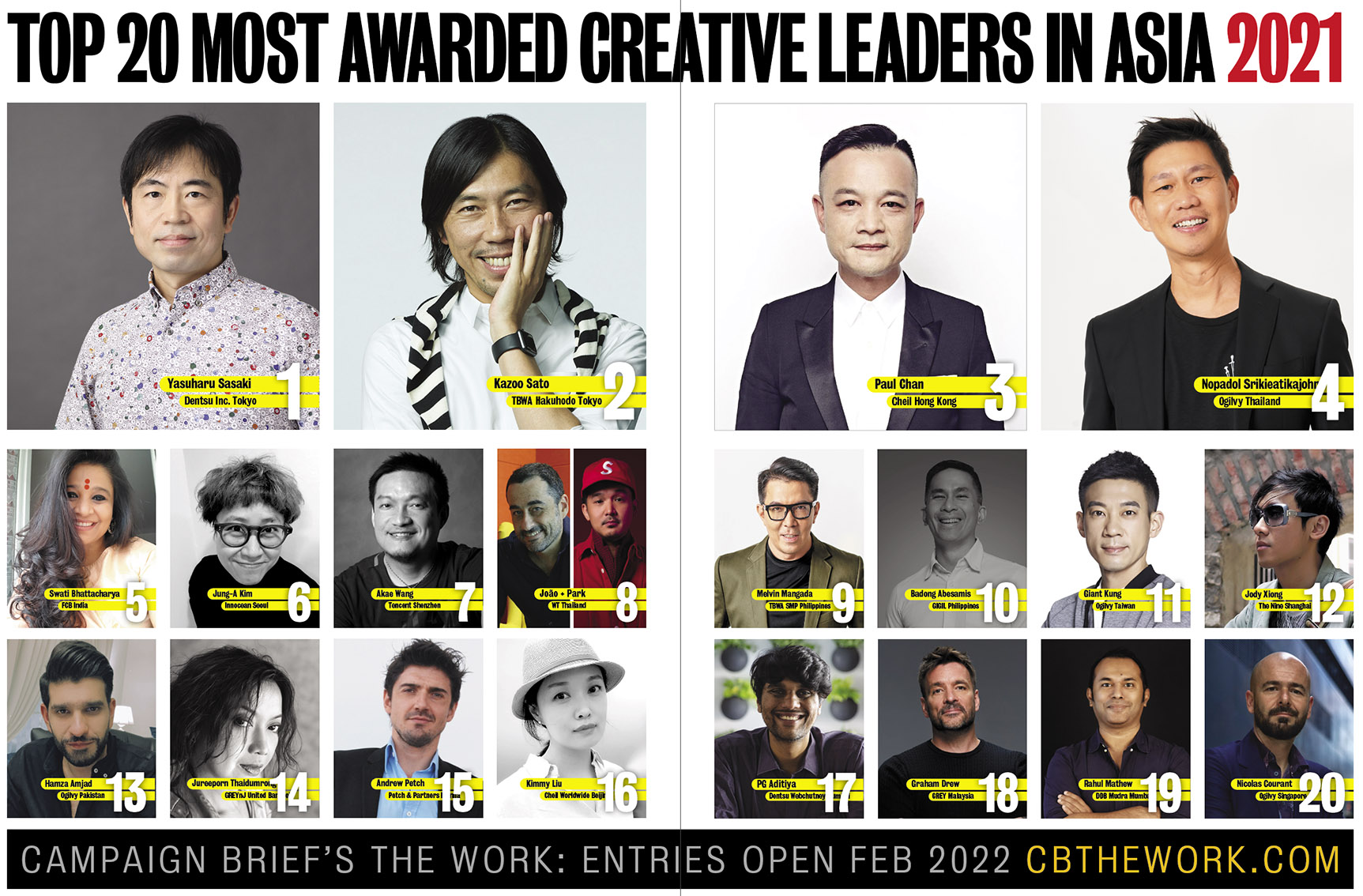 Consistent performers TBWA\Santiago Mangada Puno Philippines (1020 points) have ranked in #9 position narrowly ahead of fellow Philippines creative agency GIGIL (985), who have leaped into the Top 10 at #10 ranking from #39 in last year.
Ogilvy Taiwan are another big mover in the 2021 Creative Rankings, moving into #11 position from #34. They are only 60 points outside the Top 10 and look likely to put pressure on agencies above them next year as they gather creative momentum.
The Nine Shanghai also continues to steadily move up the rankings into #12 position coming from #16, #23 and #50 over the past three Campaign Brief Asia Creative Rankings.
Ogilvy Pakistan has entered the Creative Rankings leaderboard for the first time in 2021 in #13position after a huge performance at Cannes Lions and other shows. On 770 Rankings points, mostly scored this year, expect Ogilvy Pakistan to move up the rankings in 2022.
The Philippines' GREYnJ United Bangkok and Petch & Partners Manila round out the top 15 in #14 and #15 positions. Petch & Partners are on 740 points just ahead of Cheil Pengtai Beijing (#16), Dentsu Webchutney Mumbai (#17), Grey Malaysia (18), DDB Mudra Mumbai (#19), Ogilvy Singapore (#20) and BBDO Bangkok (#21).
OGILVY NAMED 2021 NETWORK OF THE YEAR – VIEW THE STORY