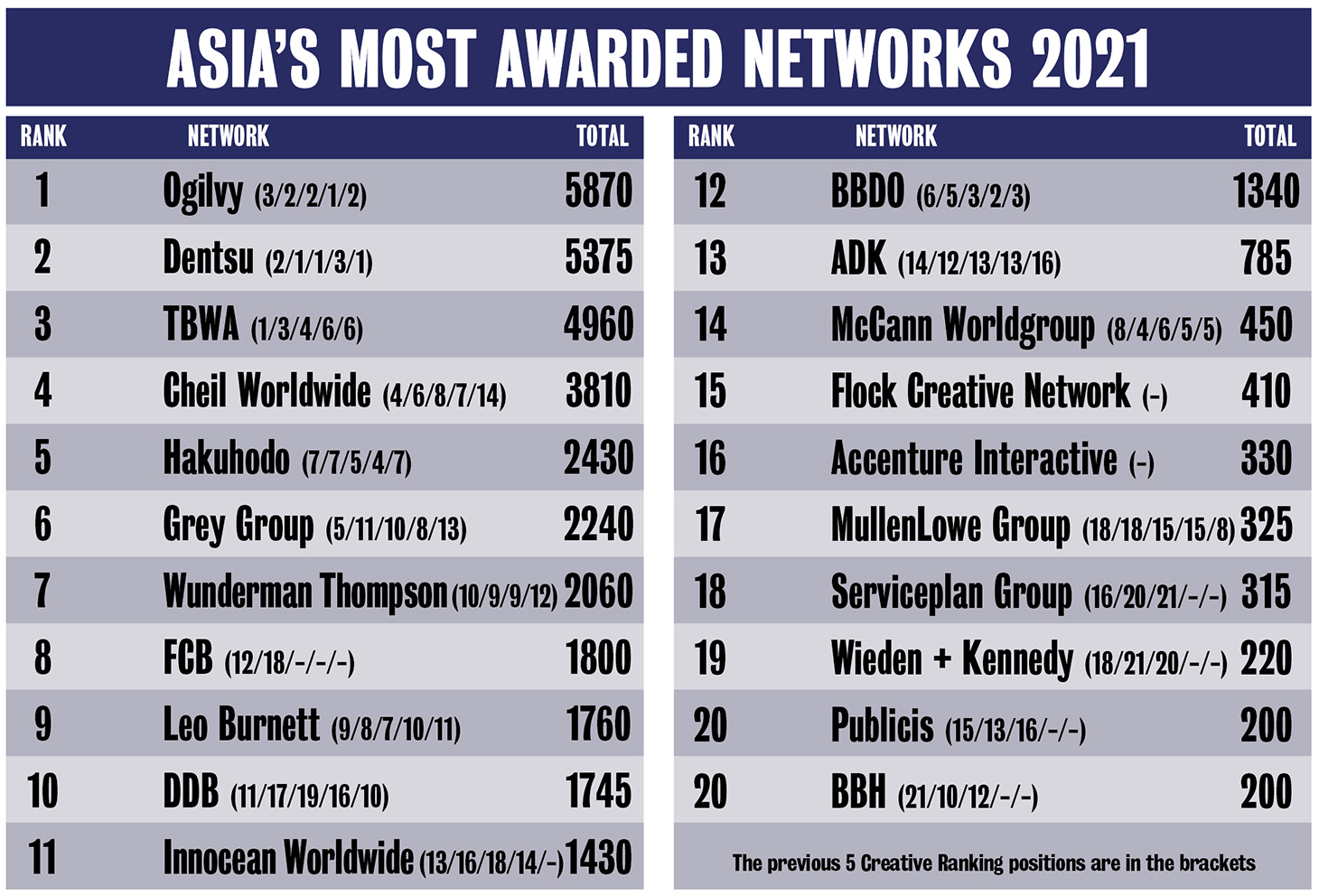 Ogilvy Asia's superb 12 months at the top global and regional award shows has paid off with the network jumping to the top of Campaign Brief Asia's Network Creative Rankings. Ogilvy takes out Asia's Network of the Year award from the #2 ranked Dentsu and last year's #1 ranked, TBWA.
Ogilvy sits at the top of Campaign Brief Asia's 2021 Network Creative Rankings, 495 Creative Ranking points in from of Dentsu at #2. It is the first time since 2016 that Ogilvy has ranked #1 Network in Asia.
It is a great all round performance from Ogilvy who has a remarkable 6 offices that are included in Asia's Top 25 agencies.
Ogilvy Thailand is the network's most significant contributor ranking #4 overall in Asia with 1525 Creative Ranking points.
Ogilvy Taiwan and Ogilvy Pakistan have also both made big contributions this year with Taiwan ranking #11 overall, and Pakistan jumping into overall #13 position, having not been ranked previously in 2020.
Ogilvy Singapore is a consistent performer each year and is ranked #20 overall in Asia. Geometry Ogilvy Tokyo is ranked at #22 and Ogilvy Hong Kong is at #25.
Dentsu is the #2 Network in Asia with creative powerhouse Dentsu Inc. Tokyo again ranking #1 agency in Asia. Dentsu Webchutney Mumbai experienced an amazing year – ranking at #17 in Asia.
TBWA was the #1 ranked network in 2020, however this year they are ranked at #3. TBWA has two agencies in Asia's Top 10 – TBWA\Hakuhodo Tokyo at #2 and TBWA\Santiago Mangada Puno Philippines at $9 overall.
Cheil Worldwide continues to impress at award shows, retaining #4 ranking in Asia with strong contributions from Hong Kong (#3), Beijing (#16), Korea (#27) and India (#34).